Plantbased cinnamon rolls sweetened with dates
Super tasty plantbased cinnamon rolls sweetened with dates. Great for everyone who wants a healthier cinnamon roll without compromising the flavour.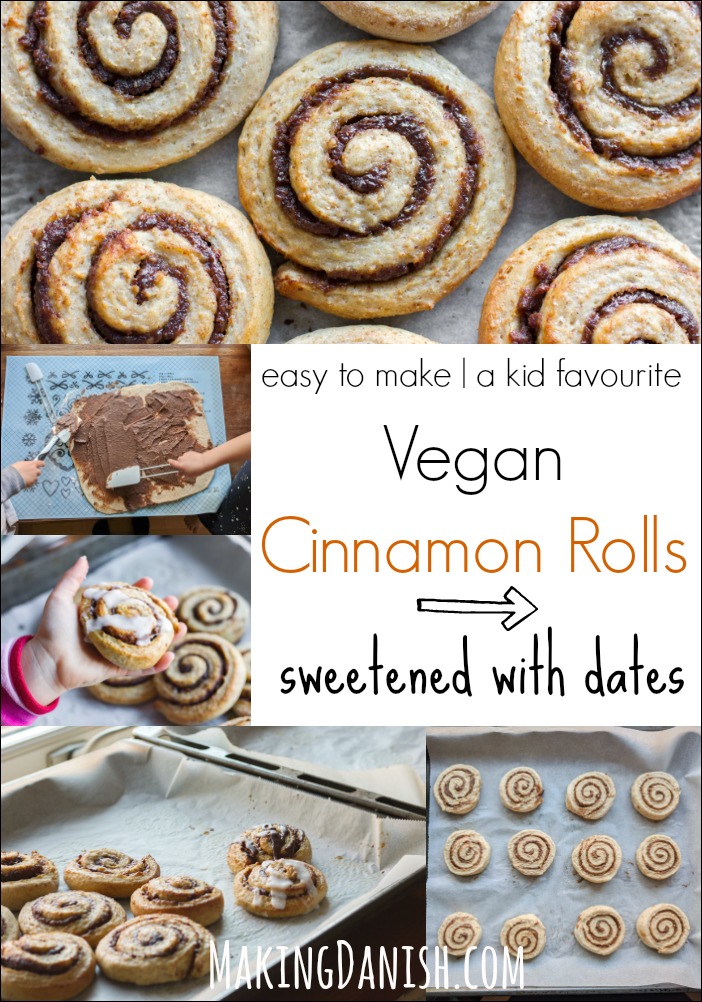 Cinnamon rolls are one of those bakery goods that pretty much everyone loves – and for goods reason. They taste awesome! My kids are no exception, but even though we eat our fair amount of sugar, I try to make some of our favourite foods in healthier versions – and cinnamon rolls have been on my list for quite a while! Well, now I've finally come around to it and they're a hit!
These vegan cinnamon rolls are made without refined sugar (unless you add icing of course), can be made with whole wheat flour or oats, and is sweetened with dates instead of brown sugar! And you know what? They taste freaking amazing! My kids love them and despite my best efforts, they're often gone before I can safe some for the freezer.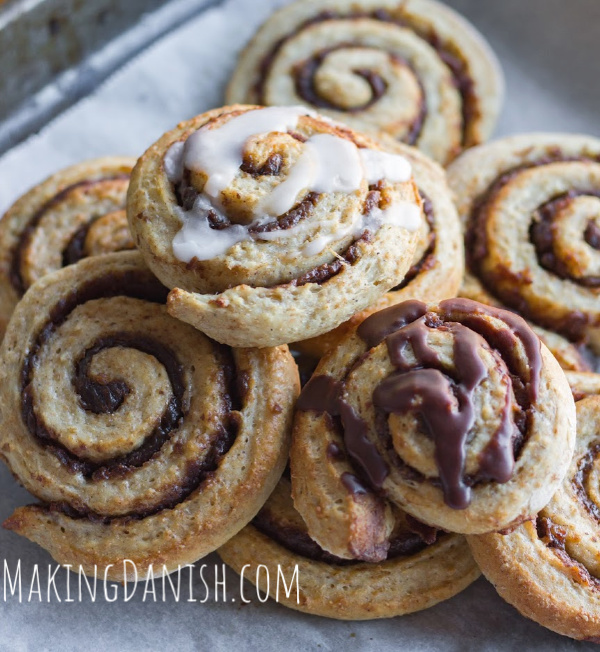 Plantbased cinnamon rolls sweetened with dates
The super tasty cinnamon rolls are completely vegan, free from processed sugar (if you skip the icing) and great as a sweet treat in the lunch box. They are easy to make – I made them with my toddler and kindergartner – and definitely a favourite at our house!
Ingredients:
You can make these delicious date sweetened cinnamon rolls with just plain white flour or substitute some with rolled oats and/or whole wheat flour. The rolls in the photos is made with 1/4 of wholewheat flour and about 1/8 rolled oats in stead of white flour.
The dough
25 grams (about 0,9 ounce) fresh yeast
2,5 dl (about 1 cup) luke warm water (or dairy free milk if you prefer)
400-450 grams (0,8-1 pound flour) regular white flour (you can substitute up to half of the flour with fx whole wheat flour or rolled oats)
1 tablespoon ground cardemomme
1/2 teaspoon salt
1 tablespoon oil
optional: 1 tablespoon maple syrup
The filling
225 grams (about 0,5 pound) fresh medjool dates (the need to be soft)
50 grams (about 1,75 ounce) coconut oil
2 tablespoons cinnamon
50 ml (0,2 cup) dairy-free milk or water
Optional: Icing
If you want to add a bit of extra sweetness you can never go wrong with a bit of icing.
powdered sugar
a bit of water
optional: cacao powder
How to:
1. Make the dough.
Dissolve the yeast in the water in a mixing bowl. Add salt, cardemomme, oil and maple syrup to the bowl and mix it in.
Add flour and knead the dough. If you substitute the some of the flour for oats or whole wheat flour add those first.
The dough is done when it feels nice and soft and is barely sticking to your hands. It's important that the dough isn't too dry, so don't go overboard with the flour.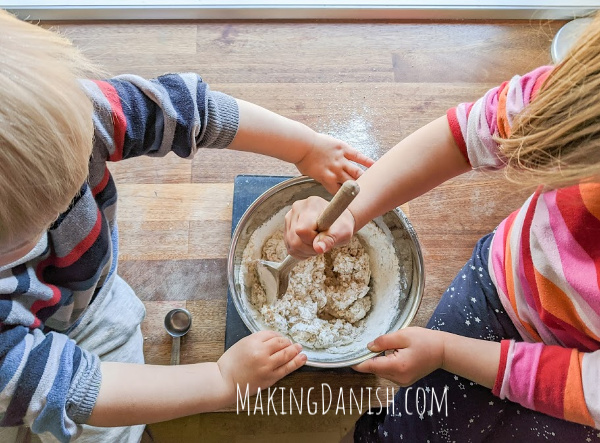 2. Leave the dough to rise in a warm place for about 1 hour or until it has doubled in size.
Keep the dough covered to keep the moisture in.
3. Make the filling.
Remove the stone from the dates and add them to a bowl with the remaining ingredients for the filling. Blend it to an even consistency. I use a hand blender.
4. Preheat the oven at 180 degrees celsius convection oven.
5. Knead the dough and roll it out on the table in a rectangle.
The dough should be rolled out in an even rectangle about 0,5 cm thick (1/4 inches). Use a rolling pin.
6. Spread out the filling.
The filling should be spread out evenly though try to leave one of the long edges filling-less with about 1 cm. This just makes it easier when you have to close the rolls. Don't panic if you forget.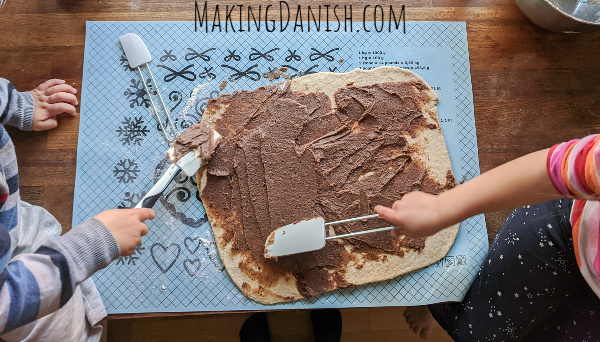 7. Make the rolls.
Starting at one of the long sides, gently roll the dough into a long "sausage". When you've rolled it all up carefully cut the sausage into pieces. I made them about 1,5 cm (a bit over half an inch) which gave me 18 pieces. You can either use unflavoured dental floss to get perfect round rolls, or a sharp knife, though the rolls will be a bit more smooshed.
If you use dental floss, gently slide the floss under the "sausage". Grab both ends of the floss, cross them over the top of the sausage and pull on both ends to slice. Repeat until you've made all the rolls. It might sound more tricky than it is, but my 4-year old can do it on her own, so just jump right into it.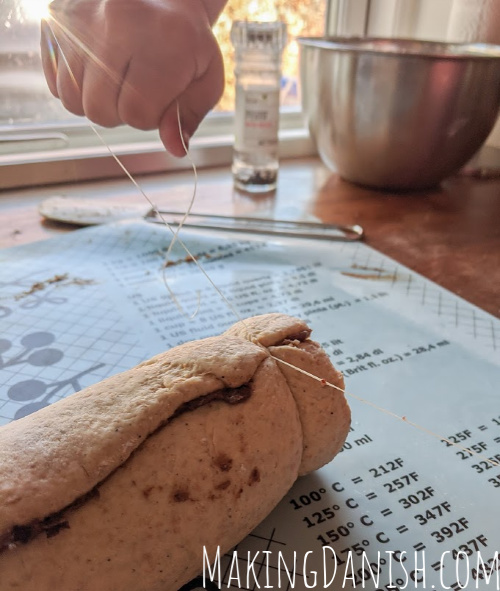 Move the pieces onto a backing sheet. Gently press them flat with the spatula and sprinkle a bit of water on top.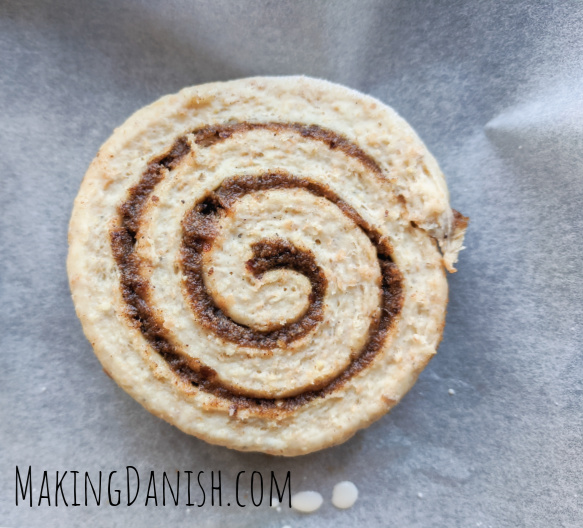 8. Let the rolls sit and rise again for about 20 minutes.

9. Bake in the oven for 15-20 minutes. 
Keep an eye out for the rolls. They might be done a bit sooner depending on your oven. They're done when they've turned a bit golden on top.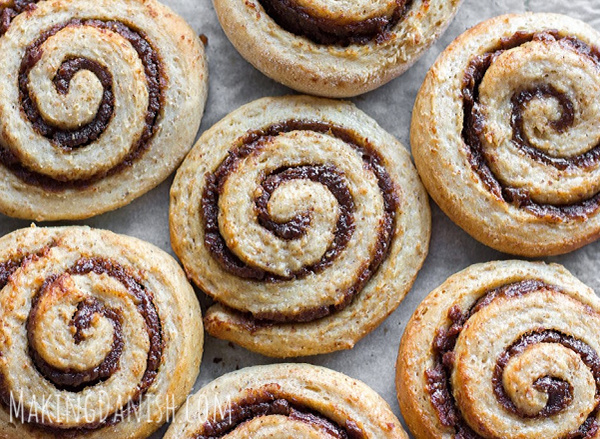 10. Let them cool before eating or before decorating them with icing.
If you choose to add icing it's important the rolls are completely cooled down. Of course, if you're making these cinnamon rolls because you want to minimize processed sugar, skip the icing – the rolls are amazing on their own!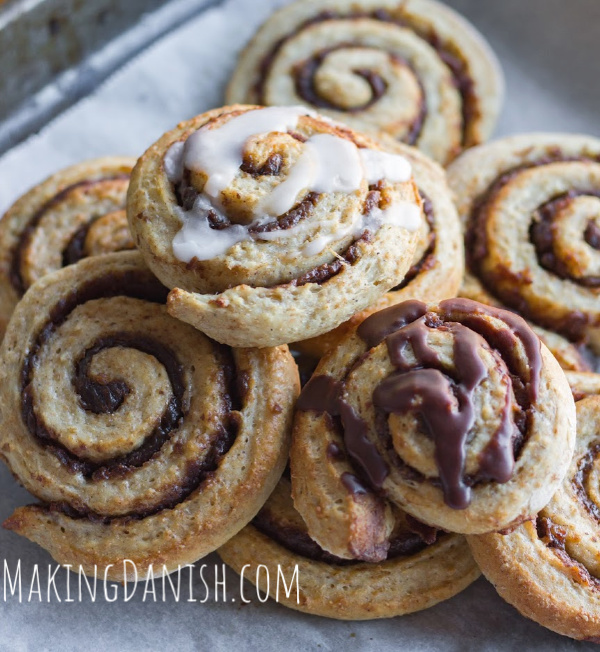 To make the icing just mix some powdered sugar with a little bit of water – you can always add more. If you want cacao icing, just add cacao powder!
The cinnamon rolls freeze quite well and are perfect to grab for a special treat in the lunch box. I know my kids love it when I surprise them with a roll in their lunch!