Non-toxic sidewalk paint with just 3 ingredients
This is the easiest recipe you'll find for non-toxic sidewalk paint! Besides water, all  you need is 2 ingredients which you probably already have in your cupboards. So simple to make that your kids can help make it. An awesome kid-friendly project even for toddlers and preschoolers.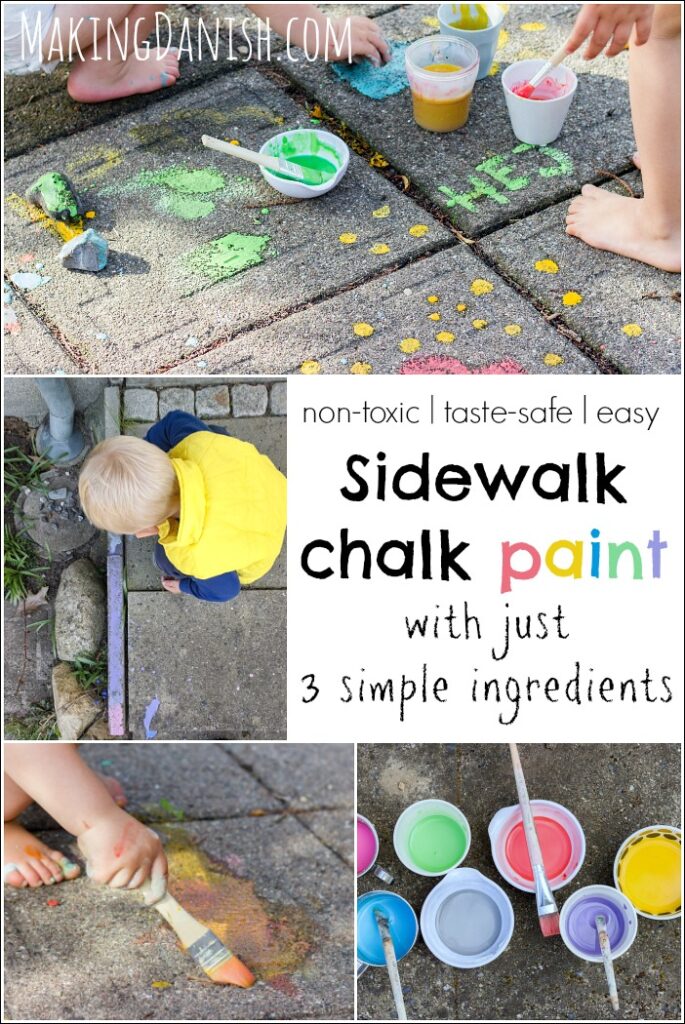 Leaving sidewalk chalk outside in the rain is a guaranteed way to use up those chalks very quick. We learned this the hard way, but one day leaving a piece of chalks in a container and seeing how it dissolved made me think. Maybe we should try dissolving our chalk sticks and create sidewalk chalk paint! And indeed it worked, but I wanted to see if you couldn't make your own paint without dissolving our sticks since we needed a grater to mix it efficiently – and little kids and graters are not a good combination.
Some said to use paints, but I felt uncertain whether it would be safe for the environment or my youngest who would probably sneak a little taste without me looking.  So instead I went with edible stuff and found cornstarch and arrowroot powder to be just right when mixed with a bit of food colours. At first the colours didn't seem as bright, but as it dried, the colours saturated! But best of all? My kids loved it  – and I didn't have to panic when I saw my toddler trying to paint his tongue.
How to make your own non-toxic sidewalk paint with just 3 ingredients
This recipe only calls for two ingredients – three if you count the water. I use corn starch in this recipe, but you can substitute it for arrowroot powder. The amount might vary some, but that's the beauty of this recipe. It doesn't matter much as you'll see.
You'll need:
1 part corn starch (or arrowroot powder)
1 part water
a bit of food colour (I use Wilton icing colors)
Other materials needed
containers to to mix in (and store the paint in) like a masson jar, a bowl, muffin form or similar
a spoon to stir with
paint brushes to paint with
Tip: If you choose containers with lids you can save and remix by shaking the container later. It will probably last about a week or two if stored in the fridge.

How to:
1. Add all the ingredients to a container and mix well.
Make sure the corn starch is completely dissolved and the colour evenly distributed. If you find the paint to be too thick, just add a bit of water – and if you find it to be too watery, just add more corn starch (or arrowroot powder). And that's it. You now have inexpensive, natural and edible sidewalkpaint.
Once in a while you might need to stir around in the paint with the brush and maybe add a bit of water.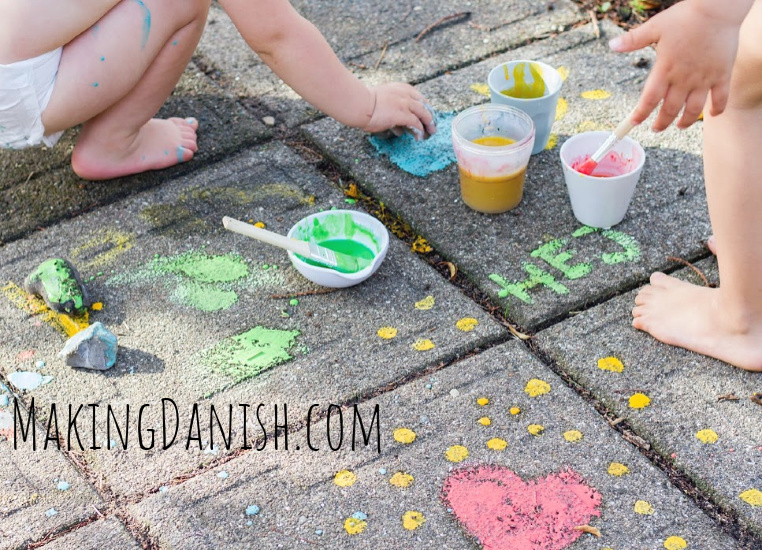 It makes and easy clean-up aswell. Just hose the paint down or wait for it to rain – or even better, set up a water activity on top of it and see it dissapears as they play. We've had zero problems with the paint staining, but if you're nervous about it, give it a go in a hidden corner of the driveway or where ever you imagine your little ones will go nuts with their artistic projects.