Best playdough accessories you already have in your home
Play dough is great on it's own, but adding in a few tools can take the playing to a whole new level of creativity. You don't need to buy specific accessory kits for your kids, but just need to look around the house. To help you get started I've gathered the ultimate list of play dough tools that can be find your home!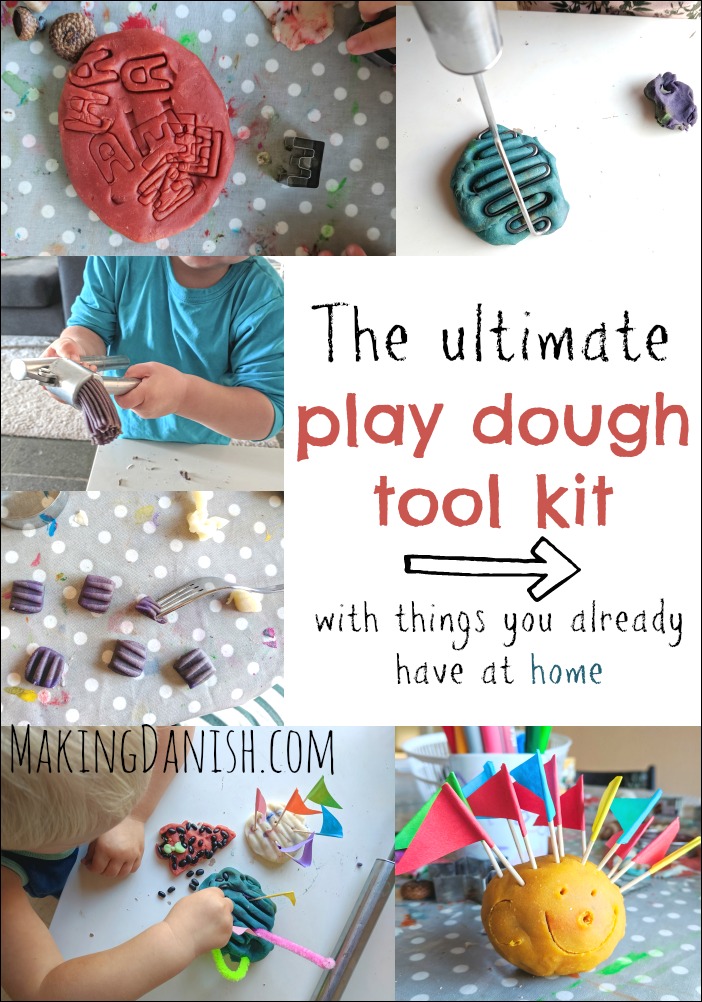 Play dough is such a versatile material to play with for kids of all ages – and I don't think I know any adults that can stop themselves from shaping, molding or squeezing it if they get their hands on it. It's a great sensory material for rainy days or some quiet play time, but best of all, you don't need anything but the play dough to get your kids' creative juices flowing.
I do however like to offer my kids some different tools and accessories whenever they ask for the play dough. Sometimes because I've got an idea for a new material or setup, sometimes because they have asked about something specifc to play with from fx the kitchen, sometimes to help get their creativity going in a new direction – and sometimes simply just because it looks like it would be a lot of fun.
You can buy a lot of different play dough tools and equipment and even though I do like the convenience of it, you really don't need it. Instead try having a look around your house. I bet you'll be suprised by the amount of stuff you already own that can be used with play dough which your kids will be more than happy to use. It's not that I've got anything against buying specific play dough tools, but I much prefer not having to buy – and storing! – things we already own like fx a play dough accessory set with a plastic rolling pin, cookie cutters and knives, when we already have two perfectly fine wooden rolling pins for kids, cookie cutters for actual cookies and blunt knives we use to eat with. Below I've gathered a list of our favourite play dough tools – and most of them I bet you already have in your household yourself.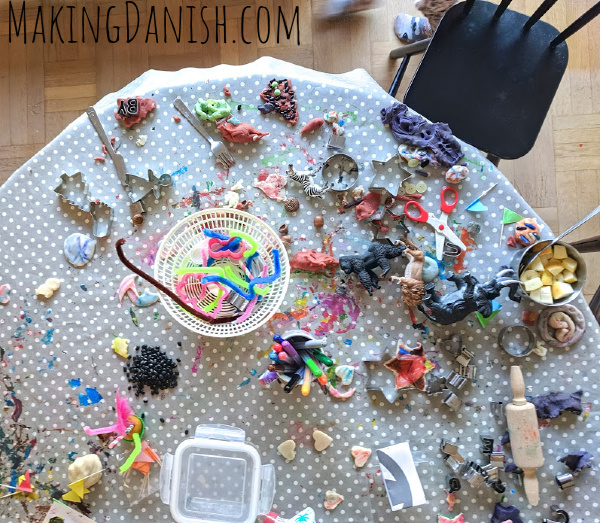 For use a play dough tool kit, you of course need play dough. And just like with the tool kit, we also make play dough with things from our kitchen cabinets and it's super easy and the dough lasts! The play dough you see in the photos below we made about 6 months ago (except the white one) and the dough is still going strong. For some reason my kids are not prone to mixing all the dough and even like to seperate the colours after use if possible, so even though the dough has been played with regurarly the colours are still holding up! If you don't want to make your own play dough, but still want it to be non-toxic and made with organic flour, you can fortunally buy play dough like this Dough from Green Toys.
The ultimate play dough tool kit with things you already have in your home
1. Garlic press.  This is my 2-year old's absolute favourite play dough tool. He loves packing it, closing it and squeezing all the play dough out into long strains of hair. I love the garlic press we have from Ikea, but as long as your kids can grab around it, I think any garlic press will do the job just fine.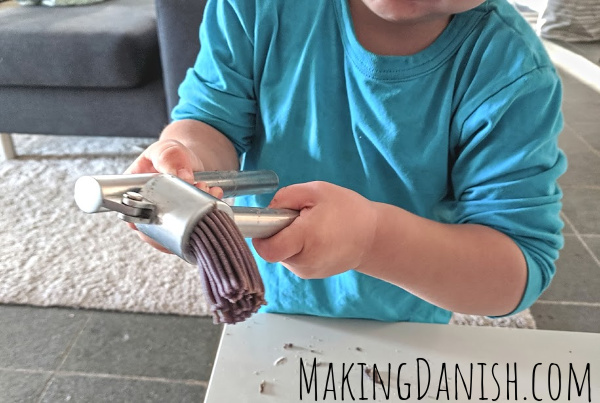 2. Crafting materials. Matches, pipe cleaners, feathers, tooth picks, beads, googly eyes, straws, popsicle sticks and just about anything from your craft drawer that can be stuck into play dough is a hit. The kids can make anything from faces, birds and pretend cakes birhtday cakes to building different structures with the straws, popsicle sticks and matches like this engineering setup from Fireflies and Mudpies.
3. Any small animals and figurines that can handle being washed. Our all time favouritse to add are our different animals from Schleich, especially because many of the animals leave actual footprints, but any small toys that can handle being washed afterwards like fx army men and different action figures are great to bury and find in the play dough.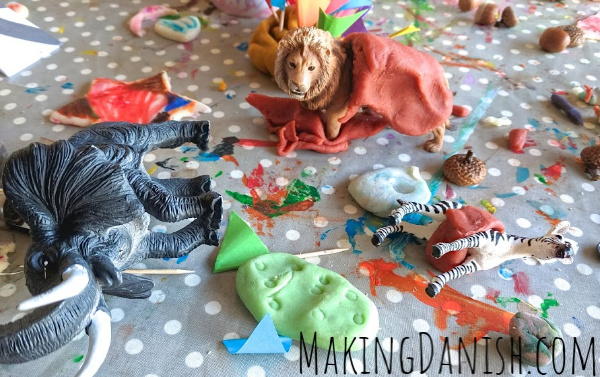 4. Random bits and bobs. Buttons, birthday candles and flags, coins, wine corks, bottle caps and whatever you have lying around the house that you don't mind getting a bit of play dough on will work wonders.
5. Cookie cutters. My kids love using cookie cutters with play dough. It's one of the items they always ask for when I pull out the dough. Any shape will do, but if your kids are into the alphabet or is starting to learn how to read, using alphabet cookie cutters will be a fun addition to your play dough tool kit. My 4-year old daugther loves punching the letters out and organizing them into the words she knows.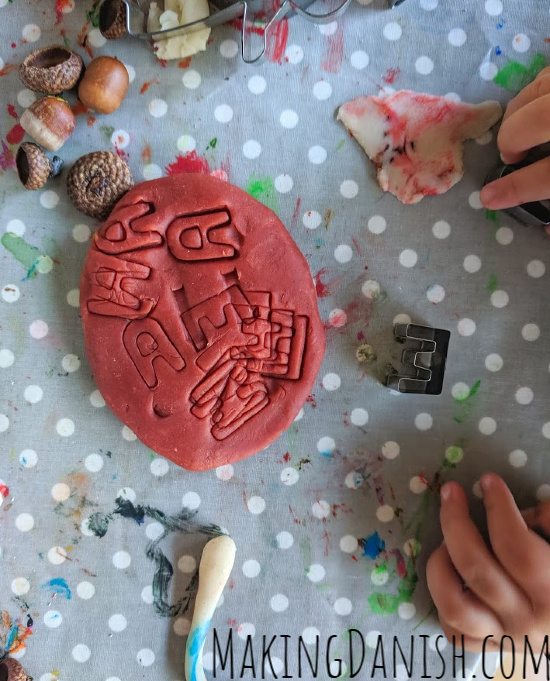 6. Flatware. Very basic in the kitchen, but a great addition to play dough. We just use the utensils we have for the kids. My kids have loved learning to cut with the knives, make patterns with the forks and dig with the spoons.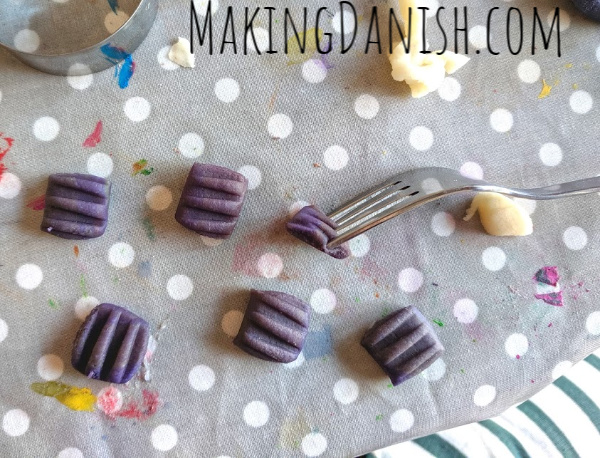 7. Rolling pin. Both my kids have an easier time handling a rolling pin in kids size, but if you don't own one, you can swap for your own regular sized or maybe even with a bottle of sorts. A rollong pin really is a must when using cookie cutters with the play dough.
8. Pizza cutter. It's great for making patterns, to cut into the dough with or to simple pretend to make pizzas with.
9. Scissors. I prefer handing my 2-year old our safety scissors, but real scissors will of course also do the job. If you have scisossers with pattern edges they would be awesome to add to your play dough tool kit.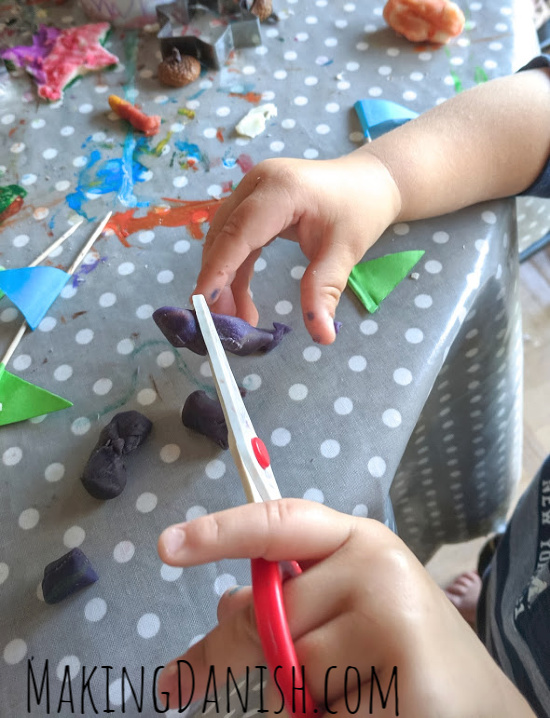 10. Silicone muffins molds. I don't think we've had a play dough play session without one of my kids making me some kind of cake – and the silicone muffin cups just makes it even more inviting to become a play dough baker.
11. Dry food items. Pasta, spaghetti and beans are our go to for this. Easy to hide in the dough, decorate with, make patterns or to set up a bacis threading activity like this one with cheerios from Messy Little Monster.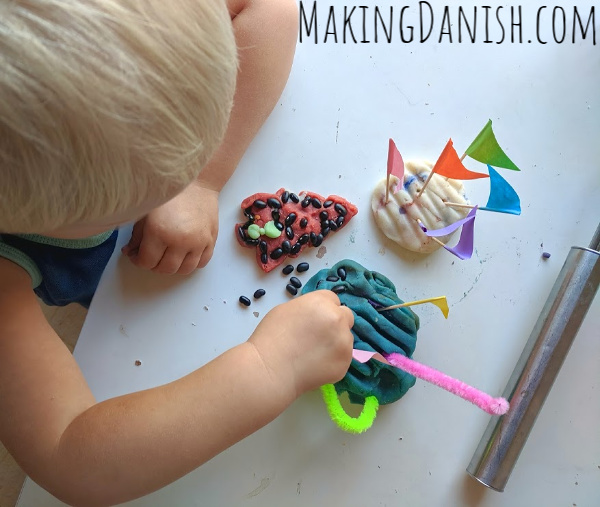 12. Potato masher. This is again one of my 2-year olds favourite. To be allowed to handle a big kitchen tool like this and see the play dough all squashed, is just amazing.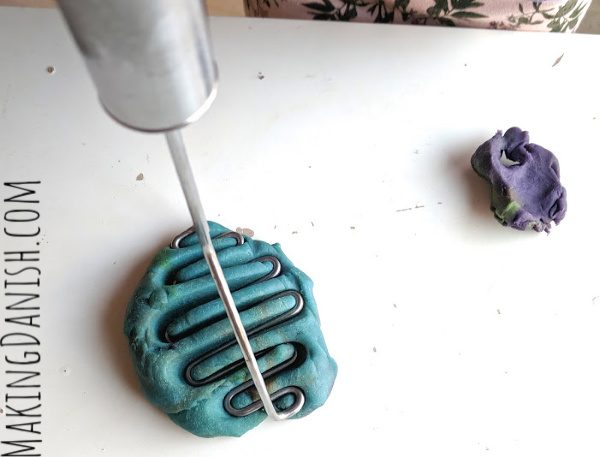 13. Nature's materials. Sticks and twigs, stones and pebbles, leaves, flowers, sea shells, pine cones, conkers and acorns are some of the different materials we've collected on our walks and have used with our play dough. It's great for a bit of seasonal play and it doesn't become much more natual than this. Especially if you make your own play dough on top of it.
14. Stamps. Either use real stamps, or if you are like me and don't own any, just use whatever you have lying around that will leave a fun imprint. We've used Lego blocks, wooden blocks with patterns, animals from Sleich to make foot prints, an old hair brush, forks and cookie cutters that we don't push all the way though
15. Scewers. Use them to draw and write with in the play dough, to build with like I mentioned earlier or to simply stick through the play dough with. We've used wooden scewers, but anything with a bit of a sharp tip would do.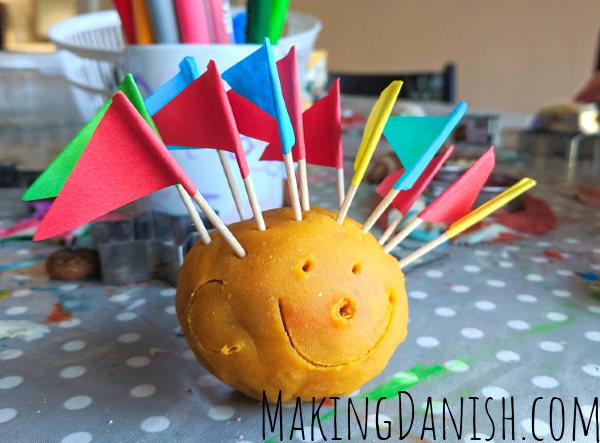 16. Markers. Markers might not have been on your list of play dough tools, but hopefully it will be after you're done reading this. The markers are so awesome for drawing on uncoloured play dough with. Not only is it fun for the kids to draw, but afterwards when they mix the play dough they will get whole new colours! Such a great idea from Homegrown Friends that teaches about mixing colours.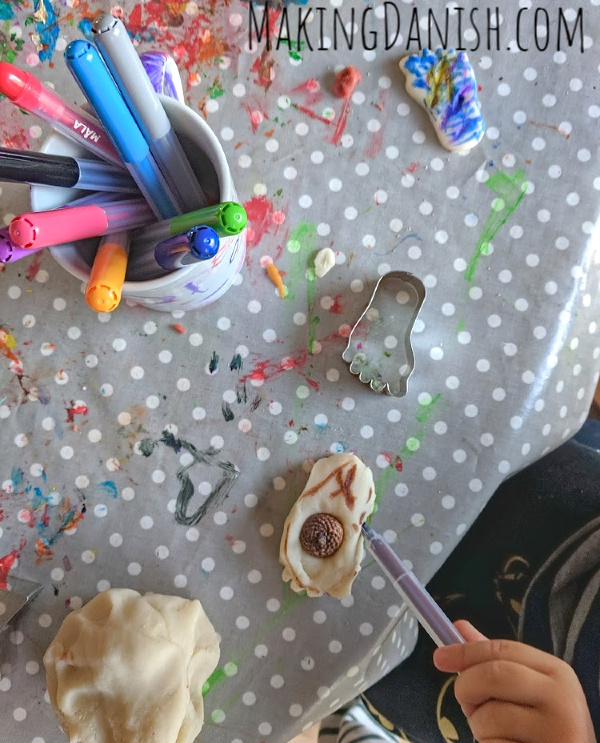 If you have anymore everyday items that your kids love to use with play dough, please share. I love to use things we already have sitting around the house – especially items that can be used in ways I had never thought of before – so I would love to be inspired!