25 non-candy advent calendars for kids
If you're looking for an alternative to all the chocolate and candy advent calendars out there for your little ones, then this is the post for you! I've gathered 25 awesome ideas for fun and thoughtful advent calendars that will suit both kids and families – and which you can even put together yourself to make an unique advent calendar this Christmas.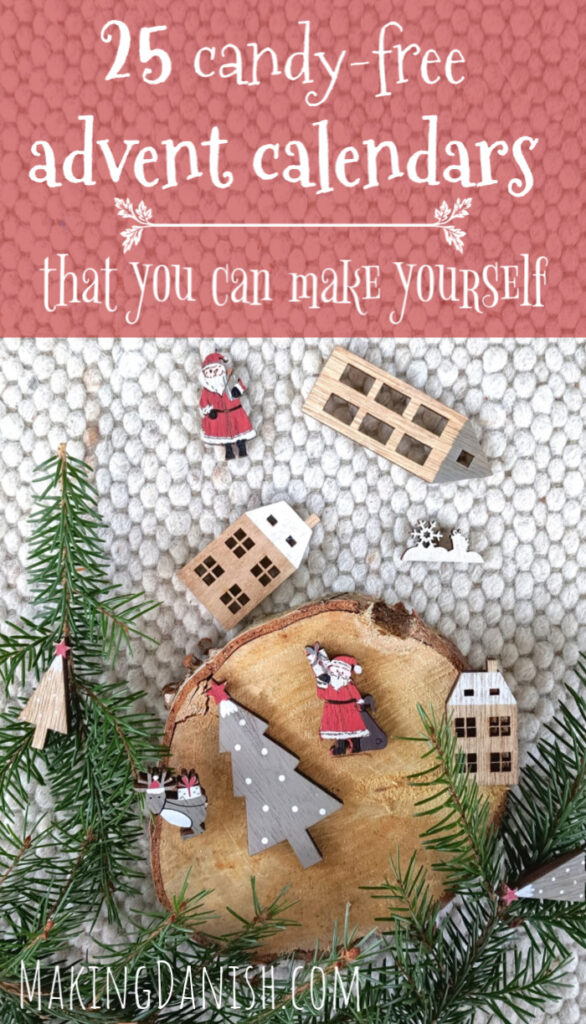 Christmas is getting closer everyday now and before we know it, it will be the first of December. Every year I make an advent calendar for my little ones. It's a tradition I've passed on from my own childhood and I love the joy that it brings. I prefer not to do an all chocolate or candy calendar – believe me, they'll get plenty of that anyway – so like previous years I've looked into some alternative ideas for advent calendars. In this proces I've also come up with a lot of ideas both for this years calendar, but also for later years when my kids are older and to not forget them all, I've decided to make a post with all of the ideas. And just to honk my own horn – I have to say, there are some pretty darn good ideas on the list – especially no. 18 which I think I might have to do retrospectively and in the years to follow!
25 diy no-candy advent calendar ideas for kids and families

This list is meant as an inspiration, and you can of course just mix and match the ideas and create our own personal calendar for each of your kids. I like to add a treat on some of the days – and unlike previous years, I'm also mixing a few of these ideas. We're doing the puzzle, a lot of activity  and colouring sheets, books, some family activities, crafts and a few collectables. Just because that's what suits us best this year with two kids who are at two different developmental places, but still wants to do the same as each other.
And on a futher note, In Denmark we open presents on Christmas Eva and all advent calendars therefore has 24 days in it – and not 25. So if you open on Christmas morning, be my guest and add one more present or activity to your calendar.
1. Crafts.
If you're sharing a house with a creative crafter, then gifting them a new craft material everyday will most definitely be a hit. You could also give them a little challenge – either daily or whenever you know they'll have time for it – or just let them find their own creative bug. If you need inspiration for different materials to get and what your kids can do with them, check out my advent calendar for crafty and creative kids, that I made fo rmy daugther.
2. Puzzle pieces.
Find a puzzle that suits your child's age and everyday give them one (or more) puzzle pieces until they have finished the entire puzzle on Christmas Eve. This year I've found a second hand Christmas themed puzzle which I know my oldest will love!
3. Lego set.
Buy a set of Lego Duplos for your younger kids and regular for your older ones. Look in the manual and divide the bricks into 24 piIes that makes sense – and then each day them give them one of the piles until they have build the entire Lego set. To make it more secretive for your little ones copy or tear up the pages of the manual so they don't know what they're buildig until they're done.
4. Random act of Kindness.
Doing kind things without getting a reward carry the essence of the Christmas Spirit. There are a lot of ideas out there like this free printable adcent calendar from Next Kid Thing, but if you want to give this idea a more modern and kid friendly twist, then I absolutely love the whole idea behind the book North Pole Ninjas: Mission: Christmas. The book can be bought with a supplement of 50 numbered cards wih missions of random acts of kindness which recruit your kid as a secret ninja elf that helps Santa spread the spirit of Christmas.
5. Family activities.
Instead of buying presents you can do as as us and do a daily family activity. It doesn't have to be over the top in any way – the most important things for most kids are having time with their parents. If you need inspiration I made a list with a free printable of 40+ ideas for fun, cozy, but most importantly realistic family Christmas activities, so no ones gets (more) stressed as you count down to Christmas.
6. Practical stuff.
I'm not trying to be the Grinch here, but we all know that Christmas comes with a lot of chores that needs doing – especially if you're the one hostig Christmas. So instead of making it into a big stressor, make it into a daily family activity. Write every chore down that needs doing during December and divide them into things that can be done as a family in one day or less . Add in some festive music and Christmas treats and you can make dusting, folding laundry and gift wrapping into cozy and fun family memories instead of stressful chores.
7. Activity sheets.
If your child loves doing mazes, dot-to-dot, colour by numbers, spot the difference and anything in between, then a daily activity sheet will be well recieved. There's a lot of different assignment books out there with a Christmas theme, but I especially like this Christmas Activitiy Book that come with single side use, so you can easily tear each side out and gift your child a new pages each day.
8. Collectables.
I'm a huge fan of Schleich animals and I'm considering making my little ones an Advent calendar with a new Schleich animal each day. Your kids might not be into animals or you might just prefer something else than animals, but then you can easily make another themed calendar with fx cars, playmobile, dinosaurs, doll house accessories, Sylvanian, coins, stamps or whatever they're into. If you don't want the hazzle with finding over 20 little items there's a lot of premade calendars out there from fx Playmobile, Schleich, Crayola and you name it.
9. Play food.
This idea is much like the previous, but I thought I would mention it seperately as I know a lot of parents who love to add to their kids' play food arsenal. So if your kid is into pretend cooking, then this might be the year that you him or her a big set of play food items. I like this wooden set with basic food groups from Melissa and Doug, but there are a ton of different sets out there if your kid is into something specific like pizzas, cakes, tea and coffee and making salads or if they already have the basics.

10. Play dough.
I'm a big fan of using everyday items as play dough accessories, but I'm certain that making an advent calendar with a mix of different play dough colours (maybe some with glitter and different smells), tools and accessories, crafting materials, challenges and mats will be a huge hit, especially with younger kids.
11. Colouring pages.
One new pages to be coloured each day – either by themself or as a fun little acitivity to do each day together. You can find free colouring pages from fx Crayola and Free Fun Christmas, but you can also buy a Christmas themed colouring book and cut out the pages yourself. If your little ones likes colouring by numbers this Christmas Color by Number book would be perfect as well.
12. Visual countdown.
Coundown to Christmas with a Christmas tree or the Nativity scene. Each day your kids get a little ornament to hang on the Christmas tree or a figurine for the Nativity scene. You can get both the Christmas tree and the Nativity Scene in fabric where you can easily slide in a piece of candy or chocolate as well, but I also really like this wooden countdown to Christmas from Melissa and Dough for your toddlers and preschoolers. Other ways to make it visual is lighting an Advent Calendar candle or maybe have 24 tracks and a train that you move one track a day until it reaches the end fx a small christmas tree.
13. Decorations.
A new decoration each day to either put on the tree or around the house. It doesn't have to be new decorations – you can of course reuse, but just let your kids get to decide where to put it up. Or switch it up and do a mix of old decorations, new ones you bought, go out to buy a new one together and a few you make together.
14. Daily joke or riddle.
Christmas is all about joy, so why not take this literally and each day present your little one with a new Christmas joke or riddle everyday. Primary Games have a great selection of riddles if you like me, are not fluent in Christmas puns.
15. Donations.
Reverse advent calendar in the spirit of Minimalism. Instead of getting presents help your kids go through their stuff and each day find something that they don't use anymore to give to charity or to someone they think will appriciate it. Fx toys that need a new home or clothes they've outgrown or maybe even some retired decor for their rooms. You could also do it as a family and go through your whole house or donate to the food bank like Passionate Penny Pincher.
16. Photo challenge.
If you have a little photographer at home giving her a daily photo challenge might be right up her alley, and a chance for you to see the Christmas month through your child's eyes. You decide the difficulty level – younger kids might find "take a photo of something red and shiny" to be at their level while older children will find it more fun and challenging with prompt phrases like "Capture a moment of Christmas joy". Either hand them your smartphone or camera (if you have one) – or gift them their own! If they are still young you can easily find some very affordable kids cameras, that are easy to use and even shockproof  – or you could go the bit more expensive way and get them an instant polaroid camera, so they don't have to wait for the photos to be printed.
17. Games.
If you like to play games as a family, this advent calendar idea is for you. Each day set out a game for your family to play. Choose longer lasting games for the weekend – and short games like a game of memory or Uno for the week days. You might not own 24 board or card games, but you can either buy or borrow some games for the occasions or ad a few days where a different member of the family gets to choose between a number of games (fx short and long games). If you're on the go or in a hurry car games like these 50 road trip games from Little Family Adventure.
18. Photos of the years that passed.
Print out 24 (or 25 if you celebrate on the 25th ) photos and make a photo album for the year that passed. Give your child a new photo each day and write a few words on the back of the photo. I think this calendar with be awesome to repeat each year – and it's a great oppertunity to actually go through all of those photos you've taken throughout the year and find your favourites.
19. Personal Christmas adventure.
If you're the writing type then you could write a personal Christmas story with a new chapter a day with your kid being the center of the story. Or you could skip a corner or two and find an existing story and change up the names and maybe a few details and personalise the story that way. Just keep it in the family and don't share with anyone to avoid any copyright infringements!
2o. Get moving.
Why not make December all about moving! Try a daily physical challenge, game or activity for either just your kids or for the whole family. It can be anything from doing 10 jumping jacks and throwing a ball around to going on a hike or making big obstacle courses. If you need inspiration try having at look at Family Fun Twin Cities' list of 45+ physical activities for kids of all ages.
21. Science experiments.
If your kids are into science – or you think they might enjoy some natural wonders, then a daily science experiment might be just right for this year's advent calendar. It doesn't have to be crazy expensive – in fact you can find more than enough experiments  which only uses everday items. For inspiration check out Mommy Poppins' list of 50 easy science experiments for kids using household stuff. You can make it a family activity or make it more challenging for your older kids by giving them the purpose of the experiment fx get an egg inside a bottle and then have them figure out how to do by looking it up online or similar.
22. Gratitude.
Christmas is the season of joy and gratitude – and why not let that be the center of your advent calendar? Each day sit down with your kids and write something down that they/you are grateful on a piece of cardboard and hang it on a Christmad themed garland. Or ask them to draw something that "makse them smile", "they love to do", "someone that makes them laugh" etc. Each day a new prompt. By Christmas Eve you'll have a whole garland full of gratitude!
23. Movies.
Watch a Christmas movie or Chrismas episodes from different favourites shows each day. Timeout's list of 30 Christmas movies for kids can help get you started if you don't know what Christmas centered movies are out there, so grab find some blankets and curl up together on the couch.
24. Books.
A book a day until Christmas day. It doesn't have to be all Christmas books as long as your kids will like it. I just recommend that you read the books out loud to your kids and make it into a special time of the day. This year I'm making my little ones a joint advent Calendar with books with a mix of Christmas stories and other books that I know they'll love to hear again. If you're on a budget, you could also borrow the books at the library. Either put of your choosing in their stocking each day or wrap them all up individually and let them pick a book by themselves. The Educator's Spin On It has a list of 100 Christmas books for kids up to 10 year old if you need some inspiration.
25. The daily challenge.
Mix and match between the different ideas above and make 24 challenges for your kids. Have them figure out how to do a science experiment, take a photo of "The spirit of Christmas", finish an obstacle course, win a game of "rock, scissors, paper", make a snowman out of craft materials, write down 5 things they are grateful for, help out a neighbour, decorate a ginger bread house and so on.
There you have it – 25 alternatives to chocolate and candy advent calendars. I hope you can use one – or more – of the ideas. And please share if you use one of them and create your own advent calendar – I would love some feedback!