15 awesome open-ended toys for toddlers – that will grow with them
If you're looking for toys for your toddler that he or she won't outgrow straight away, I've got the list you need. The key word is finding toys that are open-ended. I've gathered the top 15 open-ended toys that my kids already own and love or which are right on top of their wishlist! These toys inspire creativity, problem-solving and lets your kids use their imagination – what more can you ask of a toy?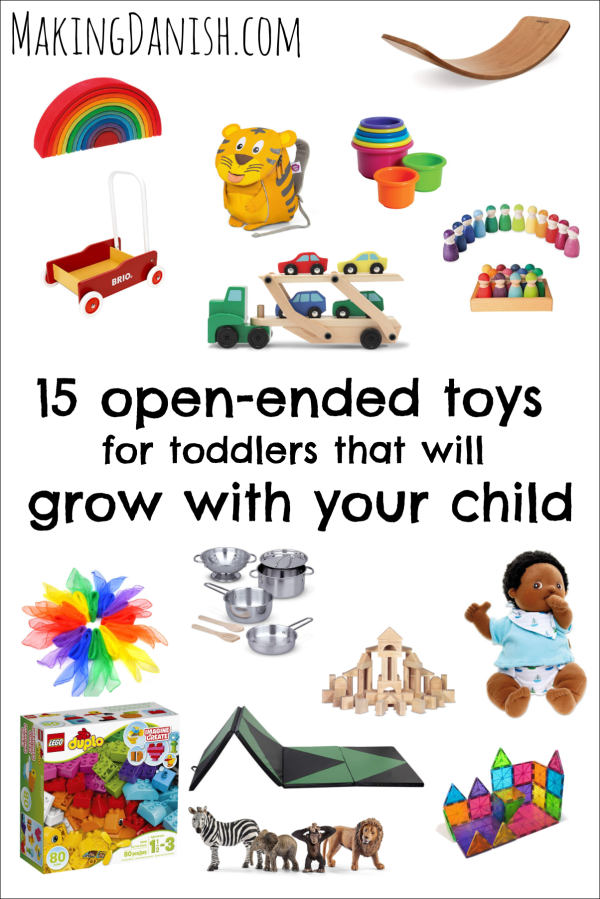 Making Danish is a participant in the Amazon Services LLC Associates Program, an affiliate advertising program designed to provide a means for sites to earn advertising fees by advertising and linking to amazon.com. I may earn a small commission for my endorsement, recommendation, testimonial, and/or link to any products or services from this website

I had a fair amount of toys as a kid. The classic dolls, teddies, blocks, lego and play doh, but I also had a small shelf of toys which I would probably have forgotten all about if my parents hadn't saved them. They still just sit there on the shelf, where I probably put them as a kid, and no matter how long I stare at them, I have very little recollection of ever playing with them. Instead I remember hours of playing with my teddies, building castles and little worlds with my legos, making roads and parking spaces for my brother's hot wheels and having little tea parties and cook outs with the pretend kitchen utentils my parents gave me for one of my birhtdays.
I dawned on me one day that the one thing these forgotten toys had in common was the fact that they were not very open-ended. They had a right way of playing or interacting with them – and one of the toys even did the playing for me, so I could just sit and observe.  No wonder I don't recall them. I'm very certain I wished for each of these toys after having seen them on tv or in a magazine, but after the thrill off getting them and pushing their little buttons, I returned to my favourite open-ended toys.
Why is open-ended play important?
Open-ended toys are great as they encourage open-ended play. This kind of play inspires children to use their imagination, help them problem-solve, think out side the box and be creative. It's a way of exploring the world, practicing real life skills or dealing with emotions and everyday life. Who hasn't heard themselves reinacted by their little ones (I apparantly really like to call my kids all kinds of endearing names).
Close-ended toys aren't bad. Not per se any way. Some are just as important as open-ended toys. Puzzles for example are fun and can help children think logically, sorting toys like put and take boxes will help develop the concentraion and marble mazes will teach a thing or two about fine motor skills and sequences. What a close-ended toy doesn't offer is however room for the imagination as it requires your little one to interact with it in a certain way each time. And some toys, I like to call them passive toys, are very closed off to any kind of learning as they seem to be doing all of the playing for the child, like a dog that barks, moves and does tricks with the push of a button leaving the child to just watch.
In my experience passive toys often comes with batteries and can make a ton of sounds and movements by the press of a button, and even though we have owned one or two of these, I try to steer away from them. If I want them to be passive, I just turn on the telly.
What if my kids won't play with open-ended toys
If you find that your kids won't play with their open-ended toys, then they might need a bit of help getting started. So just sit down and start playing with them yourself, and I'm pretty confident it won't take long before they join you. An alternative is setting up their blocks in a new way, setting the table with their play kitchen utensils and their teddies on the chairs, or drawing a road with some chalk for their cars – sometimes kids just need an invitation to get their imagination started.
Another thing you can do is look at the way the toys are organized and maybe even look at the amount of toys they have. I know I have difficulty choosing between 100+ movies on HBO, but no problem when I only have 2 or 3 to choose from. Well, I think the same goes for my kids, which is why I rotate their toys and sometimes even give some away – and the one that stays out I try to organize so it's easy to pick out. I know my 3-year old will not play with her animal figurines when they are mixed with a few blocks, some crayons, a bunch of scarfs and a few cars and maybe a few thrown under the bed – but when I put them all together in a open container and put them on the shelf, she'll all of the sudden pick them out and start building with them.
Best 15 open-ended toys for 1+ year olds – that will be played with for years!
All of these suggestions are either toys we already got for our kids or which are on their wishlist. They are toys that your little ones won't out grow straight away and which encourage creative thinking, problem solving and tons of play time. They vary in price range, but I find all of these toys to be a good investment. I've focus on high quality and try my best to go for toys that have a minimum of unnescessary chemicals and other funky stuff.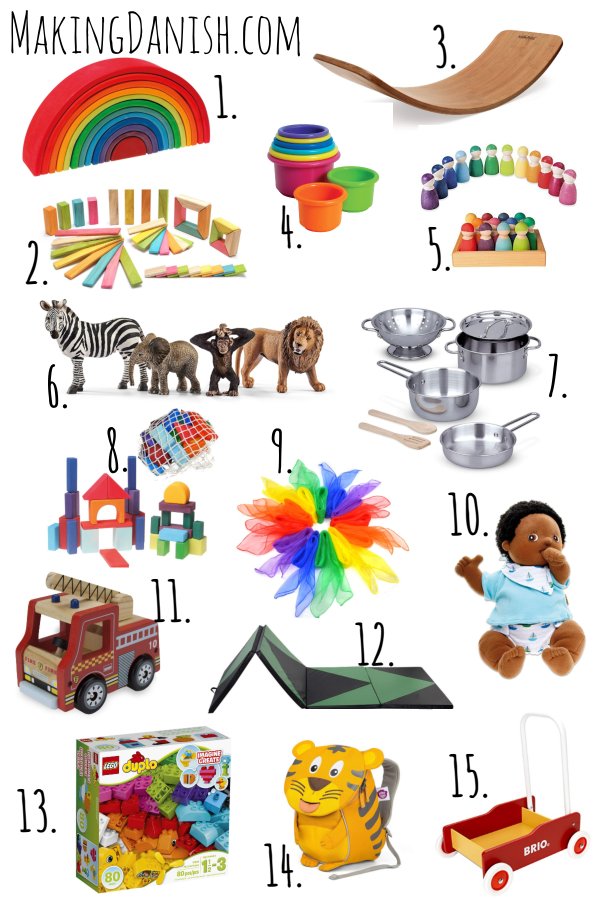 1. Wooden Rainbow Stacker
The Wooden Rainbow Stacker from German Grimm's is a classic toy for open-ended play and for good reason. It's so versatile and can be stacked in numerous ways, used to make fences for animals or to cover mom or dad with to just name a few. If you're in doubt just google ways to play with Grimm's Rainbow Stacker
and I'm sure you'll be convinced. My almost 4-year old got this when she was 1½ years old and still plays with it regularly.
2. Big magnets
Let me first start out and say, that I don't mean just any magnets, but specifically those aimed at kids. We personally own a bunch of Magna-Tiles
and they are very, very loved and played with every single day. I think it's my kids favourite toys these days! But I have also fallen in love with Tegu Magnetic Wooden Blocks, which unlike Magna-Tiles some places are marked as suitable from 1+ years, so they are definitely on our wishlist. Magna-Tiles is marked at 3+ of age, but so far they've lasted countless throws across the room and onto stone tiles, so I'm not worried about them safety wise. But of course always keep an eye out if your little one still put things in his mouth – just to be on the safe side. But seriously, big magnets are just brilliantly simple as the best toys usually are!
3. Waldorf balance board
Also known as a wobble board or a waldorf kinderboard. It might not seem like an open-ended toy at first glance, but I dare you think out side the box. It can be used as a hill, a tunnel, a slide or a hide out and of course a wobble board. The imagination is the limit. I love toys that both encourage quiet play, but also for kids to use their bodies – especially indoors. I love the beautiful boards from Dutch Kinderfeets with chalk
  – and apparantly so sturdy that adults can use it as well!
4. Stacking cups
So simple and yet so useful. Each container can be used for a number of other activities than simply just stacking. We have two kinds – a box set in cardboard from Djeco which is very loved since it's lightweight and easy to stack. The set we have in plastic is however just fantastic since you can use it can be used pretty much anywhere. In the bathtub, in the garden or on the beach. It can handle getting dirty since it can be washed and it's a lot of fun for my little ones to fill them with anything from water and dirt to little figurines and pom poms. And best of all – they don't even cost that much! Just look at these stack up cups from the First Years. If you only buy one set of stacking cups I recommend the ones in plastic, though the cardboard ones have their own place!
5. Peg dolls
You can get a variety of little dolls and figurines for kids to play with, but there's something very special about the rainbow pegg dolls from Grimm's
. The colours are amazing (and mathes their rainbow stacker) and they are free from nasty chemicals. Don't be fooled by the simplicity – that's one of the biggest advantages of these dolls as they can be anything and be in any mood the kids desire. They are almost the definition of open-ended. I bought this set for my kids and they play with them almost everyday – especially because they fit perfectly into the Magna-Tiles buildings they make! If you like the idea of the peg dolls, but would rather find something less expensive you could buy them unfinished and paint them yourself like this set of 40 natural wooden pegg dolls from Koalabu
– or just leave them as they are.
6. Animal figurines
My kids love their animal figurines, especially the ones from Schleich
and I don't blame them. They're so beautifully coloured and look very life like. We don't have a lot of animals from Sleich, but my kids still pick them out to play with. And you really don't need all the animals to spark your kids imagination. Just choose a few you think your kids will like and go from there. My 1-year old loves his Gorilla
and Polar Bear
and my almost 4-year old will often build shelters for the animals with her Grimm's rainbow, wooden blocks or her Lego duplo's.
7. Play Pots and Pans
We have a set from Ikea, but if you don't live near one this set of stainless steel pots and pans from Melissa and Doug
looks pretty much like it. Both my kids love playing with the pots and pans way more than their play kitchen or any of their play food. Sometimes they do use them as a very efficient way to make a lot of noise by banging them together or as a container to sort with, but most time they're used to cook up the most amazing pretend meals. Any odd trinket can be made into the most delicious meal by my little ones with their pots and pans.
8. Building blocks
I love building blocks and so do my kids. They can always be incorporated into pretend play or be used simply to build with. I would recommend getting blocks that you're sure is safe for babies to suck on like blocks from Grimm's
. A lot of paint out there on wooden toys are not suitable to go in the mouth, and if your kids decide the block is an ice-cream, I can promise you, it will go in the mouth. If you like me have a soft spot for blocks in wood colour, then I would go for the Melissa & Doug solid-wood building blocks. They come highly recommended.
9. Rainbow scarfs
These rainbow coloured scarfs
really sparks the imagination. They are used in pretend play and made into skirts and capes, to hide things under, to colour sort, to play peak-a-boo with and I could go on. They are an inexpensive gift that will foster hours and hours of play.
10. Baby doll
There's nothing like a baby doll to help kids practice empathy and taking care of a little one. When I was pregnant with my youngest, my then 2-year old was very into cuddling and nursing her baby doll and even changing it's diaper and in many ways I think it helped her transition into becoming a big sis. I personally love the soft, anatomically correct dolls from Rubens Barn, but Manhattan Toy Baby is a great alternative if you're looking for a soft doll like Rubens Barn, but don't like the price tag. If you prefer a doll with a harder body (if your kid fx like give their babies a real bath) that's still anatomically correct I would look into the Miniland Baby Doll
. I'm definitely contemplating buying one for my 1-year old boy.
11. Cars, trains and other vehicles
Just like animals and dolls, cars and other vehicles are perfect for imaginative play. My youngest already began playing with cars from he was about 11 months old and he is still immidieatly drawn to anything with wheels. There are a ton of toy cars out there to choose from, but remember to look out to make sure whatever you choose seems safe for your little one, especially if they like to put everything in their mouths.A fire truck from Wooden Wheels is perfect for little hands. If you prefer smaller cars, then I really like this car carrier truck with little cars from Melissa and Doug
, but we have had just as much fun with the train set from Lego Duplo
.
12. Foldable playmat
A gymnastics mat that can be folded has so many more uses than just tumbling on. With a bit of creativity it can become a fence, a terrain for peg dolls, a bridge, a bench and even a shield. We love our gym mat from Ikea, but if you don't live near one, a foldable gymnastics mat from Polar Aurora might be a great alternative. It's big enough to grow with your child into adulthood, which is more than most toys can brag about.
13. Lego Duplo or Mega Bloks
You might get the impression that only young toddlers will play with big bricks like LEGO Duplo
or Mega Bloks
, but in my experience duplo is often chosen over regular lego in open-ended play as it's much easier to build big things fast. It's also a great way for siblings to play together. Mega bloks are the less expensive choice, but Duplo offers a huge variety of blocks – some more openended than others. If you go for duplo I highly recommend buying a building plate
– my kids use theirs almost everytime they build something.
14. Backpack
So you might not consider this a toy and neither did I initially, but then my oldest got a backpack for little kids and suddenly she wore it all the time. She loved carrying her toys in it, opening it up and putting them in and taking them out, pretending to be mom and dad on their way to work and even using it as a baby carrier for her stuffed animals. Now she is almost 4- years old and even though the bag is getting smaller, she still loves her backpack. I absolutely love the backpacks from Affenzahn
with their focus on sustainability, cute and fuctional design and ergonomics, and if Anton didn't already have a backpack I would definitely consider bying him one for his birthday! But any small bagpack will do.
15. Push car(t)
We've had a Toddler Wobbler from Brio
for three years now, and it has been used for pretty much everything but learning to walk. Both my little ones use it as a baby doll pram, a shopping trolley, a car, a push car and a lot of other things. Somehow it often end up as part of their play time and these days they've started playing with it together. One will sit in it and the other will push it. I had no idea this toy would be as big a success as it has ended up becoming.
This list of top 15 open-ended toys for toddlers is meant as an inspiration. You don't really need all of toys. Less if often more when it comes to toys, but these toys will last a long time and you can always do toy rotations, meaning you always have some toys out and some in storage, switching them around whenever the kids starts to get a bit bored of the toys out. It's a simple mechanism, but it makes big difference. Too many toys out can inhibit play. But this way you can still have a large collection of open ended toys without your kids getting overwhelmed. And since these toys will grow with your kids a bit of waiting time in the closet won't cause the child to outgrow them.