Family advent calendar – 40+ realistic and fun ideas for Christmas activities (free printable)
December is a busy month and it can be difficult to find time to just be together as a family. I've therefore gathered 40+ ideas for simple, realistic and cheap family activities to do each day of December. Use them as a family advendt calendar with my free printable, as a Christmas countdown calendar or simply as a list of inspiration for family time.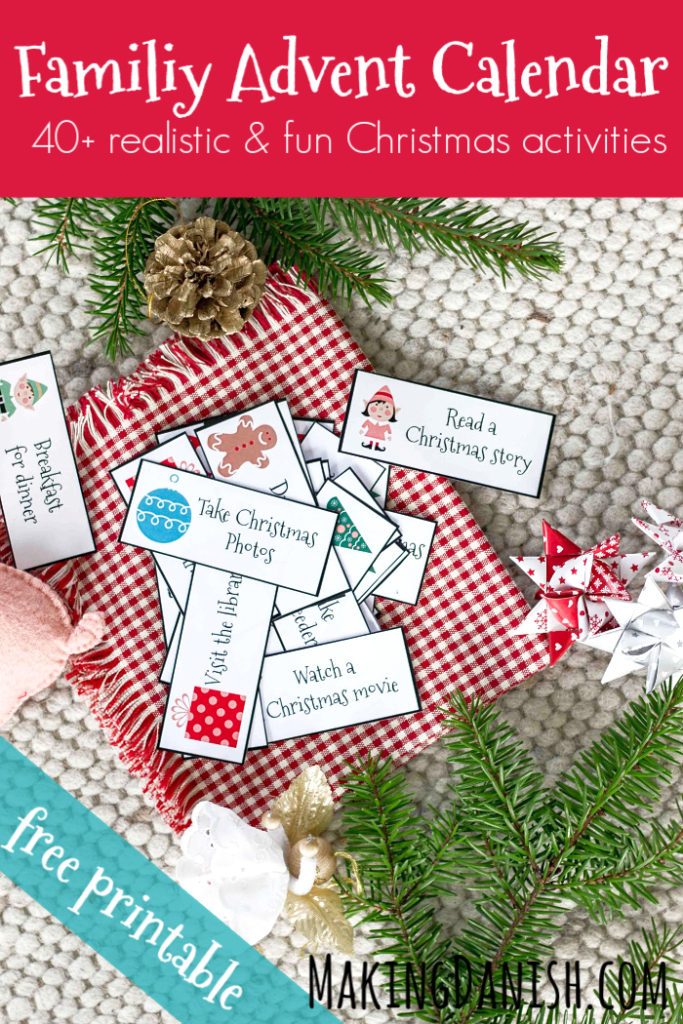 I start work again in December after about a year away on maternity leave with Anton. This means that December will be a lot more busy and maybe even a tiny bit stressful for everyone in our little family, who had just gotten use to me staying at home. But just because this new phase in our lives will have its start in December doesn't mean, that I won't make an advendt calendar for my little ones. Last year I made Eva this advendt calender for crafty and creative kids and she loved it – especially since it meant we got to sit down every day and be creative together, just her and me. Just what she needed having just become a big sister.
A realistic advent calendar with hacks and tips to make it even more achievable
This year I'm making Eva and Anton a joint advent calendar – and even though I want to make a ton of fun and creative activities with them, it's just not going to happen this year. Not without it being forced and risk them being to tired everyday. So instead I've come up with 40+ fun, but realistic activities we can do together as we count down to Christmas. Some of these ideas might seem like they'll take a lot of time, but no worries: I've come up with some simple hacks for most of these ideas, so if you're short on time, you'll still be able to squeeze in an activity. It doesn't have to be complicated.
To be very realistic I've also decided to buy a few simple Christmas treats and objects like new tooth brushes, a pair of holiday socks for each of them and some dried fruit balls and mini chocolates. This for the days where an activity risk becoming a chore instead of a chance for a bit of fun and relaxing family time. That's not the point of making an activity advent calendar.
You will also notice that some of these activities are activities that you would probably end up doing anyways. Like buying presents and wrapping them, but by making it into an activity it becomes both more special for the kids, but it also helps us as parents remember to make it about the children – and not so much about this Christmas chore that it might otherwise end up becoming. Doing it this way also makes it easier on the wallet, which makes it ideal if your on a Christmas budget.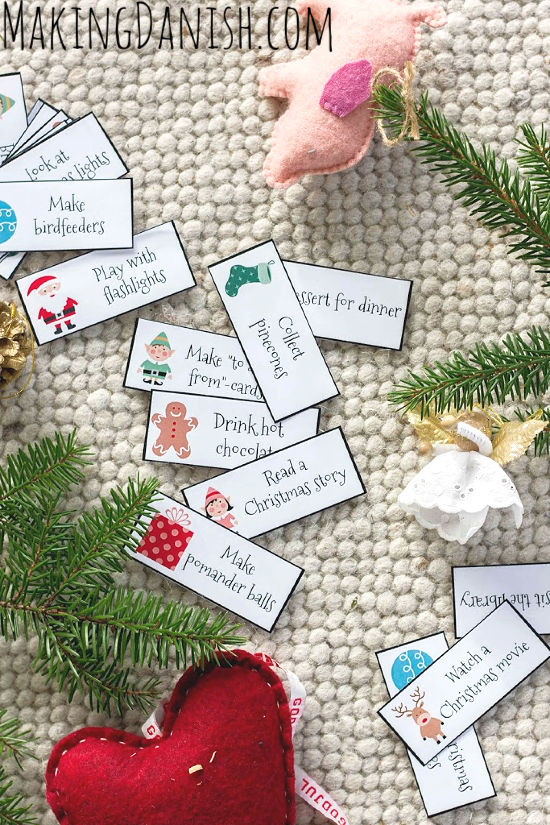 40+ fun, realistic and inexpensive ideas for family Christmas activities
Mix and use the ideas below as you feel like. My little ones have a (joint) stocking where I put a little note with an activity on it every night before I go to bed. This adds a lot of flexibility to the advendt calendar. If I know I'm going to have to stay late at work the next day I can choose an activity that's not time consuming like eating rice porridge for dinner or if I know we have no plans the following day, I can decide on a longer activity like baking christmas cookies. The need for this kind of flexibility is also why listed more ideas than is needed for a daily Christmas countdown.
I made a free printable with all of the suggestions I'll list below, but without all the extra text. I added a few extras as some of these activities below actually contain more than one idea and left a page with blank spaces so you can add your own ideas. So grab your free printable of daily Christmas countdown activities at the end of this post and have a jolly good Christmas (just trying to get in the Christmas mood here).
1. Make and drink hot chocolate. Either make it from scratch or simply buy a bottle of cacao and heat it up. If the weather's up to it, go outside and drink the chocolate. Either in the snow or maybe build a tree fort out of branches if there's time. And if you don't have time? Just cuddle up under a blanket and savour the time together while drinking the hot chocolate. Maybe even throw on a cartoon or just talk.
2. Have breakfast for dinner. This ideas is definitely just as much for the adults as for the kids. If you know you're going to have a busy day and dinner is going to be a stressfactor, this is perfect. And most kids will love being able to eat cereal for dinner. Maybe splurge it up a bit and add some fruit, juice and whatever else you eat in the morning – and as an added bonus: have everyone in their PJ's.
3. Collect pinecones for birdfeers and/or christmas decorations. This is such a lovely excuse to go outside and get some fresh air and movement as a family. But I recognize that not everyone lives close to a bunch of pine trees, so maybe acorns, leaves of different colours and shapes or even a bouquet of branches can be a fun alternative. The important part is going out with a purpose to collect something as a family.
4. Make birdfeeders. The easy way is just mixing peanut butter and birdseed and stuffing them on pinecones and hanging them outside. We also plan to make a few others with coconut oil to give for the grandparents for Christmas. If you don't have any pinecones you can make a birdfeeder using cookie cutters or a water bottle with a pin in it.
5. Make Christmas cookies using cookie cutters. If you have the time I definetely recommend making the dough on your own. It can be a weekend project with your little ones where you make the cookies one day and decorate them the next. I have an awesome recipe for vegan gingerbread cookies that my 2-year old and me made last year with big success. But otherwise there's no shame in buying a ready made dough. My parents did that sometimes when I was a kid and I still had so much fun cutting out the cookies with the cookie cutter.
6. Decorate cookies and/or a ginger bread house. Either use royal icing you make yourself (you can even make a vegan royal icing) or use storebought which are ready to use straight away. Or just mix powdered sugar with a tad of water, stir and you have an easy icing. If you have toddlers giving them some sprinkles, chocolate chips or chopped nuts is a great way of getting them involved. Icing can be a bit tricky for little hands.
7. Drive around looking at Christmas lights and decorations. Either go by car and look at how people have decorated their houses and gardenss or if you live in the city, go by foot and look at all the amazing store windows. Or maybe even do both.
8. Visit the library and borrow Christmas books. Going to the library is always a hit. But if you don't have the time look up some Xmas stories online or maybe buy an e-book. The important part is just doing it with you little one(s).
9. Buy a Christmas tree. I loved going Christmas tree shopping as a kid and I hope my kids will to. If you have the time and opportunity I definitely recommend going to a Christmas tree farm where you can both choose and cut down your own tree. It's a fun family tradition. But going to a regular seller and choosing amongst trees that have already been cut down is still fun for kids. It's the choosing part that's always been my favourite. If you want to make it extra fun for your children name your tree something like "Bobby". This way "Bobby" will become something you talk about during his visit.
10. Make wrapping paper. Either buy brown wrapping paper and let your kids decorate it with paint, coloured pencils, stickers or whatever you have lying around. And if you don't have brown wrapping paper use regular paper or maybe an envolope. The fun part is getting to making something that will be "worthy" of ending up under the Christmas tree. But remember to keep the ambitions down. Making wrapping paper for just one present is just fine.
11. Make to and from cards. Cardboard is ideal for this purpose. Either bought for crafts or if you want to be frugal and environmental recycle an old cereal box or whatever cardboard box you would end up throwing out anyway. Let your kids cut them out, paint, draw and put stickers on them. Try to get them only to do it on one side, so you (or your older kid) can easily write "to" and "from" on the other side with room for names. Otherwise buy some white name badges to write on and put them on top of the little pieces of art work.
12. Watch a Christmas movie. There are so many Christmas movies out there, so you should be able to find one that will suit your family. Just remember to put your phones down and actually watch the movie with your kids. Go to a physical store (if they still exist where you live) and rent a movie or just do it online. If a movie is a bit too long (maybe because of bedtime) see if you can find a Christmas episode of their favourite show or a movie you know is short.
13. Take annual Christmas photos. What is the one thing all grandparents love to get? Photos of their grand children of course. Every year I've taken head shots of our kids. I try to make it look as professional as possible, but don't sweat it if you don't think your skills are up for the challenge – it's not the photo in itself that's the important part. It's the sentiment and the tradition that's important – and it's fun to look back at all the photos from past years. You could of course save time and go to a professional photographer, but if you want to save money do it yourself  like us. Or maybe even save both money and time and sit down with your kids and let them choose a current photo of themselves to print out for the grandparents. You know your phone is full of them anyway.
14. Go outside with flash lights on a scavenger hunt. If you don't have flash lights just use a bike lamp or your phone. Taking a small walk or going out in the garden looking at everything with a flash light is a fun way to be together as a family. But if the weather is not up for it or you don't feel like trying to convince your children to get dressed and go outside, simply turn all the lights off (and if you live in a place where Christmas is in the Summer, remember to close the blinds as well) and have a night walk inside the house with the flash lights. It's actually a lot of fun – especially if you hide something edible that you all love and ask your kids to find it.
15. Wrap presents. Remember not to make this a chore – then it won't be fun. Maybe just choose one special present that your kid will love wrapping like a homemade birdfeeder for their grandma wrapped in their own wrapping paper and with a "to and from"-card they've made themselves. Take as much time as needed to make it look special. And then let that be it. If your kids are older they might be able to help with all the presents (expect of course those for themselves). Make it a good time by serving some treats, popping on some Christmas music and have fun with them.
16. Eat rice porridge for dinner (and remember to set some out some for the house elf). Rice porridge (Risengrød) is a Christmas stable on the dinner table in Denmark and it's sooo easy to make that it's a great choice for an easy dinner on a busy day. Kids love it and will probably be excited about the prospect of dessert for dinner, so it's a win win. In Denmark we've got house elfs that live with us, but only wakes up during December and it's very important to keep them happy, otherwise they'll do tricks with us (kind of like Elf on a Shelf expect you don't see the elf). So at least once during Christmas we remember to put out their favourite meal for them: a bowl of rice porrdige with cinnamon, sugar and a big chunk of butter (and then we as parents remember to eat it and leave out the dirty dishes for the kids to find the next day).
17. Make clove orange pomander balls. Such a simple activity that can be setup in seconds. Stud whole cloves in oranges and hang them up with a ribbon or leave them in a bowl on the table. For me this scent is the smell of Christmas. To make it easier for your little ones use a tooth pick to make pre-made whole and/or use clementines instead if you the pomander balls to be done faster. Otherwise be creative and do any pattern you desire – there's not right way of doing it.
18. Put up Christmas decorations. It can be almost magical to go through all the decorations that have been hiding in a box for just under a year and to go around your home finding the best spot for each of them. If you don't feel like decorating the entire house with your kids then maybe decide on a small branch, a specific room or even a designated shelf for them to decorate – either with you or on their own as a surprise for you.
19. Colour and cut out christmas pictures. Colouring books are magic for children and depending on their age, it can be a fun activity to do together. Older children might want to draw themselves, but I sometimes find it calming to just sit an colour, so don't be surprised if they will want to join in on the fun. There are lot of colouring books availabe for all ages and free printables ready to be printed.
20. Go star gazing. This activity of course requires a clear sky, but if you make sure to check the forecast ahead in time, you might be lucky and find a day where the sky is clear. In Denmark it's pitch black by 5 pm during December, so it's not difficult to find a time to go looking for stars before bedtime. Alternatively go cloud watching and talk about the different shapes the clouds makes. It's a fun window into your children's minds.
21. Play a board game. Depending in their age there's a ton of board games to choose from – and you probably have at least one in your cupboard somewhere. Most kids will love to play, and if time is short, choose a short game like a memory game or maybe just a quick game of cards.
22. Go Christmas shopping with mom and dad. Of course don't drag your kids along to buy every single present if you have a lot of presents to buy. Maybe choose one or two people you know they would love to help buy presents for. This year Eva and Anton will help buy presents for four of their cousins since they still play with toys or do other activities that my little ones can relate to.
23. Buy (or make) a new Christmas ornament. Let your kids pick out a new Christmas ornament. It doesn't have to be an expensive one, but the joy of getting to pick out a new ornament can be huge. If you don't have the time to go to the shop together, maybe order it online, make one together from a pinecone, some cardboard or whatever you have lying around – or simply let your kids choose an ornament from your current collection that gets to hang on a special location.
24. Do a puzzle together. It doesn't have to be Christmas themed and you can easily vary the difficulty according to age and time available. If you don't have any puzzles, maybe it's time to invest in them – or you could go to your app store or play store and pick one out to play on a tablet or phone.
25. Make ice lanterns. Ice lanterns are so beautiful and can easily be made out of a balloon, some ice and patience or you can up your game a bit and make these fancy ice lanterns ones from Practically Functional. Of course this requires some cold weather, but then it's super easy to set up.
26. Play "mouse". This is a game traditionally played with German or Danish peppernut cookies, but you can play it with whatever you like. Put out 5 (or more if your kids are older) cookies, send your kid outside the door, choose which cookie is the mouse and then have your kids come back in. Now your kid gets to choose and eat a cookie at a time until he finds the one that you have chosen to be the mouse. When that cookie is chosen shout "mouse" and let your kid have that one last cookie. Now start over with another person. It's a simple game, but it's always ton of fun – and you get to eat cookies!
27. Decorate the Christmas tree. This has always been a family activity in my family and has always been done on the day before Christmas – and I will definitely be continuing it with my kids now that we finally have room for a Christmas tree.
28. Listen to christmas music while drawing together. Sometimes it's the simplest ideas that works the best. Especially after a busy day just sitting down and drawing together can be perfect. Maybe break out some new pencils or crayons that have been hiding in the back of the closet for a while and put on some cheerful Xmas sounds.
29. Kids decide what to eat for dinner. Unless your kids have very expensive food habits or prefer meals that take forever to cook, then this is an easy way for your kids to get some influence in the kitchen. If you feel like you have a lot of energy, bring them grocery shopping and maybe even have them help out in the kitchen. Unless of course it's pizza from the local pizzeria. Then just enjoy a night off from cooking.
30. Play in the snow. This of course requires snow, but if you're (un?)fortunate enough to have a lot of snow, then your kids will probably love you for taking the time to go outside and play in it. You don't have to go all the way and build a huge fort or an entire family of snowmen. Making snow angels with your kids on your way home from somewhere or spending half an hour making a little snowman can also do the trick.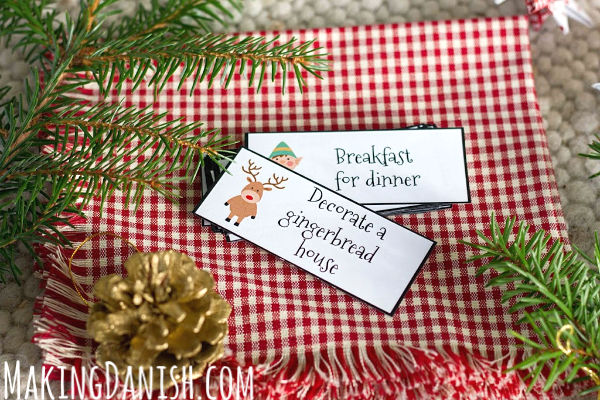 31. Build together. I know my kids go-to will probably be Lego Duplo or their Grimms Rainbow, but wooden blogs, magnets, a train set, race track or a marble run would also be awesome choices for this activity and might suit your kids even better. If you don't have any of these available, then maybe make a small fort of blankets or be creative and build with whatever you have lying around.
32. Make Christmas candies. I love making treats for Christmas and marzipan confectionary just screams Christmas to me like no other candy. But you can make whatever suits your tastebuds, wallet and time table the best. Simple is usually best when making it with kids and if you want to make it somewhat healthy maybe try making bliss balls. They can always be covered in chocolate later if they get to be too healthy. Whatever delicious candy treats you end up making can also be used as homemade gifts or a hostess gift.
33. Eat Danish pancake balls (æbleskiver). This might be a very Danish thing, so feel free to substitute with whatever Christmas cake you eat during December in your home country. Æbleskiver are a kind of pancake balls you eat during the Christmas season. They are hard to come buy when it's not Christmas, but during December they're the thing to eat. You can make them from scratch, but buying them frozen and heating them in the oven is how most people eat them – and then covered in jam and powdered sugar. Now that's Christmas.
34. Play with play dough. Everyone loves playing with play dough – and if not, they'll probably like kinetic sand. But seriously, playing with playdough one afternoon after you all get home, is a fun way to relax. You can make it Christmas themed with snowmen, Christmas cookies and presents or just go along with whatever your kids make up. Add a blunt knife, a rolling pin, some cookie cutters or go all in and find your stash of pipe cleaners, extra buttons, pine cones, sticks or whatever you have lying around and give the play dough a new dimension. If you don't have play dough either buy it or make your own play dough. We always make our own – and it lasts forever, is easy to make (kids can help) and is free from nasty stuff.
35. Xmas music dance party. Find the most corny (you know you secretly love it) Christmas music you can think of, turn up the volume, find your feather boa and dance away.
36. Have a pillow fight. So much fun, so easy to set up. Maybe set up a few ground rules and a safe word, but otherwise just jump into it. You decide how long it should long – maybe set a timer if you're in a hurry. A little tip if you have young kids. Make it adults against kids – or maybe just kids getting to hit adults. This to make sure both the older and younger siblings will all have a good time.
37. Take a bubble bath. This might not seem like a family activity at first sight, but when you have small children, it most definitely is. Having one or more children in a tub of water requires your full attention. So either jump in with them or sit next to the tub and play along. My kids love it – and with the added fun of bubbles, it's an awesome way to end the day.
38. Play with soap bubbles. Especially fun if it's freezing outside since the bubbles will turn to ice! Buy a premade solution or use this simple recipe for soap bubbles.
39. Order take out. Christmas can be very busy and sometimes some takeout is much needed. And we all know kids love it, so make it a treat for both them and you and order some food instead of slaving over the pots and pans.
40. Have a picnic and eat on the floor.  You can of course cook yourself or maybe just order some sandwiches for an easy meal. Just pop a blanket on the floor, maybe a few cushions for sitting and start eating and talking.  It doesn't have to be fancy in any way – the special part is getting to eat on the floor together on a picnic blanket (or whatever blanket you might have). If your Christmas tree is already up you can make it even more special and eat in front of the tree.
41. Make a Christmas wish list or write a letter to Santa. This is always a fun idea and a great opportunity for the parents to get an idea of what your children actually wish for.
42. Play hide and seek. Either indoors or outdoors. Even with older kids this can be a lot of fun and it's a great way to get moving
These 40+ ideas for advendt activities are the base of my kids advent calendar this year. I will probably throw in the odd little present or chocolate and maybe even do one of the ideas more than once. This advendt calendar aims to be both simple, flexible, inexpensive and most important of all, realistic to do. December has enough stress built into it on it's own accord – no need to add to it with an overambitiuous advendt calendar. Especially since I'm more than confident that both mine and your kids will love this list of advendt activities.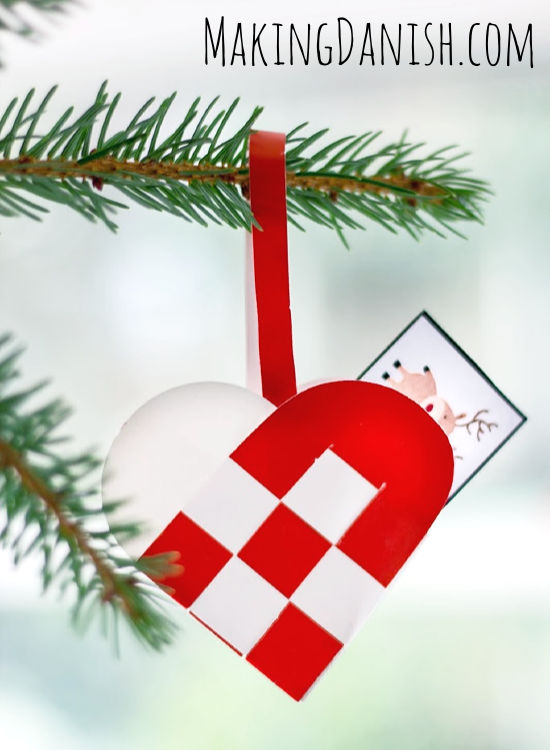 How to use the free printable with Christmas activities
Well, the easy answer is: it's up to you! But if you're like me and need just a tad more inspiration than your sleep deprived and already a bit Christmas stressed-out brain can come up with, I'll list a few ideas:
Put them all in a Christmas jar (like a recycles glass jar) and pull out a new activity each day.
Roll them up into little rolls, put a string around it and hang on a branch. Choose a new one each day.
Use and old fashioned reusable pocket advent calendar and stick an activity in each pocket. I adore this reusable fabric Christmas tree advent Calendar.
Put into envelopes, number them and either put them in the mailbox each morning (maybe with Santa or an elf as the sender), in your kids stocking or just have them all out.
Find an object/small present than corresponds with the activity and hang the activity around this. Put in a stocking, in an advent calender or wrap everything up in Christmas paper and number it. Fx a cookie cutter for the day when you're making cookies, some popcorn kernels for the movie day, a flash light for a walk in the dark or maybe something as simple as a pine cone for the day you want to go looking for even more of them.
Download your free printable with Christmas countdown activities
Have fun with these 40+ familiy activities to in December as you count down to Christmas Eve. Just press the print, cut and add to a stocking or your own Christmas Calendar. I've included a page with 10 pictures without text, so you easily can add your own activities to the mix.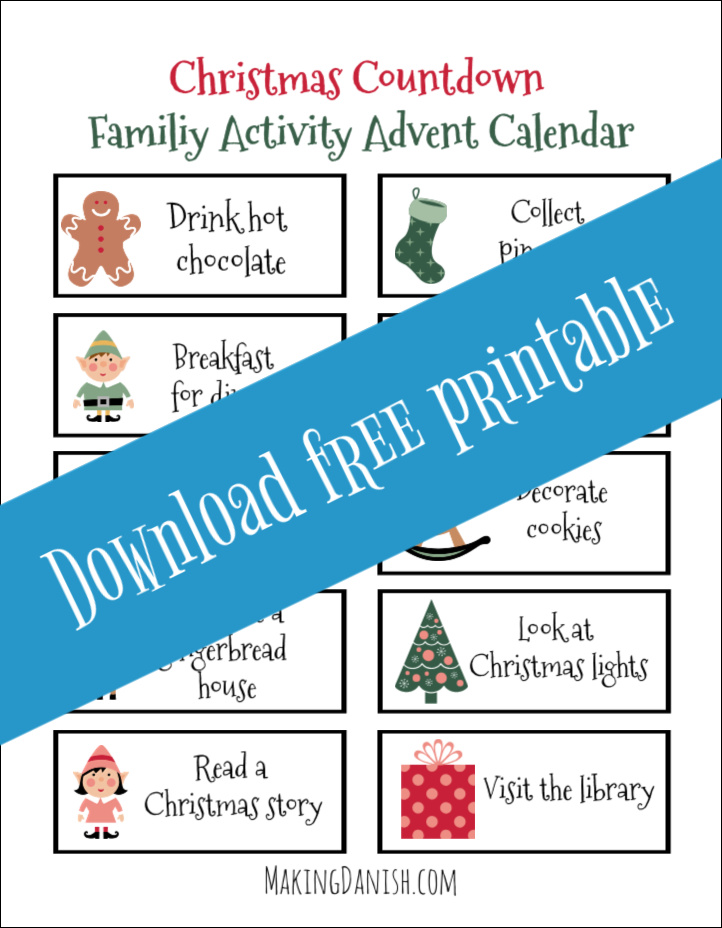 If you have anymore ideas, please feel free to share!