Delicious energy balls packed with calcium
If you need a sweet and tasty way to add some calcium to your kids or your own diet this is the recipe for you. These delicious vegan and gluten free energy bites made with figs and tahini are packed full of calcium, are easy to make and best of all, they taste heavenly.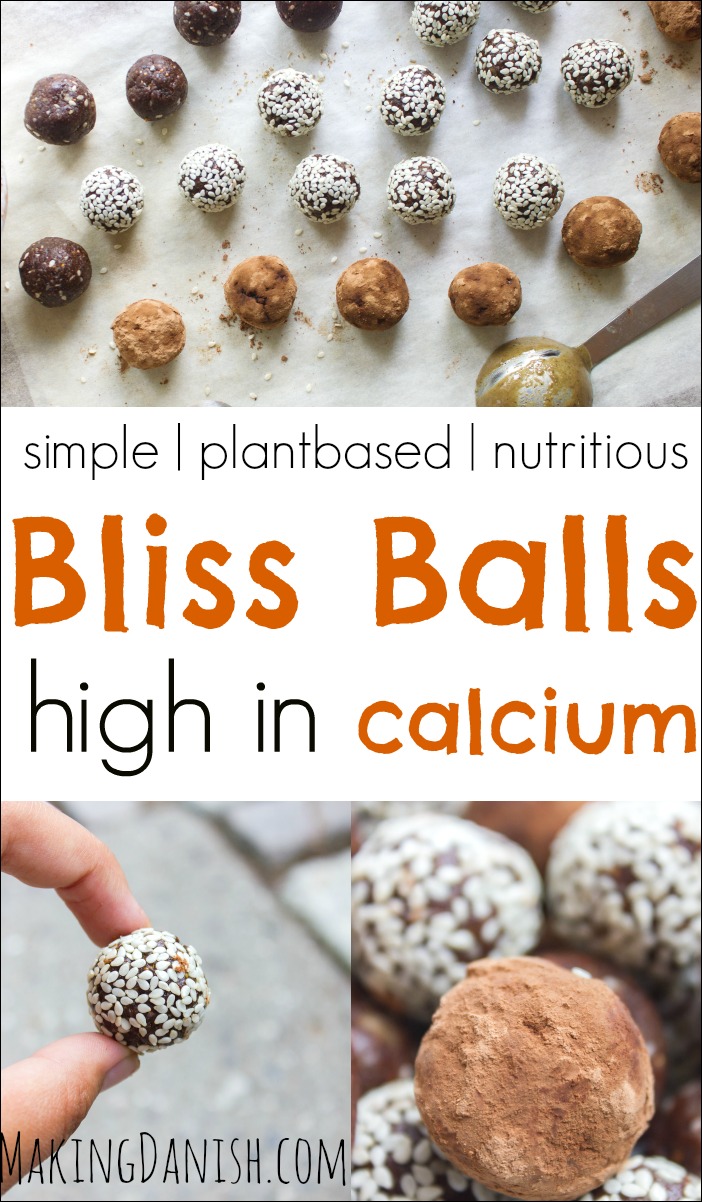 I like to add a sweet treat or two to Eva's packed lunch. Energy bites are such an easy way to do just that – especially since they freeze well and can easily be stuffed with all kinds of goodness of your own choosing making them a healthy alternative to much of the processed sugary stuff you'll find in the supermarket. And then it doesn't hurt that energy balls like these are so simple to make that your kids can easily join in. I know Eva, who is now 3 years old, loves to help and takes the job of taste testing very seriously.
These bliss balls are not only just super yummy, they're also packed full of calcium. When you don't eat dairy people will often ask where you get your calcium from – and well, one answer is we get them from treats like these that are made with calcium rich foods. In this case figs, poppy seeds and tahine. Try and look it up – these foods are naturally packed with calcium.
To get the most out of the seeds you do however need to ground them up – this helps the body better absorb the calcium. This is one of the reasons why I love to use tahini instead of sesame seeds when making energy bites like these. In regards to the poppy seeds I just to put them through a coffee grinder before adding them to the mix – I haven't found poppy seed butter, but if I evercome across it I will definitely give it a go in this recipe.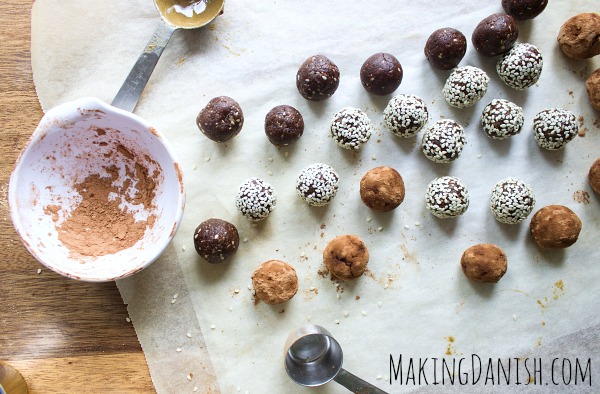 I've also added some dates to these balls. Despite having figs as a natural sweetner I do find that they are not as sweet as dates and I do prefer that extra bit of sweetness for these balls to balance out the nuttiness of the tahini. If you don't have dates just go for the figs and if you find that bites need a tad more sweetness add a bit of maple syrup, dried abricots or better yet black strap molasses which is high in calcium as well. That should do the trick.
If you are a chocolate lover like me and want to add that extra bit of goodness to the bliss balls, then go ahead and add some chocolate. I've added it on the ingredients list as an optional since I prefer Eva having them without. Same goes for the maple syrup. Eva likes them without the extra sugar, so no need to add it when it's for her lunch. This mom here on the other hand prefers it with, so I made half with and half without because I'm an adult (because that's a good excuse).
Ingredients:
150 grams dried figs, stems removed
75 grams medjool dates (could be substituted for figs).
3 tablespoons raw cacao powder
1,5 tablespoon ground poppy seeds (I just grind them in a coffee grinder)
60 grams tahini, preferably unsalted
35 grams oats
Optionals:
50 grams dark chocolate chips
1 tablespoon marble syrup
1 teaspoon vanilla extract
Roll in:
sesame seeds
cacao powder
Directions:
Soak the figs for 5-10 minutes in a bowl of water. This will soften the figs a bit making them easier to pulse in the food processor.
Drain the figs and add to a food processor with the remaining ingredients except the optional chocolate chips and blend well. Keep processing until you get a uniform mass.
Optional step: if you want to add chocolate chips to the mix stir them in now.
Roll the mass into little balls. You choose the size, but I like to make them about 1 inch wide. My 3 year old likes to roll them into snakes instead, so there are no rules other than the ones you make.
Roll the balls into desired topping and voila, you're done. This is a great job for a toddler. Just saying.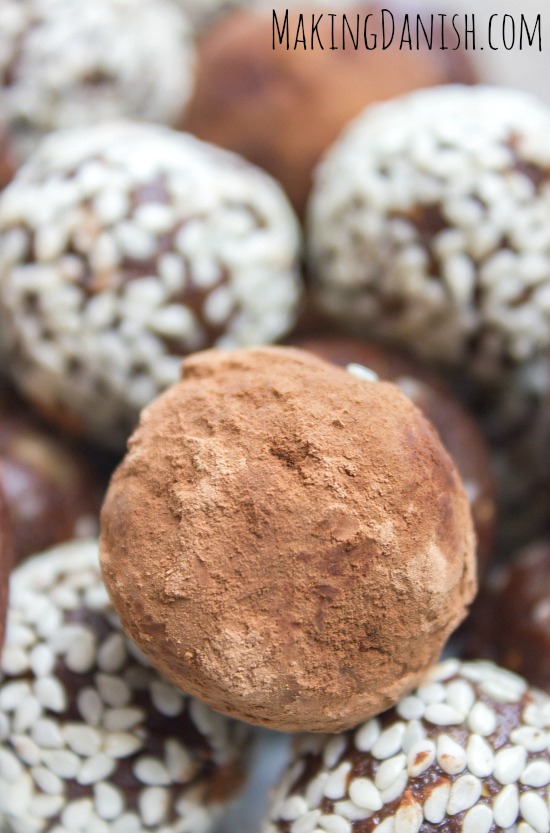 Storage:
Store the bliss balls in an airtight container in the fridge for 1-2 weeks and for 2-3 months in the freezer. You might be able to keep them longer, but this is how long I usually store energy bites for.
Getting enough calcium shouldn't be something to worry about just because you or your kids don't drink dairy. I'm not a dietitian, but in my own research I've found that there're so many other (and better, if you ask me) sources of calcium out there that's not from a cow or comes in the shape of a pill. Simple treats like these energy balls are just one example and if you add in some collard greens, almonds and a bowl of oatmeal you're well on your way.
I do recognize that there are times when kids get very selective about what they eat, so if you're worried, making bliss balls with them is a great way to get in some extra nutrition. Eva loves making these with me and despite the times where she won't eat a big variety of foods (like during this summers drought) I can always get her to eat a bit more by having her participate in the kitchen with me. It just comes naturally if I don't push it, but invite her to handle the foods.
If you're looking for other easy ideas for simple treat then you should try these 3-ingredient mini banana and raspberry fritters or if you're just looking for inspiration for your kids lucnbox then I've got 5 simple colourful plantbased lunchbox ideas that my kindergartner loved and which took very little time to prepare.