Date and oat bliss balls packed with nutrients for your little one
When you have a snackish toddler or a peckish kid on your hand, these scrumptious and nutritious treats got you covered. They're made with dates, oats and a handful of other wholesome ingredients and are packed full with energy and goodness.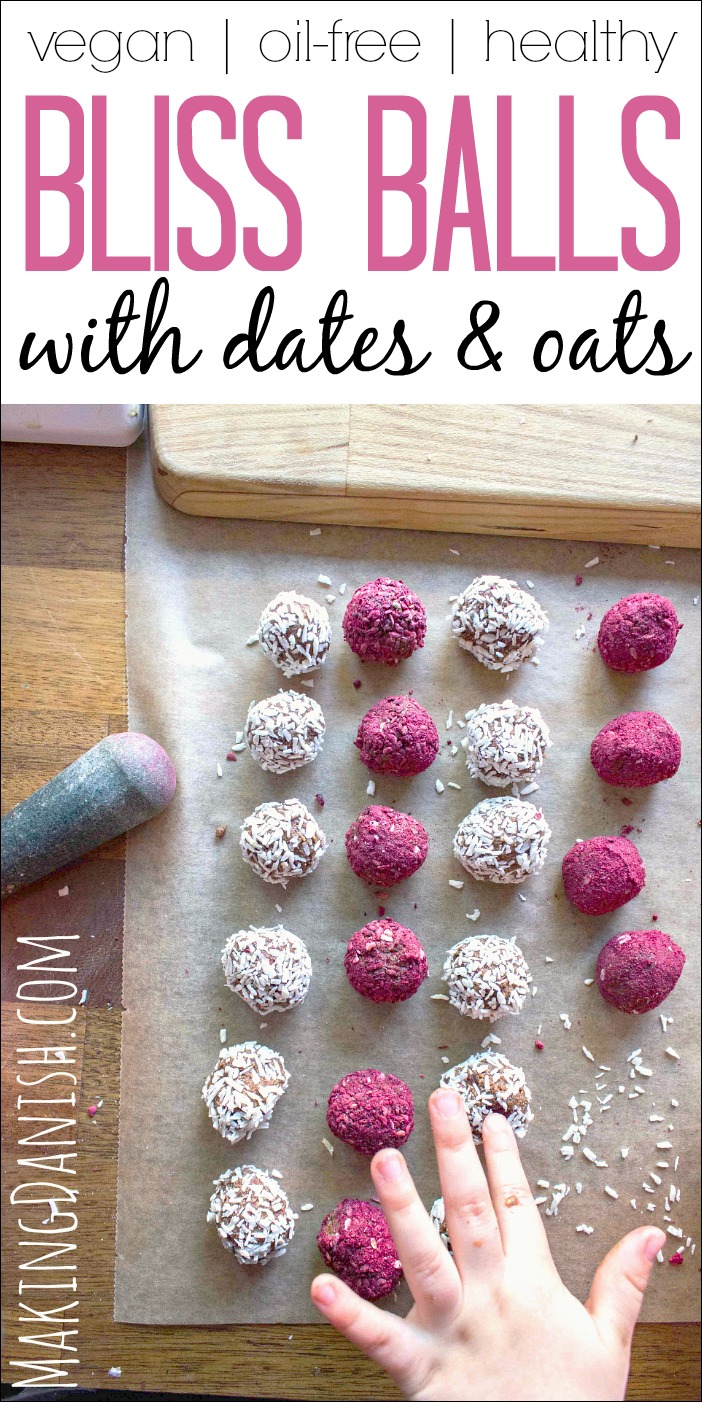 Like most kids Eva loves pretty much all sweet treats, especially dried fruits, and if allowed she would probably eat a whole container of medjool dates. I think we are pretty laid back when it comes to these kinds of treats. Eva who is 2,5 years old is allowed to eat cake and chocolate and drink lemonade and juice. She's never tried store bought candy or sodas – we're holding a bit back on those, but otherwise I would say we are pretty loose about the whole sugar deal. I don't want her growing up thinking sugary and sweet tasting snacks and treats are something super special that we all want to eat, but is not "allowed to" – I just want it to be something we eat on a off that just happens to taste good. We of course limit the amount of sugar she gets each day, don't get me wrong, I just don't want to tie sugar with to all kinds of emotions like something we are suppose to crave while also being a bit afraid of it – or something we eat to celebrate – or when we're sad.
Anyway, I'm getting a bit carried a way here. My point is, that despite the fact that Eva loves her sweet treats and I'm totally okay with that, I also want to make her a sweet treat for her packed lunch that isn't overly sugary like many dried fruit products out there for kids. I don't mind a lot of sweetness, but these bliss balls (or energy balls) are meant as part of Eva's lunch and I just don't want it to become way too sweet – at least not without packing some other goodnes along with it. And fortunally these bliss balls fits the bill – and Eva loves them. Both eating and making them so it's a complete win if you ask me.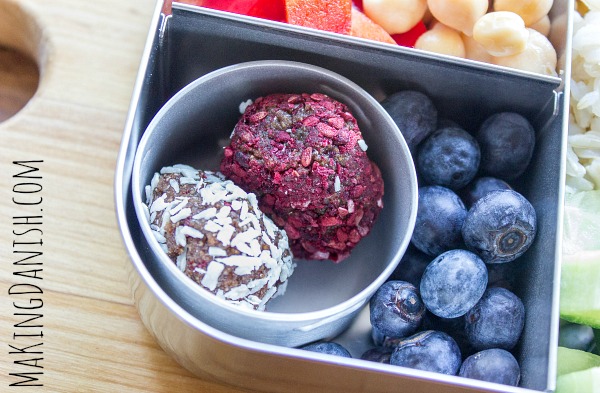 I make these bliss balls with Eva. And it's really an awesome treat to make with your kids – even the younger ones. Even though she's barely 3 years old she has a blast making these – and helping afterwards with cleaning up (read: scraping down the sides with a spoon and licking what can be licked). There's some fine motor skills being practiced with the rolling and some counting and numbers recognition with the adding of ingredients – and then it's just fun and a great way to spend time with your little ones.
Recipe for delicious and nutritious bliss balls with dates and oats
These bliss balls taste wonderful, are easy to make, packed with nutritions and fills you up better than just regular dried fruit products because of the oats, seeds and nuts. They are oil free as I don't think it's needed. The dates provide all the wetness that's required and the nuts and seeds all the fat, but feel free to add a spoonfull if you like. The bliss balls are made with two different coatings: shredded coconut and freeze dried blackberries – and just be adding different coatings you get two rather different tasting treats. Ben prefers the coconut, but I really love the added dimension the freeze dried blackberries gives the bliss balls. Other berries can be used instead.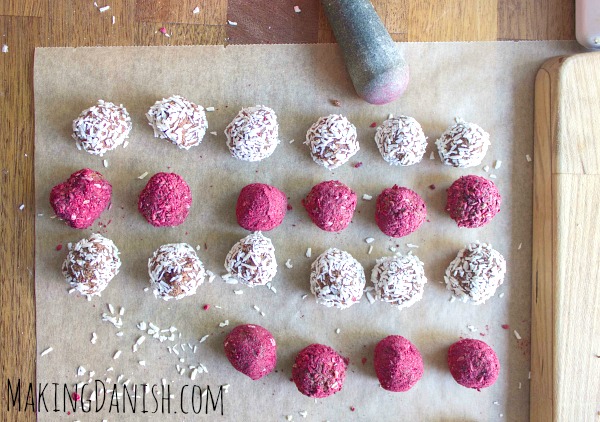 Oh the balls freeze well, so make an extra portion and store them in the freezer for an easy to grab treat for your kid's lunchbox.
You'll need:
For the truffle part
300 grams medjool dates (they need to be sticky- if they're too dry, just soak them in water for about an hour and drain)
100 grams rolled oats
1 tablespoon (10 grams) chia seeds
2 tablespoons (20 grams) hemp seeds
30 grams almonds (almond meal will work just as well)
For the coating
How to:
Open the dates and discard the seeds. 

Pop everything into a food processor undtil it becomes an even mixture. I like everything to become a unified mass which means it takes a minute or two extra for the almonds to get ground up, but if you want more texture, just stop before that.

Transfer the mixture to a bowl and let it sit for about 20 minutes. Just to let the chia seeds soften a bit and for the mixture to become less sticky, so it's easier to work with.

Put shredded coconut in a shallow bowl and ground up freeze dried berries in another. I use a morter to grind my freeze dried berries. Otherwise I thought the bits became to chunky, but that entirely up to you, how you like it.

Roll the mixture into little balls and then roll them in either the coconut or the berries. Transfer to container of choice and enjoy.

Optional if you're making these with your kid: Let your little one scrape out the leftovers with her fingers or a spoon. This is by far Eva's favourite part.
Storage: A week or so in an airtight container the fridge. They've never made it longer in our household anywa, but I imagine they could last longer. If you pop them in the freezer I would say about a month, maybe longer, but again, we eat them way too fast to test this.