8 fun and educational activities with painted rocks
Drawing on pebbles and rocks is a fun activity on it's own, but with a little creativity the rocks can be made into fun and educational toys for your kids. I've gathered 8 awesome ideas that your toddlers and preeschoolers will love, so find some rocks and pens and get drawing!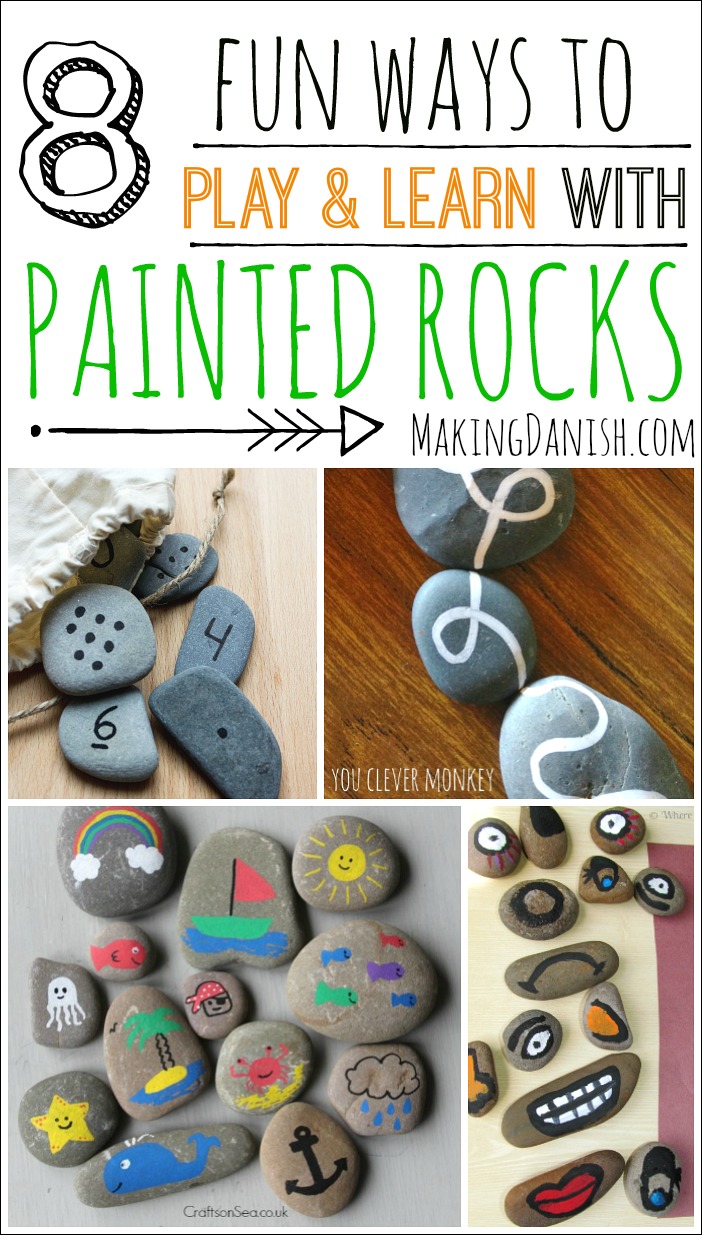 Eva likes to collects rocks – and I must admit sometimes can be seen with a rock or two in my pocket after a visit to the forest or beach. But usually we have to leave the pebbles where we found them, because there are limits to how many rocks one household can hold. This Christmas I however got my toddler Eva some easy to use Posca Pens
to draw on rocks with as part of her crafty advent calendar, and while she drew some creative things on her rocks, I made her set of pebbles with numbers and the matching amount of dots on the other side as a way of getting her familar with numbers and counting. And she loves them! She likes to line them up in the right order and has gotten pretty good at recognizing the numbers since she got them.
This little success made me search the web for some more inspiration on what you can draw on the rocks that somehow still end up in our home, which could serve an educational purpose and still be fun. The whole rock painting thing is a fun activity on it's own, but like childrens' drawing they quickly accumulate and I kind of like they idea, that the things we make with our kids are not always just about the process, but sometimes also about the end result. Just like in real ife.
Below you'll see the top 8 ideas I've come across so far and I've got to say, me and Eva have some serious drawing to get done, though we might need to get some more pens with more colours. I will definitely get more posca pens with a wider tip like this set here
– they might be a bit prizier, but they are so easy to use and the result is great. Even in the hands of a 2-year old.
8 fun and educational ways to play with painted rocks
I love this idea from You Clever Monkey. By exploring lines with painted stones you can lay the foundation for teaching your youngster handwriting or just simply have fun with matching up the lines.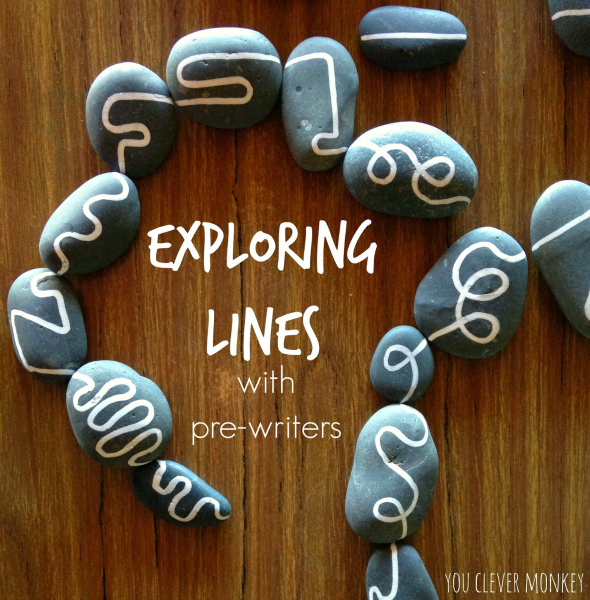 Making an alphabet by drawing on rocks is a fun way to let your children learn the different letters – and if you make extras of some of the letters, it can also be a great way to teach them to spell some small words. This version listed below is from Balancing Home with Megan Bray.
This is a really cool idea from Where Imagination Grows that can help your little one learn about emotions and facial expressions by mixing and matching different features.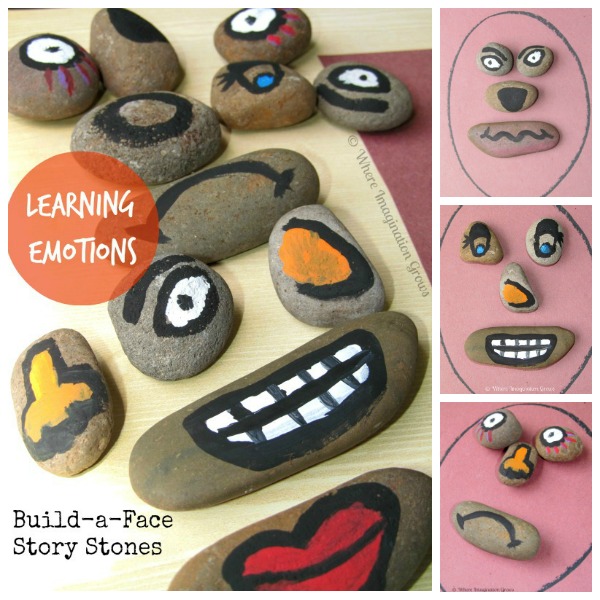 Writing numbers and matching them up with corresponding number of dots is an easy and fun way to learn to recognize numbers and how to count. Eva loves the number pebbles that I made for her.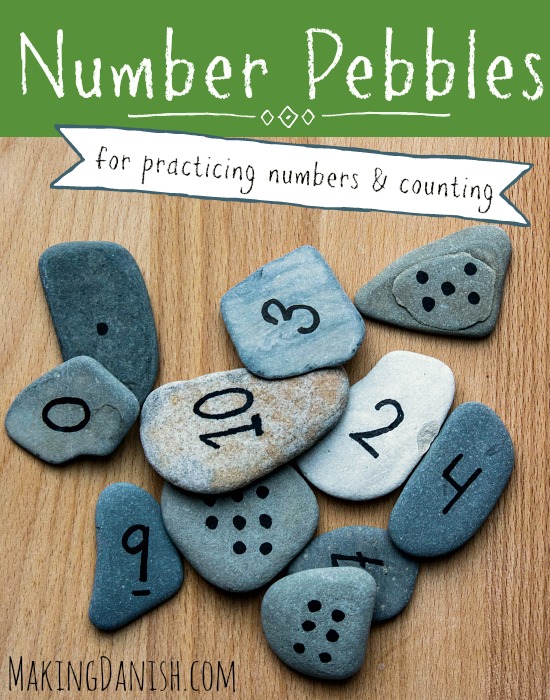 Tic tac toe is a classic game that teaches taking turns, thinking stratigically and following rules . It's easy to make with little circles and crosses, but I really like these cute ones from One Creative Mommy. The colours are so bright and cheerful.
Drawing pictures of different objects, animals or people can be a great way to aid in story telling. Just pick a few stones at random and let yours or your childs imagination run wild based on the images on the stone. The story stones can of course also simply be used as part of creative play. There are a ton of great ideas out there, but I like these sea themed stones from Crafts on Sea.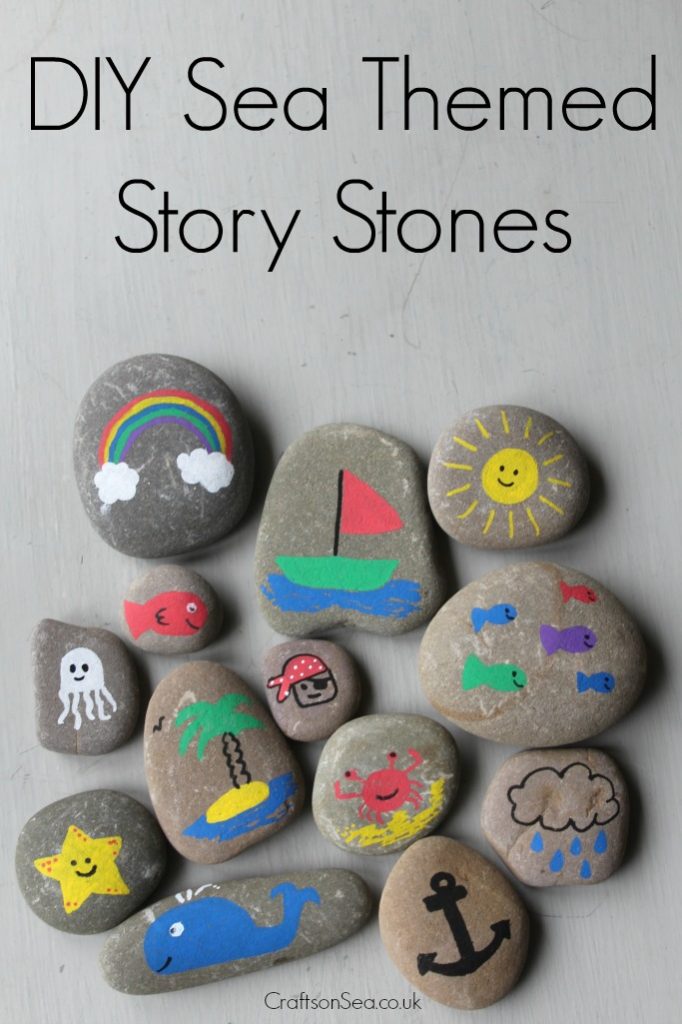 If you have a lot of flat stones, then a homemade domino set like this one from Repeat Crafter Me is a great idea to help your little ones start counting and matching while having fun playing.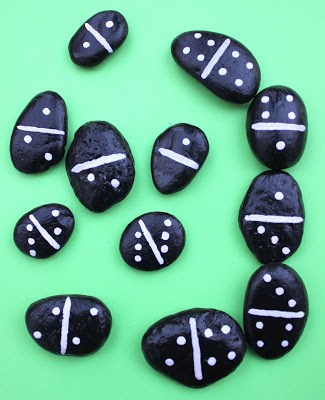 Making puzzles are fun on it's own, but they also help teach your kids to recognize patterns and to problem solve. You can make a unique and versatile puzzle by painting rocks like this rock animal giraffe puzzle from hello wonderful where there's more than one solution.
All in all, using one of natures most solid materials, a bit of paint and the ideas above and you can easily make some unique toys that your kids will love playing and learning with. If you add in some patience and lower you expectations a bit your kids will most likely have a blast helping you make some of these ideas come to live. So grab your rocks and get painting – and if you come up with any other ideas, let me know!