5 vibrant plantbased lunchbox ideas for your growing kids
Coming up with ideas for your kids' packed lunches can be quite the challenge. But it doesn't have to be! This post will give you 5 easy ideas for colourful and filling vegan lunches that will keep your kids happy and get them through the day. Each lunch is easy to make, healthy, filling and have been taste approved by my kindergartner.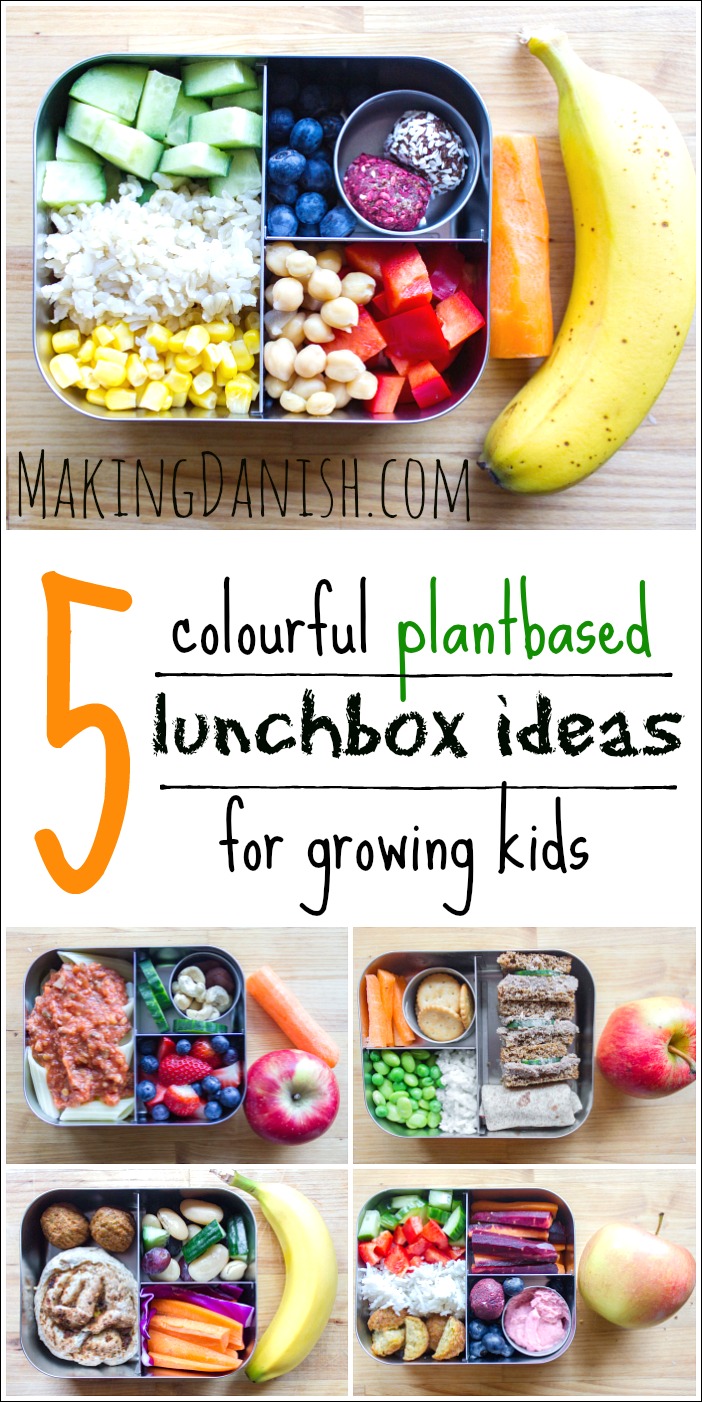 Making your kids' lunch shouldn't be a science – but it sure can feel like it. Especially on those Sunday evenings right before bed when it suddenly dawns on you, that your little ones might need something to get them through the next day and a big pack of cereal might not be the best choice (though it could do the job).
I've recently had to get use to making lunchboxes for my kindergartner and at first I was a bit nervous that I would end up making the same two or three lunches every single day, but with a little creativity and a bento box from LunchBots with three sections
, I've been able to make her a variety of lunches based on leftovers, easy to grab foods and a few "made in advance and in bulk"-freezer foods – and they've been completely vegan.
The lunchbox challenge and it's criteria
We completely avoid dairy at our home and try to limit the amount of other animal products we eat. We've been eating like this for a few years and it works for us. But with Eva starting Kindergarten a new challnge has arisen. You see, I've never before had to prepare a plantbased lunchpack for anyone but myself – and to be honest – I'm easily pleased. Especially since I will eat whatever I pack even if I'm not in the mood for it and I can decide how I want to store the lunchbox and whether or not I want it heated.
This is however not the case in Eva's kindergarten. Here the food is stored in the fridge until eaten straight from said fridge – and the lunch also have to somehow please the ever changing mood of a 2,5 year old who'll one day love edamame beans and the next day detest them.
So preparing Eva's lunchbox became quite the challenge for me before she even started Kindergarten. To make it easier for myself I made a long list of lunchbox food ideas divided by category like dipping sauce, veggies and so forth. I also made it a mission to make the lunchbox as appealing to Eva as possible and as filling and packed with nutrients as I can. All in all this means that my goal is to make all her lunches:
plantbased
filling
nutrituous
colourful and inviting
possible to eat (fridge) cold
primarily organic
both savory and sweet
5 plantbased bento lunchbox ideas for your kids
I've gathered one weeks worth of packed lunches for my 2,5 year old kindergartner. The food is stored in the fridge until eaten, so I've made sure that she likes the taste and texture of the foods straight out of the fridge – and fortunally she seems to like the same things hot as well as fridge cold.
1. Monday – plantbased bolognese
Monday started out with:
leftover pasta with a plantbased bolognese with red lentils, carrots, celery and mushrooms
blueberries and strawberries cut out
a few slices of cucumber and a small container with cashews and dried abricots
an apple and a carrot as an afternoon snack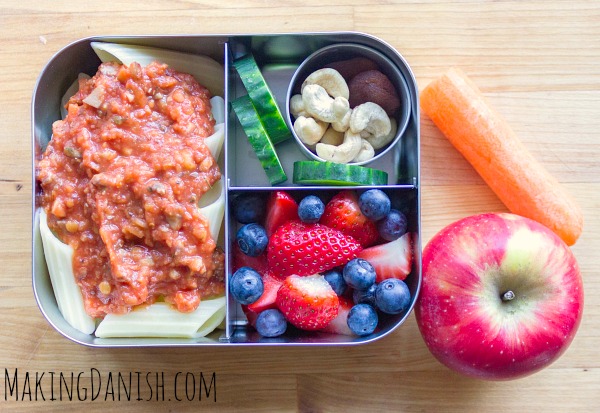 2. Tuesday – Rainbow lunch
Tuesdays lunch turned out to become a little rainbow on it's own:
rice with cucumber bites and corn from a can
red pepper cut in squared and chickpeas from a can (we made hummus with chickpeas from a can the evening before and I packed a little handful a away for the lunchbox before I made the hummus)
blueberries and two bliss balls with dates and oats which Eva and I'd made the day before
a carrot and banana for an afternoon snack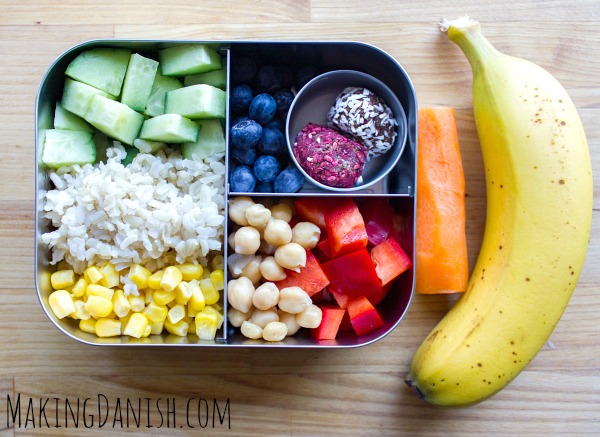 3. Wednesday – Ryebread with lentil spread
This middle of the week-lunch is inspired by a very traditional meat-spread served on ryebread; leverpostej (a kind of pâté) in a plantbased version, which we had for dinner:
rye bread with cucumber slices and a lentil spread made with green lentils, onions, celery and walnuts
a wholewheat mini tortilla (the last one from a dinner the week before) with peanutsbutter and a touch of jam
rice with a mix of peas and edamame beans from the freezer
carrot sticks and a few mini crackers in a tiny leak proof and air tight container from LunchBots to keep them crisp
an apple for an afternoon snack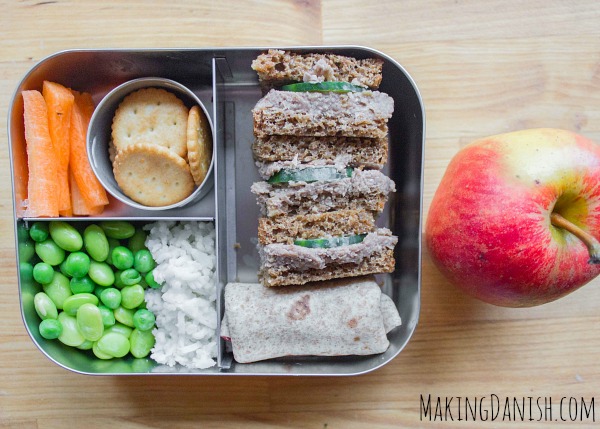 4. Thursday – Leftover falafel dish
Thursdays lunchbox was easy to make as it mainly consisted of leftovers from dinner the night before:
falafel in small pieces, rice, red pepper, cucumber and a small container of beetroot hummus
the last bliss balls with dates and oats and blueberries
purple carrot in sticks
an apple for an afternoon snack

5. Friday – Falafels & pizza roll
Friday was a short day, but the lunch is easy to make bigger – just add more of each ingredient. It consisted of:
pizza roll with kidney beans from the freezer and two leftover falafels from two evenings ago saved especially for this lunch
carrot and red cabbage sticks
a mix of butter beans, cucumber slices and a few grapes
a banana on the side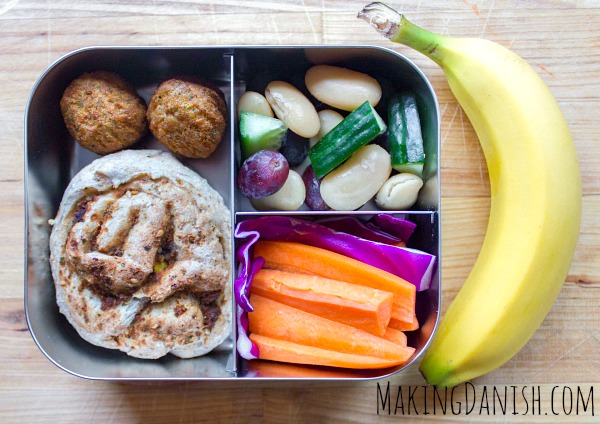 There you have it. One weeks worth of easy vegan lunches for your kid. As you can see, making a variety of healthy and inviting plantbased lunches doesn't have to require a lot of effort. If you take your time to set a side a bit of the dinner before you eat it, always have a few different veggies in the freezer, a can or two of beans in the cupboard and remember to buy extra fruits when you're out shopping, then it will make this sometimes daunting everyday task a whole lot simpler – and rather pleasing when your kids return home with empty lunchboxes and a full tummy.