Healthy banana bread sweetened with dates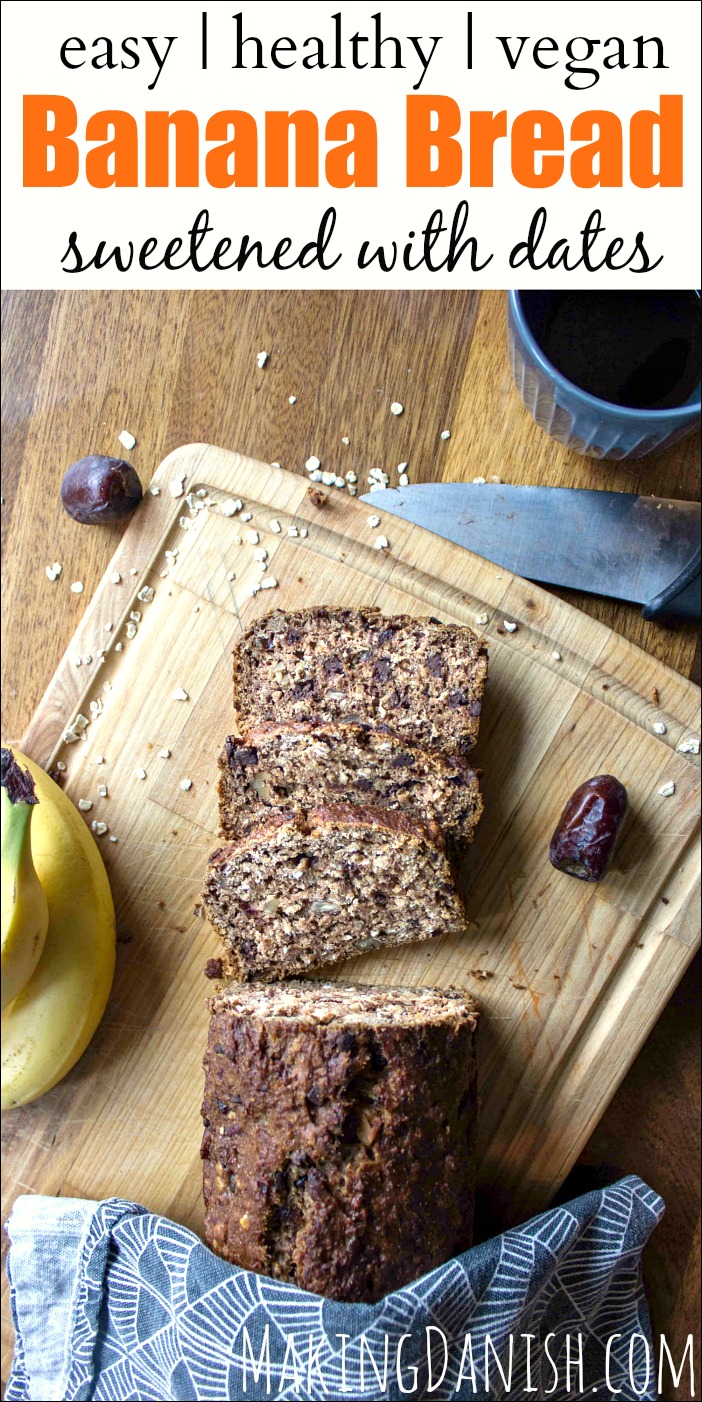 Easy recipe for a super yummy and moist plantbased banana bread that is a favourite at our home. It's completely free from refined sugar and instead sweetened with bananas, dates and chocolate chips. Perfect for kids and anyone else with a sweet tooth.
I love bananas. You could say I go bananas for bananas (but I won't). It's really one of the easiest snacks on the go as it comes in it's own packing. But bananas are not just good for a quick in between meals treat – it's also delicious with peanutbutter, as nice cream and as it turns out, in banana bread. I've never had a banana bread before. I've eaten tons of banana cakes though with loads of white sugar and a ton of dark chocalate (yum!) and I still occasionally make a banana cake, because yum. But since Eva started solid foods two years ago I've been trying to make these sugarloaded treats a bit more healthy, but without them becoming bland or boring. If the alternative is a dry piece of sadness, then I'd rather just skip it.
Instead of a more traditional banana cake I therefore decided to give banana bread a try in a healthy version. I'm not totally sure what the difference between banana cake and banana bread is, but in my head, banana bread just sound healthier, so that's what I went with. I did a bit of experimenting in the kitchen with Eva and we ended up with this scrumptious recipe that tastes sooo good.  We've already had it three times and I've saved some for the freezer (which will probably soon be defrosted).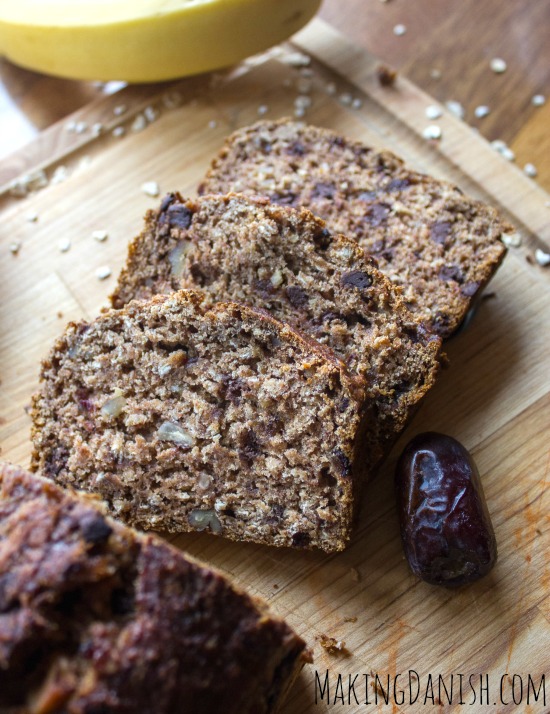 This recipe for vegan banana bread is neither too dry or too moist, but has a nice bouncy crumb (if you know what I mean?) to it and in my opinion just the right amount of sweetness. It's a healthy version of banana bread (cake?): instead of just white flour I've added whole grains and some oats to the mix and instead of white sugar, the sweeteness comes from the dates and the ripe bananas.  The bread of course still contains sugar from these ingredients, but both the dates and the bananas add fiber, vitamins and minerals to the bread that you would otherwise not be getting. In my mind it's all about eating whole foods. And best of all it's super easy to make. Eva (who is 2,5 years old) helped with every step of this recipe – well, besides the oven part of course. She is still a bit too young for that. And if she can make this almost on her own, so can you. No excuses.
You'll need:
Flax egg
2 tablespoons flaxseeds
5 tablespoons water
Wet ingredients
150 grams (about 5,5 ounces) medjool dates (about 14) without stones
3 very ripe bananas (about 250 grams / 9 ounces without the peel)
40 grams (1,5 ounces) coconut oil
1 teaspoon apple cider vinegar
Dry ingredients
100 grams (about 3,5 ounces) white flour
100 grams (about 3,5 ounces) wholewheat flour
50 grams (about 1,75 ounces) rolled oates
½ teaspoon salt
1 teaspoon baking soda
1 teaspoon baking powder
Optionals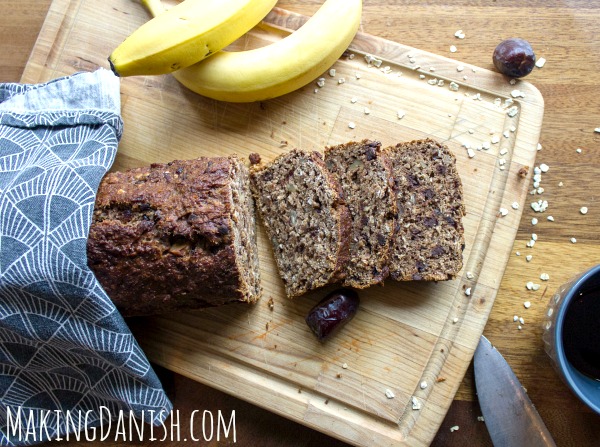 How to:
1. Preheat oven to 180 degrees Celsius (350 degress Fahrenheit).
2. Remove the stones from the dates and soak them in water for 15-3o minutes. The drier they are, the longer they need.
3. Make the flax egg by finely grinding the flax seeds in a coffee grinder (or similar) and add them to a bowl with the water. Mix well and let it sit for about 15 minutes.
4. Remove the water from the dates and add them to a food processor with the other wet ingredients. If you don't have food processor use a hand blender or you could even finely chop the dates and mash the bananas with a fork.
5. Mix all of the dry ingredients in a bowl and add the wet ingredients and the flax egg. Stir well.
6. Add the optionals to the mix. I love the classic combination of chocolate chips of walnuts.
7. Add the dough to a bread or loaf pan. I used a pan with a capacity of 1,5 liters. I only have an old non-stick pan, but am considering changing to one in cast iron like this bread pan
.
8. Pop the bread in the oven and bake for 35-45 minutes. It will be done when you can stick a fork in it and it comes back clean.
9. Take it out of the oven and let it cool. Cut into slices and enjoy.