Best homemade diaper rash cream with oatmeal – cloth diaper safe
Are you looking for a recipe for a chemical free, all natural alternative to the diaper rash creams you find at the store? Well, then you've come to the right place. This cream is thick, creamy and gets the job done.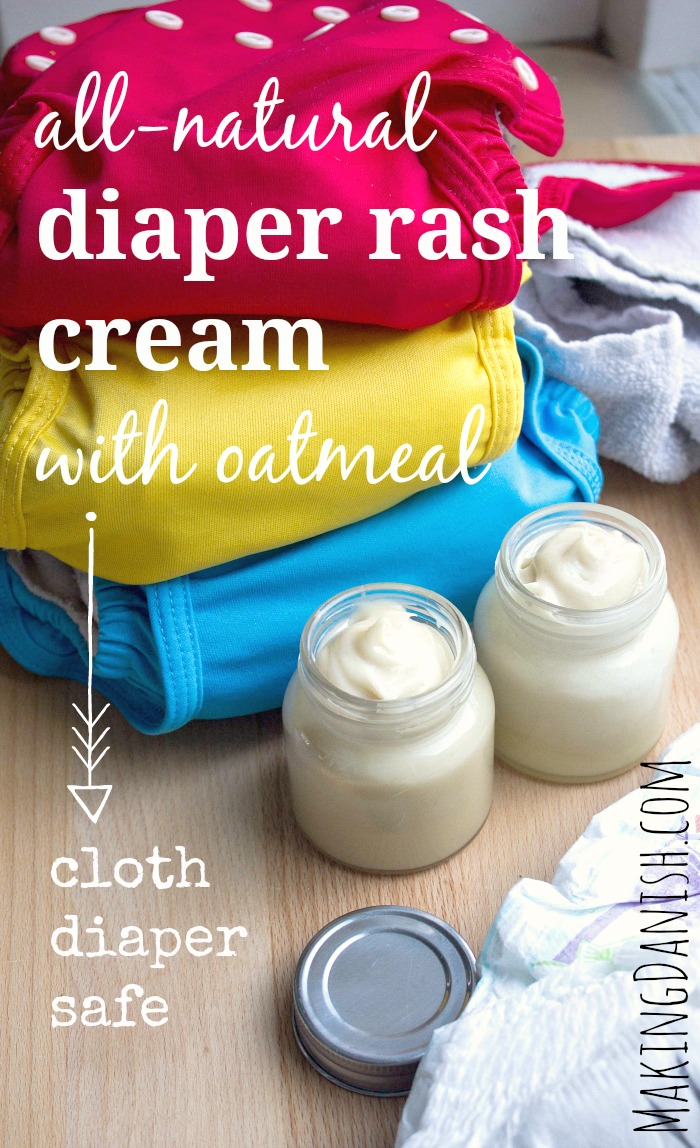 We've all been there. You open up your little one's diaper only to discover a red and irritated bum and can't help but to feel at odds. Especially if the rash is very persistent and simply won't go away. I'm not a fan of most diaper creams I find at the store. Many contain toxic ingredients, nasty chemicals or unnecessary perfumes and only a few consist of primarily natural ingredients. These however tend to be incredible expensive.  So to combat everything from a pinkish bottom to a raw and insistent diaper rash I instead make my own all-natural baby butt balm at a much lower cost and which simply works wonders! Just what any frugal parent wants to hear.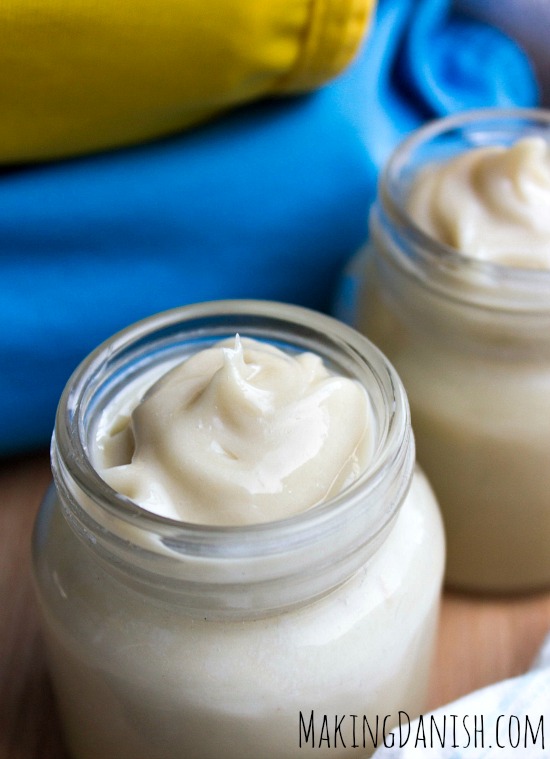 Not long ago I discovered the wonders of oatmeal and it's soothing properties that can relieve the worst of rashes and have ever since wanted to incluce it in a diaper rash cream. And now I've finally come around to it and I love it! It really just gets the job done – and fast. It's great for sensitive skin and eczema prone skin, has the most amazing smooth texture and if you use cloth diapers, then this cream won't ruin them like many store bought lotions and some homemade ones will. We use a mix of cloth and disposable diapers at our household, so we've put it through the test – and so far, no staining and the diapers have maintained their absorbency, so I've not had to strip them.
This super smooth home remedy calls for bees wax, but I have included a vegan option in the ingredients list as well as some other alternative for some of the other oils.
A little heads up if you're considering using essential oils
I know a lot of recipes for diaper rash creams calls for some kind of essential oil, typically lavender, as it has a soothing effect. I sometimes use lavender and other essentials oil like tea tree, but mainly for me and Ben. Essential oil aren't the safest thing to put on a small baby, even if it's therapeutic grade, but it can be helpful for older toddlers, which is why I've sometimes added a few drops of lavender oil to the creams I've made for Eva. But since Anton is only about 4 months old, I avoid using essential oils all together.
How to an all natural diaper rash cream with oatmeal
It's easier than you think to make your own super smooth diaper rash cream with oatmeal. If you don't have the exact oil on hand they can be substituted – an if you want a vegan version, you can substitute the bees wax with candelilla wax.
You'll need (a medium portion):
25 grams (about 1 ounce) beeswax (for a vegan alternative use candelilla wax – just use half the amount)
85 grams (about 3 ounces) organic extra virgin coconut oil
85 grams (about 3 ounces) unrefined organic shea butter (could be substituted with organic cocoa butter )
40 grams (about 1,5 ounces) organic almond oil (this could be substituted with another oil that is liquid at room temperature like olive oil or argan oil)
4 tablespoons colloidal oatmeal***
optional: 10 drops of therapeutic-grade essential oil like lavender or tea tree. Just please be careful with the amount when making this for your child. And remember not to add any essential oils at all if your baby is younger than 3 months!
*** Colloidal oatmeal is oatmeal that has been grinded into an extremely fine powder. It mixes very well with the oils and the wax. I buy my colloidal oatmeal for creams and lotions, but you can make your own by grinding up some old fashioned oats in a coffee grinder or similar until it becomes a powder. I do however prefer bying it as it's much easier to use and doesn't leave a residue which can make the cream grainy. Whenever I make a soothing oatmeal bath where it doesn't matter whether or not a residue is left behind I however just use regular oats from the store.
Pot or sauce pan for boiling water
Mason jar with lid for melting ingredients – a glass bowl or double boiler is also great
Bowl for whisking
Mixer, preferably an electric one
Container for storaging the cream
If you're looking for a recipe for diaper rash without oatmeal I often make this super easy, fluffy lotion with only 2 ingredients that I also like to use on little red (face) cheeks during the winter. It's so simple to make and I usually always have the ingredients in stock.
How to:
1. Mix the beeswax, shea butter, coconut oil and almond oil in a mason jar with a lid. Close the lid very lightly.
You need the lid to avoid any water getting in the cream. At the same time you'll also need to stir the ingredients once in a while with a spoon, so it's also important that you can easily remove the lid.  
2. Place the jar in a small pan with a few centimeters (about 1 inch) of water and bring it to a boil at medium heat. 
The water just needs to be hot enough for the beeswax to melt.
3. Remember to stir the ingredients once in a while until they are melted and smooth. 
I just used a long spoon.
4. Transfer liquid into a mixing bowl and slowly blend in the collodial oatmeal and the optional essential oil(s) and let the mixture cool for an hour or two.
I just leave it at room temperature.
5. Whisk well for a few minutes until you get a creamy mixture.
I recommend using an electric mixer, but it's not a nescessity. The beating lets oxygen circulate through the cream to fluff it up and thicken it.
6. Pour into container of choice and wait until it has harden. 
That's it. You're done. Enjoy your cream.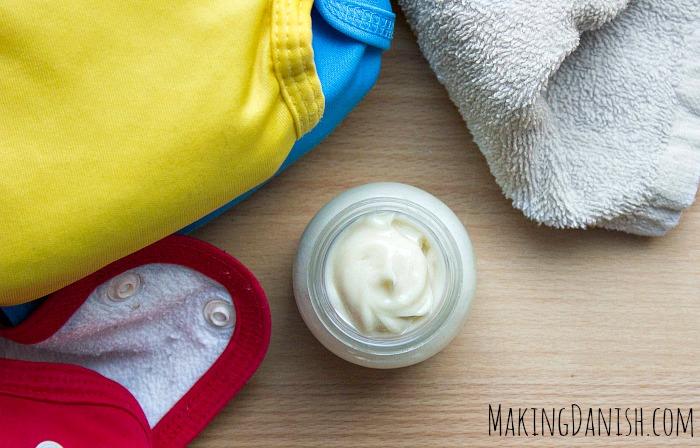 Storage and shelf life.
Store in a jar at room temperature. If the weather is hot it might melt a bit. Just pop it in the fridge and it will harden again. If you want to avoid this add more beeswax to the mix or omit the almond oil. This portion lasts us about 4 months with two kids in diapers and some used for hand lotion for the parents, but it will probably keep for quite a while. I'm guessing as long as the shelf life on the ingredients themselves) since no water has been added. If you want to be on the safe side, make a smaller portion.
Dosage.
Lightly apply a thin layer of cream directly on the diaper rash as needed and wait a few a minute before putting on a new diaper. Do this every time you change your little one's diaper until the rash is gone. Remember to change more frequently when there's a rash and to wash with water only.