Quick vegan pesto with spinach and peas
Vegan pesto with peas and spinach is a tasty and super simple way to add some green vegetables to your meal. The pesto is delicious with pasta and a great way for getting some green veggies into your kids.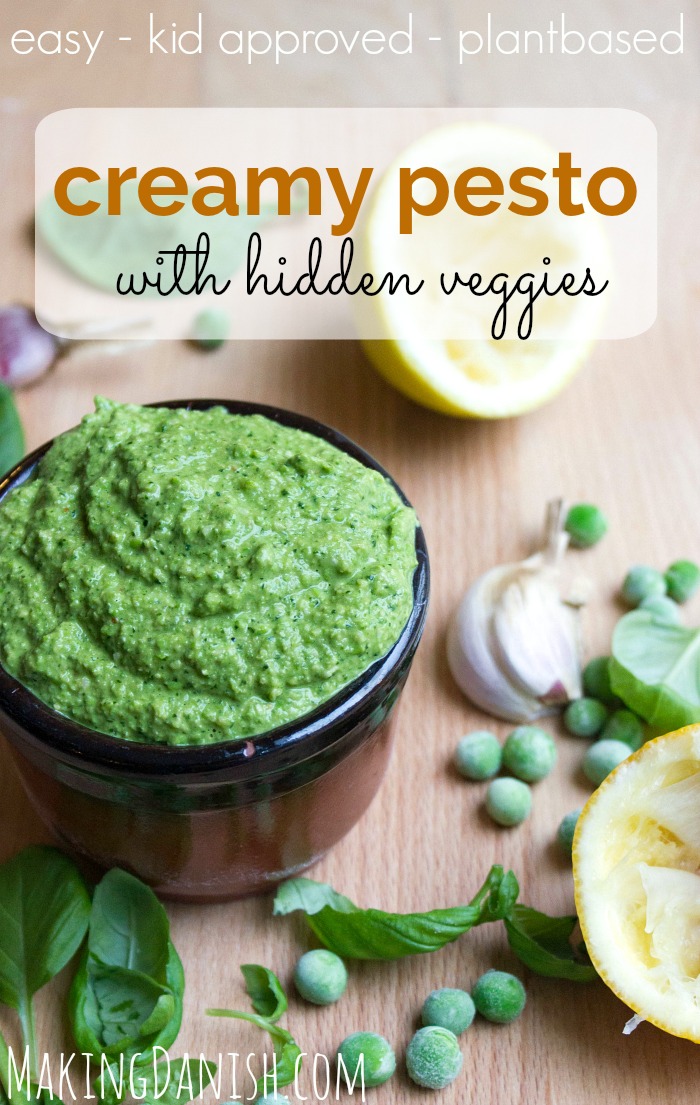 I feel fortunate. I have a toddler that eats a big variety of foods. There are however a few things that she is rather hesitant off due to it's texture. One of these foods are fresh spinach. I think a lot of toddlers will struggle with leafy greens because of the shape and texture – I mean, it's a funny size and shape to chew on compared to a carrot or cucumner. Fortunally Eva does like the taste when we blend it or chop it up and add it to a dish, which is why we usually eat spinach this way these days. This pesto is fine example of how we get some of that wonderful and healthy spinach into all of our tummies.
It's a simple recipe, but one I've neglected for quite some time. Not that I don't like pesto. I actually really love it, but I often end up making a whole lot and don't know what to use it for before it goes bad. There is a limit to how many sandwiches you can eat during a week. If you're the same, let me just say one thing: pasta pesto! It's a genius, easy and filling meal – especially if you use either whole grain pasta, spaghetti made of squash or another other vegetable or our favourite go-to: chick pea pasta. Just cook the pasta following the direction on the pack and add as much pesto as you desire. The pasta tastes best served right away. If you want to use it in a packed lunch – like I'm planning to do for Eva and myself – use can use leftover pasta from your dinner. It still tastes great the next day.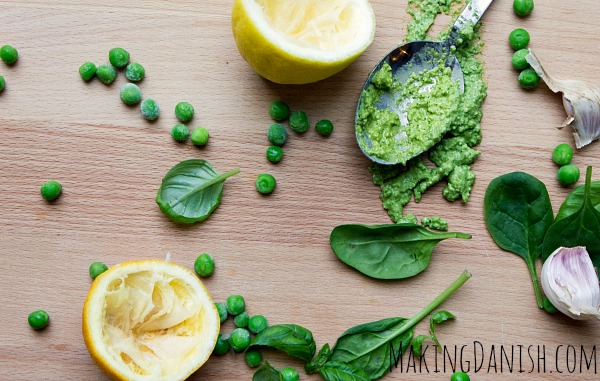 There are a ton of ways to make pesto, but what I especially like about this recipe is the hidden vegetables: peas and spinach. Leafy greens can sometimes be a bit tricky to get in your littles ones, but by adding it to the pesto, they won't even notice. I'm not into hidding the fact that there's spinach in it (it would also really be a challenge for me, since Eva usually helps by washing the spinach and stuffing it in the blender). But by mixing it in and chopping it up, it's just easier to eat (who likes to chew anyway). I prefer to eat leafy greens this way as well. I've also added peas to the pesto – both because it makes the whole pesto more creamy – and then just because it's super tasty.
Creamy vegan pesto with spinach and peas
You'll need (makes a medium portion):
1,25 (about ½ cup) peas (if frozen, thaw them first)
a big handful (about 40 grams / 1,25 ounces) fresh spinach
two big handfuls basil leaves (could be substituted with parsley
60 grams (about 2,1 ounces) pine nuts (could be substituted or supplemented with sunflower seeds and/or cashews)
2 garlic gloves (or more if you love garlic like me)
2 tablespoon lemon juice (about the juice from ½ a medium lemon)
3 tablespoons olive oil
4 tablespoons water
4 tablespoon nutritional yeast
salt to taste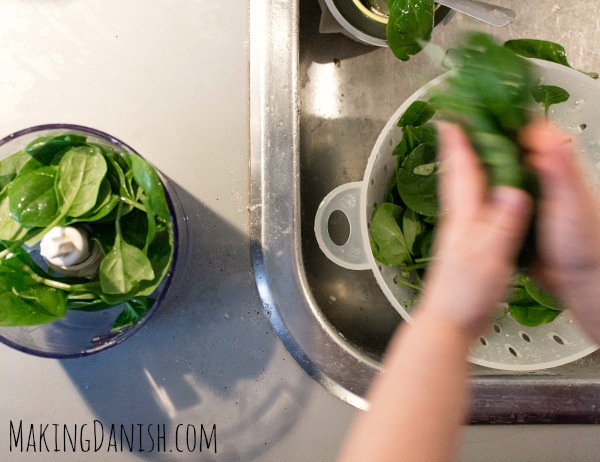 How to:
It's an easy recipe to make and Eva who is 2½ years old can easily join in.
Dry-roast the pine nuts on a pan. They are done when they have become lightly golden.
Add all of the ingredient except the water to a small blender and blend until completely mixed. Remember to scrabe down the sides as you blend to get everything mixed in and chopped up evenly.
Add the water a little at a time until you're satisfied with the consistency. I like it thick if using it as a spread, but thinner if w're eating it mixed with pasta.
Add salt to taste.
Storage:
The pesto should keep for about 5 days in the fridge – and if you need it to last longer, just pop it in the freezer fx in ice cube molds that are food safe
. Store it for at least a month and probably longer.