Vegan Gingerbread Cookies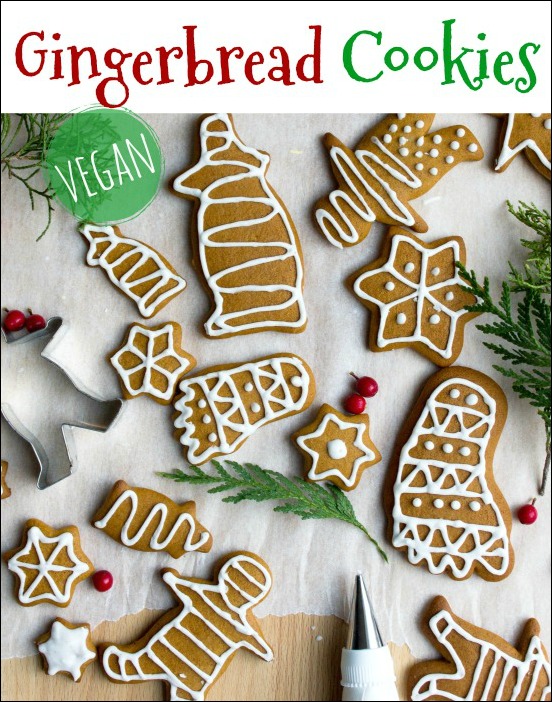 Christmas calls for christmas cookies. It's just one of those things that really says Christmas to me. The smell and taste get me in the right mood everytime. It's probably because I use to make cookies with my mom every Christmas when I was a child. It is such a fond memory to me, which is why Eva and I had to make cookies together this year. It really is a fun and cozy tradition! Next year I hope my mom and Anton have the opportunity to join in.
There are so many different kinds of christmas cookies we could make, but since time is a bit sparse this year with Anton being just a few months old, I decided to start of with the cookies I remember best from my childhood: syrup cookies which are a sort of gingerbread cookies. They kind of also remind me of Swedish Peperkakor, but no matter what they taste awesome! It's not exactly the most healthy cookie, but I'm sure it's good for the mind. And the taste buds.
These cookies are also a great activity for children and toddlers. Eva had a blast making them and helped with everything from making the dough, to cutting the cookies and to decorating them. Only thing she didn't help too much with was making the icing as holding a hand mixer for a long stretch of time is not her area of expertise. Just be aware that the dough needs to be prepared the day before, so if you want to make these cookies on a Saturday, throw the ingredients for the dough together Friday before bed.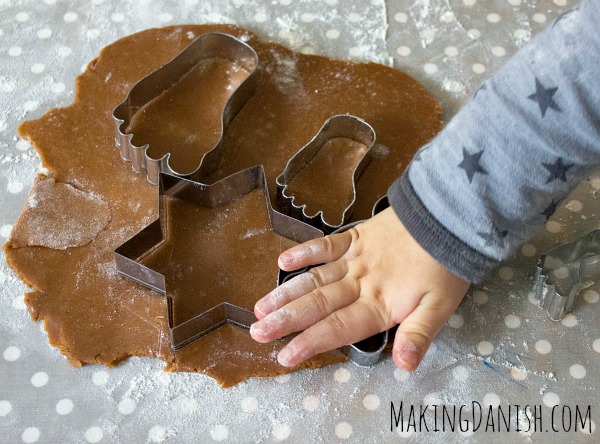 You'll need (for a medium-big batch):
I've never made royal icing before but I wanted to give it a go after having seen way to many great looking cookies on pinterest and instagram. So I found some inspiration from Vegan Sweet World and it turned out great! It tasted and looked good and was very easy to work with. If you're having problems with your icing I suggest you give this link a visit. You could also choose to just make a simple glace with just powdered sugar and a tad of water or just eat them as they are. They taste great on their own!
The cookies
150 grams (5,3 ounces) brown sugar (could probably be substituted other sweetner, but the brown sugar is what gives the cookies it's dark colour)
250 grams (8,8 ounces) syrup (I used agave this time, but another would do just as fine)
150 grams (5,2 ounces) coconut oil or vegan butter
1 tablespoon ginger
3 tablepoons cinnamon
1 tablespoon ground cloves
2 teaspoons cardemomme
½ tablespoon baking soda
3 tablespoon aquafaba (the liquid from a can of chickpeas)
550-600 grams (1,2-1,3 pounds) all purpose flour
The royal icing
5 tablespoons aquafaba
200-250 grams (7,1-8,8 ounces) sifted powdered sugar
1/2 teaspoon vanilla extract
a pinch of salt
Optional: 1/4 teaspoon cream of tartar (will help make it set easier if you're having trouble with it)
When you're trying to whisk aquafaba and want it to get stiff peaks, you don't want it to come in contact with any grease, so make sure your equipment is completely clean and dry.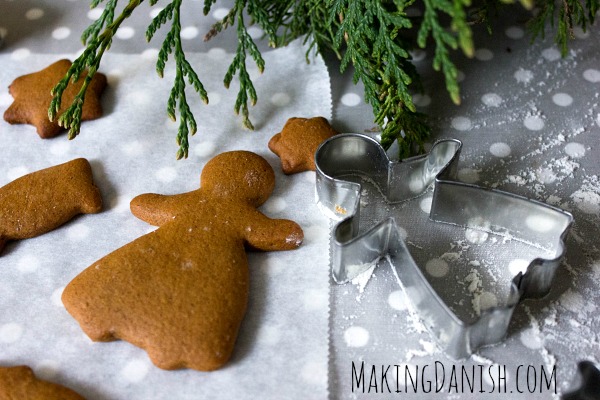 How to:
Making the cookies
Melt the brown sugar, syrup and oil/butter in a pot. The pot should not be too small (see next step).
When it's all melted add the spices and the baking soda and leave it to cool down. The baking soda will make the mixture get foamy and more than double in size.
Add the mixture to a bowl and stir in the flour and the aquafaba. Leave it to cool down in the fridge over night.
Take the dough out of the fridge about 30 minutes before you need to use it. The dough will have hardened in the fridge, but will get softer as you work with it.
Roll out the dough with a rolling pin and cut out the cookies. I would say about ½ cm (about 0.2 inch)I like to use cookie cutters, but you could just use a cup or cut them out into squares. If the dought sticks to the table or the pin just add a bit of flour.
Bake about 8 minutes at 200 degrees Celsius (about 400 degrees Fahrenheit). That will make them a bit crisp. Give them a minute or 2 less if you want them more on the soft side. The cookies will be soft when you take them out of the oven, but will harden as the cool down.
You could eat the cookies as they are now, but they also taste good with a bit of royal icing – and then they look even more Christmas-like. You don't have to decorate them the same day (and if you're making the cookies with a child, I would not even recommend it). But if you do decorate them the same day remember to let the cookies cool down completely before adding the icing. Otherwise it will melt and that won't be good.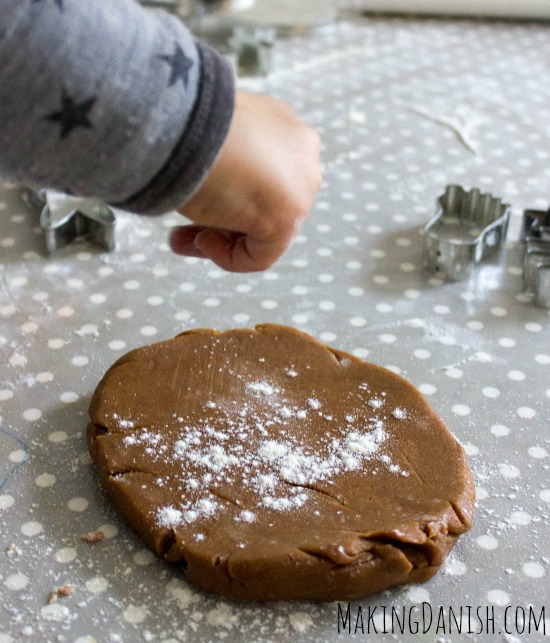 Decorating the cookies
If you're using aquafabe from a can strain it to remove any leftover bits. You might need to reduce the aquafaba if it's not "thick" enough in texture. I just gave it a go and had no problems. Just remember that if you reduce it, then it has to be cooled all the way down before you try to whisk it.
Add the aquafaba to the bowl and whip on the highest speed until it has turned white and you get soft peaks. I used a hand mixer and it took about 10 minutes. It should be faster with a stand mixer. Remeber to scrape down the sides once in a while.
Add the powdered sugar and salt to the bowl continue whipping on high speed for another 5-10 minutes. Again remember to scrape down the sides once in a while. Stop when the icing looks shiny and glossy and you get stiff peaks .
Add the vanilla extract to the bowl and mix again for about 30 seconds.
Transfer the royal icing into an airtight container straight away if you're not going to use it immediatly. The icing starts to dry out as soon as it gets in contact with air.
Put the icing into a icing bag with a noozle and start decorating your cookies. If you don't have an icing bag, just use a freezer bag and cut small hole in it. It will do.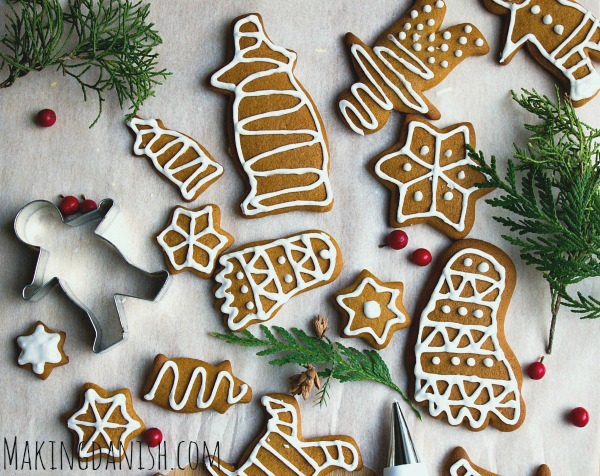 I forgot to count the amount of cookis we made, so I'm not certain how many we ended up with, but a lot. We filled about two cookie tins, but  we also ate a few while we maked them and in between the decorating. So expect a medium-big batch if you give these a go, which you definitely should. They taste great!