Elderberry gummies – kid approved remedy for colds and flus
Winter is the time of colds and the flu. But it doesn't have to be for you or your kids. Elderberry syrup has a long history of being used as a remedy for immune support, and for good reason. But getting your little ones to actually drink the syrup can be a challenge, which is why I make them into elderberry gummies instead! The gummies are completely plantbased, have been approved by both my kids and (knock on wood) seem to keep the colds at bay.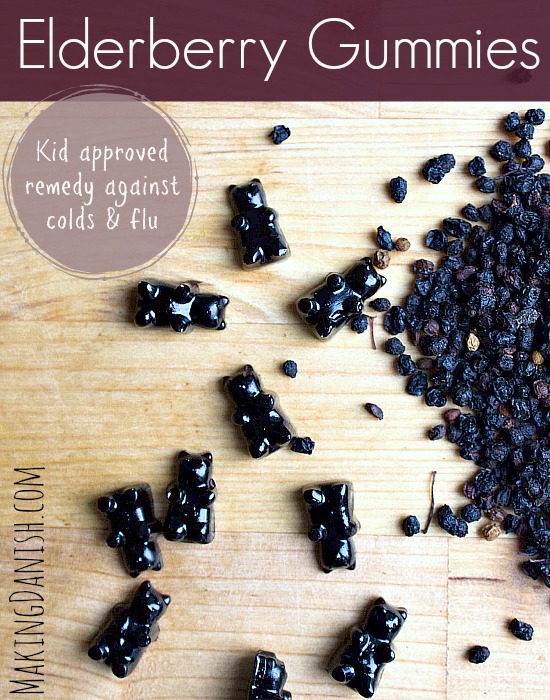 Elderberries have many health benefits. One particular thing I love about elderberries are their flu and cold figthing properties. I've been so unfortunate this fall and winter that I've already been down sick 3 times with some insistent colds (normaly I'm rarely sick, but fulltime breastfeeding and dealing with a newborn seems to do something to my body). That's why I've decide to prioritize my time this year to actually make a bunch of elderberry syrup to try and keep those colds away. So far it's seems to be working (knock on wood) – and not just for me. Eva's finally had a long(ish) stretch of time without a runny nose! Succes! It's no wonder elderberry syrup's traditionally have been used as a winter remedy for immune support!
The syrup tastes good on it's own . It has a very destinct taste and smell, but I like it and so does Eva. But despite her liking the taste it's still a mess to get her to drink it. She insists on putting it on a spoon because that's what she's seen me do. That's why I decided to make the syrup into mini fruit snacks instead. It is an extra step, but is so worth not having to deal with elderberry spots on her shirts. And I always make enough for myself and Ben, because to be honst, it just feels so much easier to grab a few gummies than having to deal with pouring a liquid onto a spoon.
Is it worth the effort to make your own elderberry gummies – or syrup?
The short answer is yes, if you have the time and want to save money. I make my own elderberry syrup instead of bying it. It's very easy, but it does take a little while on the stove. Still in my opinion it's worth the effort when you see the price tag on the store bought kind – and the same goes for ready made gummies. There's a lot of money to be saved, especially if you have access to an elderberry tree. But it takes time and if you have kids, this is something that you might not have a lot of.
An advantage of making your own suryp is you can make it as healthy you like by adjusting the amount of sweetner you use – or you can completely leave it out. And you can play around with the taste. Maybe add some strawberries to the syrup before making gummies? Or some lemon? There's a lot of possibilities.
So if you however feel a bit overwhelmed by the mere thought of making either the syrup or the gummies yourself, Amazon offers a wide variety of elderberry syrups
, elderberry gummies, and you can even find organic and vegan elderberry capsuls
. I believe having kids sometimes means cutting corners, especially if either them (or you) have already caught a cold. So if you want to try elderberry syrup or gummies out, but don't have the energy to make it yourself, I would definitely recommend buying some gummies or a syrup to test it out on your own – you can always come back for the recipe another time when your energy levels are a bit higher.
If you do end up making your own, you don't have to make them into gummy bears. Let your imagination run wild and find some molds you like – and better yet, some your kids like.
Recipe for vegan immune boosting elderberry gummies – a friend when your sick with the flu or down with a cold
This recipe uses agar-agar instead of the more traditional gelatine. Agar-agar is a kind of algea that gets a jelly-like consistensy when boiled. It's however not as jiggly and chewy as gelatine,but is more firm. If you want to use gelatine instead (which is of course not plantbased) I've read somewhere that you can swap it 1:1, but you might need to check up on that.
Ingredients (about 300 mini gummy bears)
1 cups elderberry syrup (if you make your own elderberry syrup, no need to use raw honey since you will need to boil it for a few minutes)
0,75 tablespoons agar agar (the powder, not the flakes)
Materials
moulds (I like to use mini gummibear molds, but a regular dish with some linning or greasing should do as well)
pot
whisk
a dropper to fill the moulds with (or a spoon if you don't have it – I got a dropper when I bought the molds)
If you use the molds I recommend this portion will yield about 300 gummy bears – that's about 6 molds.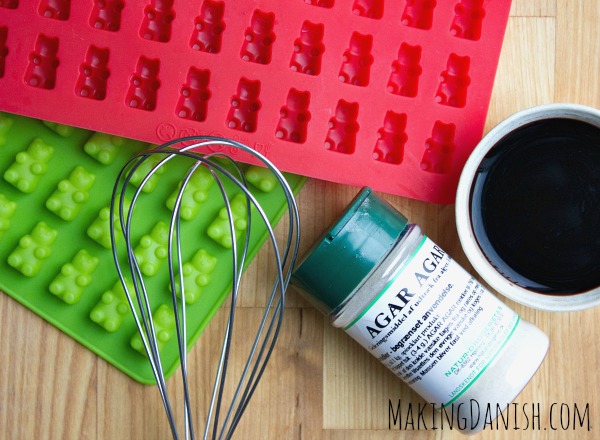 How to make the elderberry gummies
Add the elderberry syrup and the agar agar to the pot and bring it to a simmer on low heat. Make sure it's not boiling over.
Whisk the mixture constantly for about 2 minutes. The agar agar will dissolve and the liquid will thicken.
Remove from heat and pour into molds. I used the gummy bear version which are quite small and therefore take extra time, but Eva likes them and I find it's easier to vary the amount she gets – plus she can have "more" this way. Be mindful that if you're making a huge portion the agar agar will start to set before you're done.
Put the molds in the fridge for a few hours or in the freezer for about 30 minutes until the gummies are firm.
Pop the gummies out of the molds and into a air tight container in the fridge. Eat a few a day as a prevention or more if you are feeling a cold coming.
How to store your homemade elderberry gummies
Store the gummies in the fridge in an airtight container. I find that the can become a bit watery after a while, but it helps if you store them in some parchement paper. I'm not sure how long they'll keep since they don't contain any preservatives, but I would guess maybe 1-2 weeks. If you make way to many, just freeze them. Freeze them in silocone moulds for about an hour and then pop them out into a bag and they should be fine. I've only done this once, but it worked just fine – and doiing it this way means you can have some ready on hand if you suddenly catch a cold.
How many elderberry gummies should I eat when I'm sick or if I want to prevent a cold?
I'm not a doctor, herbalist or similar, so take my recommendations with a grain of salt. Each of the individual bear mold holds just under a ¼ teaspoon each. As a mean of prevention I grab 4-5 gummies per day and give Eva about 2-3. If younger than 2 years old I would probably go with maybe just 1 gummy bear (keep in mind that children under 1 should not be eating honey if you're syrup contains this). I took the same dosis 3- 4 times a day when I was down with a cold and I will do the same with my 2½ year old. You could do more, but so far this amount has worked for us.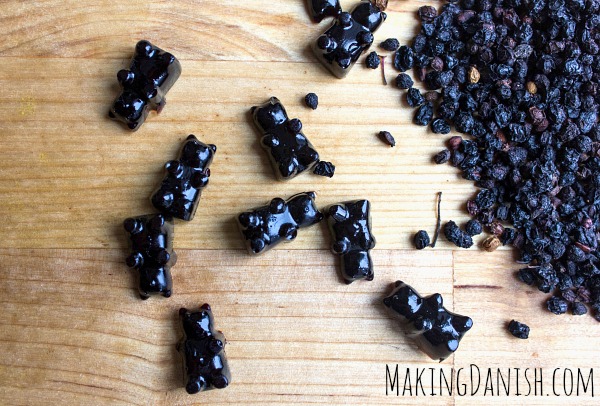 Let me know if you try it out – and or if you have some suggestions. Maybe you've tried adding in some vitamins or have mixed in some fruits to make a different flavour. I would love to know!