DIY advent calendar for crafty and creative kids
Coming up with ideas for your kids advent calendar can be a challenge if you want to inspire their creative side. That's why I've come up with an advent calendar that will help spark my little one's imagination and will give us both some time to be creative together. If you have a crafty or creative child like mine, then this might be the solution you're looking for!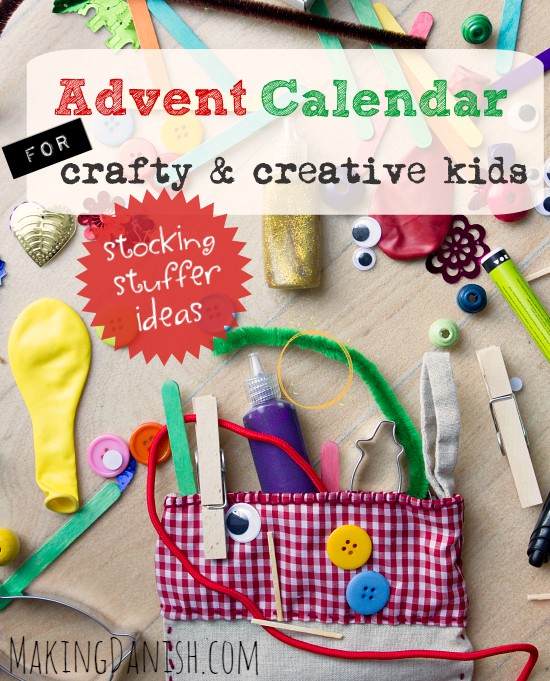 Christmas Eva is just around the corner, but before the big night there's a whole month of christmas anticipation and (im)patiently waiting as you count down to the big night. Eva – who is only 2 years old – does still not grasp the full concept of christmas – or time for that matter, but I still think she should get an advent calendar like I had growing up. She had one last year which was a huge hit and she still plays with the presents today.
Like last year we'll tell her that the house elf brings her the presents, which is why we also use a stocking to leave a new present in each day instead of having them all out at the same time. This might not make it a traditional advent calendar, but more of a mix between a calendar and stuffing a stocking. When she gets a bit older and no longer believes in the little elf I might make her a more traditional advent calendar, but for now I like this little extra christmas mystery that this way of doing it brings.
The criteria for the advent calendar
We set up a few criterias for Eva's advent calendar.
No junk, but still inexpensive. Both me and Ben agreed that the calendar should not be too expensive, but still not be filled with fragile, chemical filled trinkets we'll most likely end up throwing away sooner than later.
Easy to make. Like last year, there is no way I would be able to finish the calendar if it was not easy to make.
No candy or chocolate. I know Eva is going to get a calendar with dried fruits (which she is going to absolutely love) from her grandpa, so I don't feel like we need to add more treats to the whole december treat orgy. Especially not chocolate (which she does not like) or candy (which we have not yet introduced her to).
Fun and open-ended. The calendar should be something she looked forward to opening each day, but without it adding to her ever growing toy collection. At the same time it should be something that challenge her or gets her creativity going.
Craftsy advent calendar for creative kids – great for stocking stuffers
The theme for this years advent calendar is crafts and creativity. It's full of little craftsy things that hopefully will ignite her imagination – or mine if she needs a help. It's not December yet, but I almost can't wait for her to open the first present and for us to get started. I know she is going to love it as she always loves us doing crafts together.
Since Eva is still rather young the point of the calendar is not for her to get a little present each day and then to be left alone to figure out what to do with it. Instead I have a few ideas for activities we can do together to make something fun (or tasty) and a handful of different "tools" we can use, but not necessarily a plan on where it's going to end. If you on the other hand have an older child you wouldn't necessarily have to help them, but you could instead leave it up purely to their own imaginations. For the same reasons this advent calendar could just as easily be used as stocking stuffers – that way the stocking would end up like a inventors box full of materials just waiting to be used in a creative way.
The items I've listed below are just the items that I think Eva would find fun and which we "needed" in our art supplies (some I had already bought a long time ago and something we have used before, but I don't think she'll know or mind). You could easily switch it up with other items more suitable for your kids – maybe add some yarn, play dough (we make our own), finger paint or tools like pencils, brushes, glue or scissors.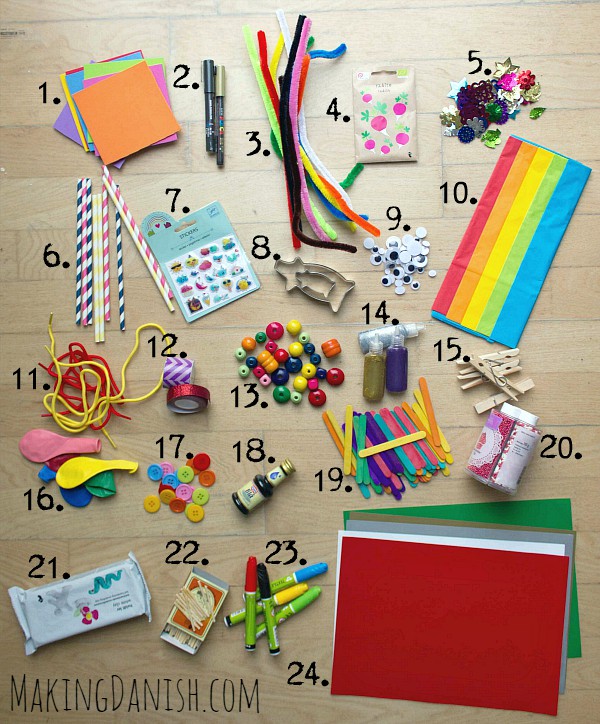 I've bought every item on this list below individually, but you could also buy a craft starter park like this Arts & Crafts Supply Center  with 20 different crafts materials and just add the remaing items.
As an update one year later, I've listed a few simple ideas for what to do with them with examples of what we ended up doing ourselves.
Foam sheets. We made toys for the bathtub which is still played with 1 year after.
Pens you can use to draw on stones and porcelain. We made stones with numbers and drew whatever we felt like that day, but you can paint whatever you desire.
Pipe cleaners. You can make a ton of different animals, use them as string for beads or arms for a spider together with play dough. We ended up making a very long necklace.
Seeds. Use them as a natural alternative to sequiens or simply plant them and watch grow together. You could also sprout chia seeds like we've done several times.
Sequins. Glue them on just about anything like drawings. We used them as ornaments on cardboard Christmas trees.
Straws. We used them to blow pom poms with, to make soap bubbles art with – and then of course my little one insisted on using them to drink with
Stickers. We used them to decorate a piece of paper, but they can decorate just about anything like a glass jar for grandma.
Cookie cutters. We used them to make ginger bread cookies with, but could also be used together with play dough.
Googly eyes. Perfect for making silly faces on ballons, photos or putting directly on the mirror if they have a sticky side.
Tissue paper. Ideal in combination with modge podge or to simple scrunch them up and glue on cardboard to make some awesome 3d pictures.
Shoe laces. We used them in combination with the foam sheets to make homemade lacing cards.
Decorative/washi tape. We used them to make to and from cards with a personal touch.
Wooden beads. We've made a ton of necklaces with these reusing them over and over.
Glitter glue. We used them to make Xmas tree outlines and other Christmas items and then put sequins on them as ornaments.
Cloth pins. My little ones decided to colour them and then practice some fine motor skills. They could also be use to make an airplane if you combine them with the popcicle sticks or be used as a creative way to close your plastic bags.
Ballons. We ended up blowing them up and drawing faces and putting googly eyes on them. You could also fill them with sand or flour to make stress balls.
Buttons. My little one ended up using them as part of her pretend play, to sort with and to count with, but they could also be used to glue on things, as eyes on a teddy or similar.
Food colour. We used it to make new batch of play dough (and to colour a batch of pancakes).
Popsicle sticks. I put velcro on the tips of the sticks and made velcro sticks. My little one spend a lot of time making geometrical figures with them. They could however also be used to build with like making airplanes, fences or similar.
Sprinkels. A great addition to decorate cookies with. We used them to decorate the gingerbread cookies we made.
White, self-hardening clay. My little one made a lot of different sculptures and we ended up painting them later on.
Matches (without the sulphur head). My kid used them in pretend play, but also to stick in play dough and in the white clay to make porcupines.
Textile pens. We ended up with my little one drawing on tote bags for all of the grand parents. It was a huge hit.
Gloss paper. This is a classic material for a variety of Christmas crafts like pleated hearts, but we ended up with me cutting different shapes and Eva glueing them in a pattern of her choosing.
A container to keep all of the materials in. I added this to the list as we only count down to the 24th, but many countdown to the 25th. A container or storage center would however be a perfect addition to the list – and perhaps ideal for the first day of December?
Eva won't necessarily get the present in the order listed above. It all depends on the plans we have for the particular day. I will however try to give her the materials in such an order that some of the first things can be used with some of the later ones. On Christmas Eve's day she'll probably get something I now she can entertain herself with for a little while after we get her started.