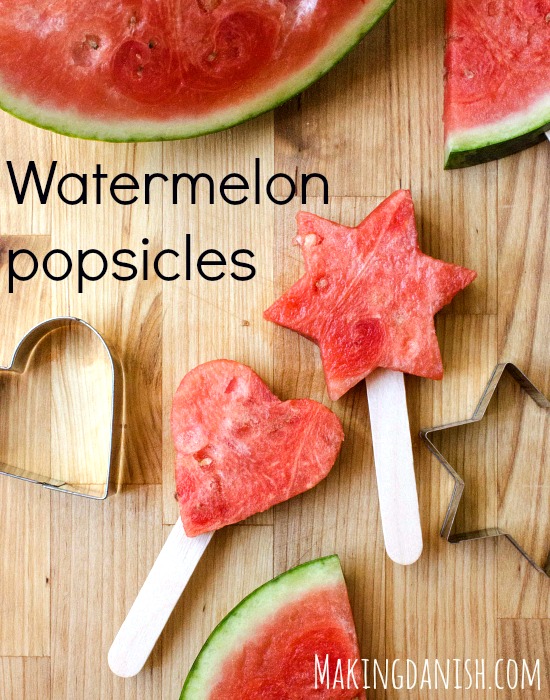 Summer calls for watermelon. It's almost a law of nature (despite the fact that you can't really succesfully grow watermelons in Denmark). We eat it all the time. This summer Eva has however also discovred popsicles and though we don't mind her having one on occasions, it's nice to have a more healthy alternative on hand than still tastes sweet. And this is where watermelon popsicles comes into play.
Watermelon popsicles are super easy to make. You pretty much just need watermelon, a knife and popsicles stick of some kind. We had some wooden sticks lying around, so we used those. I either make them with the wedges on or – like Eva prefers – use cookie cutters to make shapes like stars and hearts. She gets really excited when I've taken my time to use the cookie cutters. Of course this leaves some leftovers, but I either just eat it because, watermelon. Or I make watermelon juice!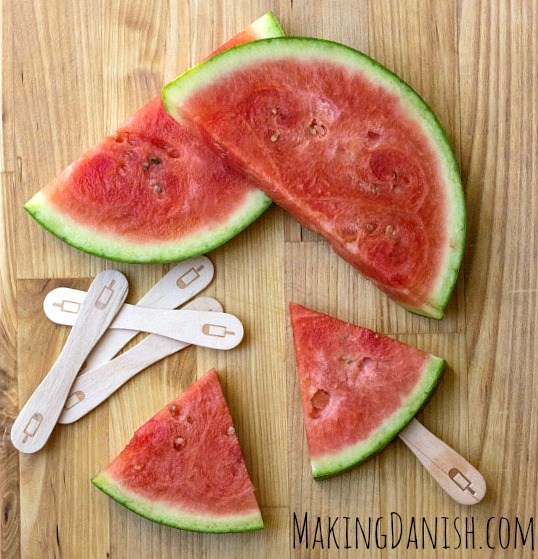 You'll need:
This recipe is so simple that it almost seems silly to write, but here you have it anyway.
Watermelon – preferable seedless and to the sweet side
Popsicles sticks
A sharp knife
Optional: cookie cutters
How to:
Cut the watermelon into wedges of desired size or use cookie cutters to make fun shapes. Use simple shapes to get the best result.
Cut a small slid in the watermelon and insert the stick. Repeat with all the wedges/pieces.
Spread the watermelon popsicles out on a parchement paper in a single layer in the freezer. Make sure non of the watermelon is toucing – otherwise the popsicles will stick together.
Freeze for at least 3 hours. After that you can put the watermelon in a container without them sticking together.
Enjoy on a hot summer day. Or just whenever you need a small refreshing treat.
The popsicles will last a few days in the freezer before they start to get freezer burns. At least in our freezer, but you might have a different experience, so keep an eye on the popsicles.