How to sew diapers for dolls and teddies
Eva's baby brother or sister is coming any time soon and I want to help her prepare somehow. Since she's taken a great interest in babies recently I thought I would make her some diapers for her baby doll. I had hoped she would like the diapers, but instead she absolutely loved them! I've had to make a second batch with some bigger diapers since her doll is quite small (and really doesn't have any gap between her legs) compared to her teddies. The teddies can be sqeeuzed into the doll's diapers (and they have been everyday since I made the diapers), but since Eva loves putting them into the diapers so much, I didn't mind spending some extra time making her some bigger ones as well. At first I did actually try to make them a size that would fit them all, but the size difference was too big for a simple diaper as I still wanted her to be able to use them without help from us.
Making cloth diapers for your child's dolls and/or teddies is a great way to use some of those fabric scraps you've have lying around, but never seem to know what to do with. For the linning I used an old sheet that I was otherwise going to dispose off. The old sheet does have one disadvange, but it's purely cosmetic. You can see through it, but I really don't mind and Eva hasn't even noticed. I just used whatever I had, but if you want to avoid this, use a more solid fabric like microfleece.
Instead of making the diapers plain white, like most disposable, I decided to make them more colourful like the cloth diapers I've recently switched Eva into. And I'm glad I did, since she loves commenting which diaper her doll is wearing and which she should be wearing next. I also decided to use velcro and make a big sticky surface, so they would resemble her own velcro diapers and could easily be adjusted and fit more dolls or teddies than just this one. And I'm glad I did since her doll is not the only one who's been wearing the diapers.
I had some inspiration on how to make the diapers from comewhatmay (in Danish), but had to make my own pattern to get a good fit. I've also seen some diapers made from felt which doesn't require sewing, but since I love to sew and like the look of the sewn diapers I went with this version. And it they are actually quite easy to make – even for the inexperienced sewer.
You'll need:
Fabric scraps – both for the exterior and the linning
Velcro tape (you could use snap buttons instead)
Coordinating thread
Sewing machine
Scissors
Paper to make a pattern
Pencil/pen
Optional: chop stick or similar for turning the corners
How to:
1. Make a pattern
This is really the step that took  me the longest and reqiured the most patience from me. After that everything seemed a breeze. I just kind of looked at a diaper, tried to draw a size I though would suite the doll/teddy on a piece of paper, put the doll/teddy on top of the paper, readjusted and then finally cut it out and tried to see how well it fit. It took me a few tries, but I think it turned out pretty okay.
2. Cut two pieces of fabric – one for the exterior and for the linning.
Remember to add sewing allowance. I used about 0,5 cm (about 1/4 inch). If the fabric is really wrinkly you could iron it. I was a bit lazy and skipped this step on the first two diapers, but later decided to do it, which made it easier to sew up nicely.
A little tip is first cutting either the interior or exterior fabric and then pinning it to the other fabric with right sides facing eachother. Afterwards just cut around the first piece of fabric using it as a template. I find that I get two pieces of fabric that fit perfectly together and that it takes less time. When done cutting leave the pins in and skip the next step (3).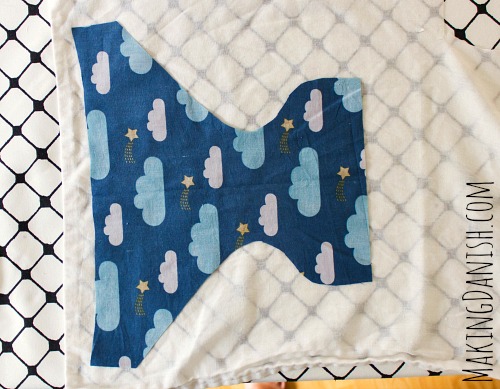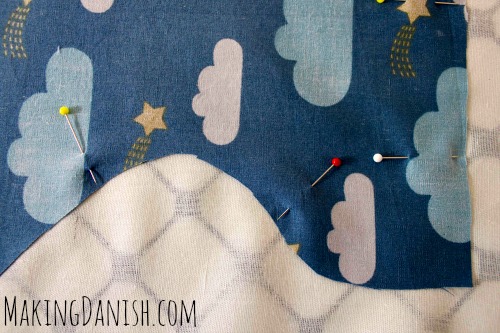 3. Place the two pieces of fabric on top of each other with the right sides facing.
If you followed my tip before, you can just skip this step as you've already done it. Otherwise remember to add pins to keep the two pieces of fabric in place.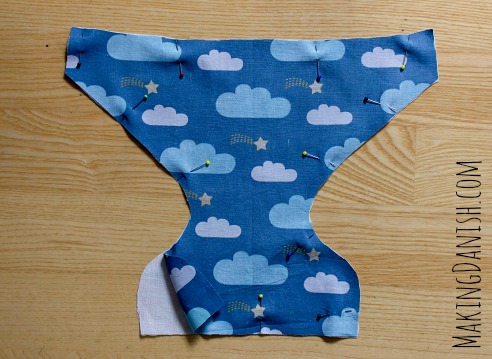 4. Sew all away around the diaper using your seam allowance.
Remember to leave an opening for turning. I made the gap about 10 cm (about 4 inches) in one of the ends.
5. Cut the corners and turn the diaper right side out.
Before turning the diaper, cut the corners and make little triangular cuts where the diaper rounds.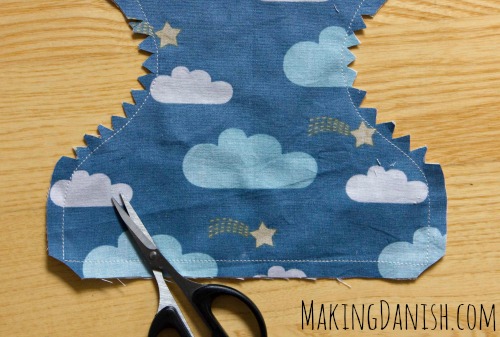 I used a chop stick to pop the corners and make them somewhat sharp. Or use your fingers if you don't have anything lying around.
Remember to iron the diaper afterwards. This will make the next step much easier.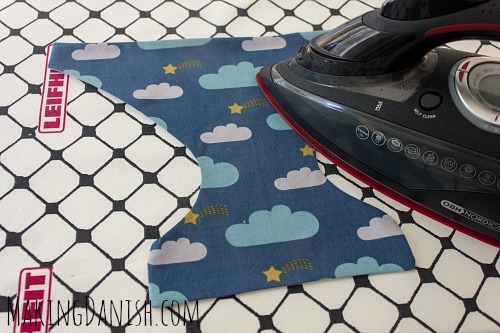 6. Close the gap and top stitch all the way around the diaper.
I just neatly stuffed the flaps in and held in place as I sewed, but you could also use pins. Sew all the way around the diaper close to the edge. This will help them keep the shape and then it also looks great.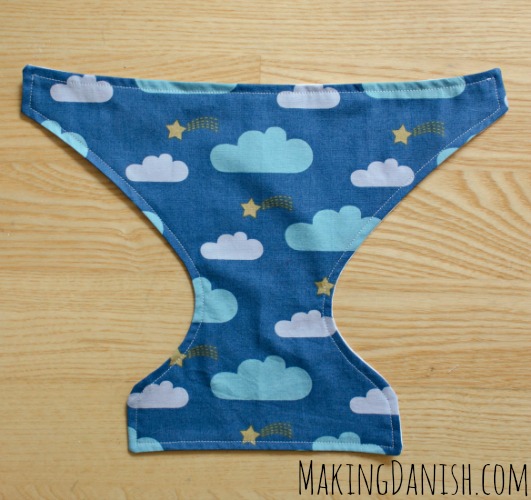 7. Cut and attach the velcro.
First cut the velcro into the size you prefer. For the doll diaper I use about 9 cm (about 3,5 inches) of the soft part of the velcro and 11 cm (about 4,3 inches) for the teddy version. I used about 1 cm (about 0,4 inches) for the sticky part for the doll diaper and 2 cm (about 0,8 inches) for the teddy one, but just eyeball it.
Second, sew the velcro in place using a straight stich close to the edge. The two sticky parts go on the inside end of each flap and the soft part goes on the outside in the middle of the front.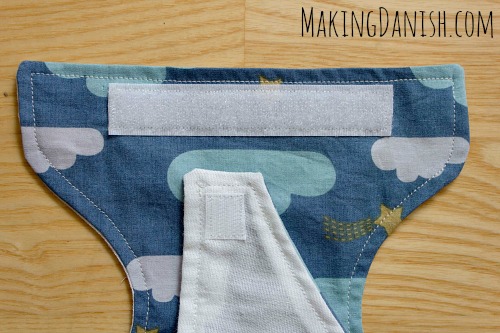 8. Hand your child the doll and/or teddy diapers and let the fun begin. 
One quick warning. You might end up having to help your toddler change the dolls diaper over and over again.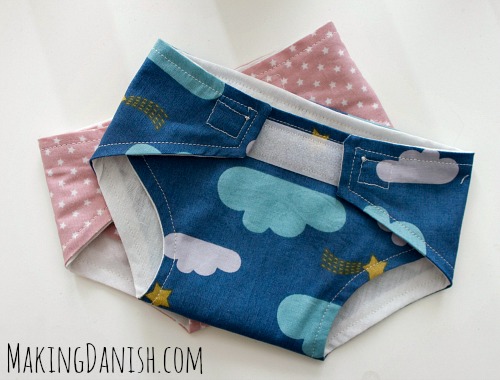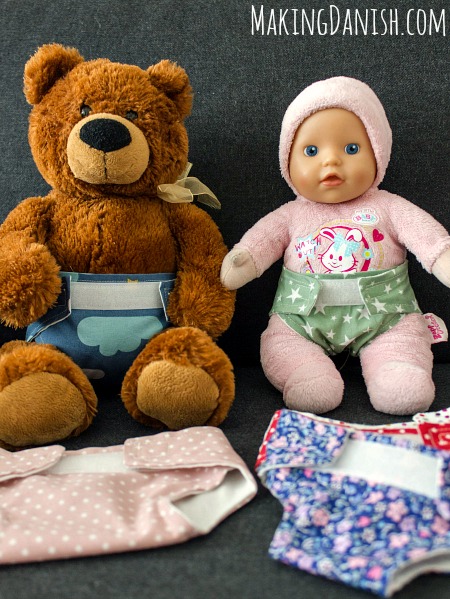 Next project will have to be some baby wipes, a changing cover, a wipe container or maybe something to keep the diapers in. And maybe a bib or two. Or a baby carrier. And maybe I should slow down and be a bit more realistic. But it's nice to have some ideas ready if I do find myself home alone and with some time to spare before the baby arrives.