Fruit flags – a tasty, healthy and simple alternative to birthday cake
Eva just had her 2nd birthday! That means she been in our lives for 2 whole years! It's difficult to grasp and even imagine that just two years ago we had a small, wrinkly baby in our arms and now we have this strong, independent and energetic toddler that can do so much more than we sometimes give her credit for. She is just amazing.
Anyway, as you might know, both me and Ben work and while we're working, Eva spends her day in a great little daycarecenter near our home. When it's the children's birthday the parents usually stop by with something special for the children to eat, while everyone gathers around the table and sing a bithday song and maybe some other songs – depending on the birthday child. Our daycare have a no-sugar policy which means they avoid adding unnescarry sugar to the food. They do however eat fruit etc. with natural sugars in them, so when it was Eva's turn to bring something along for the other children, we went straight for the fruit and vegs ailes in the supermarket and found Eva's favourites: watermelon and strawberries.
The very red colours of the watermelon and strawberries gave me the idea to arrange the fruit we bought into a Danish flag, so I added some white fruits, in this case honey melon and banana, to our shopping basket. In Denmark we use our national flag, Dannebrog, to mark any occasion worth celebrating and we especially use it to celebrate birthdays. It's almost an obligatory part of any birthday celebration. That's why whenever Eva sees a Danish flag she now exclaims "birthday!" and why it made sense so much sense to make a flag or two out of fruits. And fortunally Eva loved it!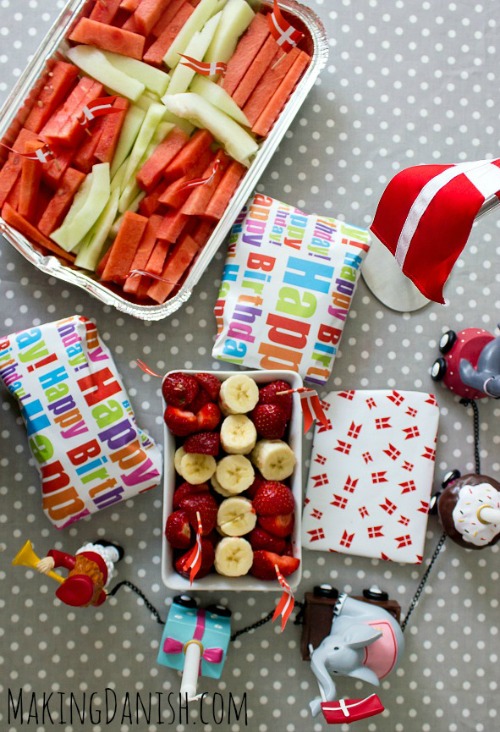 You'll need:
It seems almost to obvoius to write down that you need, but sometimes it's just nice. So for your own national flag made out of fruit you'll need:
Fruits that have the colour of your national flag
For the two different Danish flags I made you'll need:
Watermelon and honey melon
Strawberries and bananas
How to:
Though fruit is no birhtday cake in the traditional sense, the fruit flags were a great hit. And the best thing is, it was healthy and didn't take much effort to prepare and they children devoured it. We just cut the fruit in "easy to eat with your hands"-sizes. The children range in age from a little younger than a year to almost three years, so I cut the melons in long, easy to grasp pieces and the bananas and strawberries in smaller bite size pieces. And then I just arranged them in a Danish flag. That's it. Pure and simple, but so delicous.