Creamy broccoli soup with kale and peas – vegan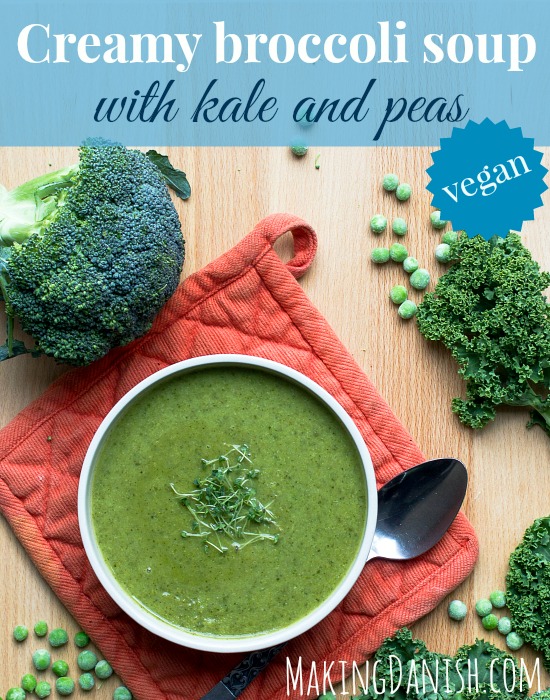 About a month ago it was almost impossible to imagine that we would ever get to tuck away those winter jackets. It was like winter had turned into autumn, just lightly skipping over spring and summer. It was cold and rainy and way to windy to really enjoy being outside. Fortunally this has now changed – at least partially – but during those really rainy days all I wanted to eat was soup. Not something I usually crave in May, but the stomach wants what the stomach wants.
This broccoli soup with kale and peas are one of my favourites. It tastes great, is nice and creamy and so simple to make. I don't always follow the recipe exactly, but try to use whatever vegetables that needs to be used before they go bad. But the broccoli and peas are a stable and gives it a wonderful, vibrant green colour. I really just love broccoli soup and fortunally so does Eva. If there's a small bit left over I like to save it for the next day and cook some pasta or rice or maybe bake some buns like these slow risen buns or homemade oat buns. That way Eva can use the leftovers as either a dipping sauce for her pastas or bread or like a regular sauce for pasta or rice. Either way it's an easy lunch.
You'll need (4-5 portions adult portions):
1 big onion
2-3 gloves of garlic
1 big head of broccoli (with stilk – you can use both frozen or fresh)
2,5 dl (about 1 cup) frozen peas
100 gram kale (about 3,5 ounces or 1 big leaf / a big handful – you can use both frozen or frest)
300 grams (about 0,7 pounds) of potatoes (you could substitute about half of it with pastinaks or parsly root)
1 liter (about 4,2 cups) vegetable broth (or a bit more if you're having trouble covering everything in the pot)
200 ml (about 0,8 cups / half a can of coconut milk (if you feel the soup is to thick you could add more)
oil for frying
salt and peber for tasting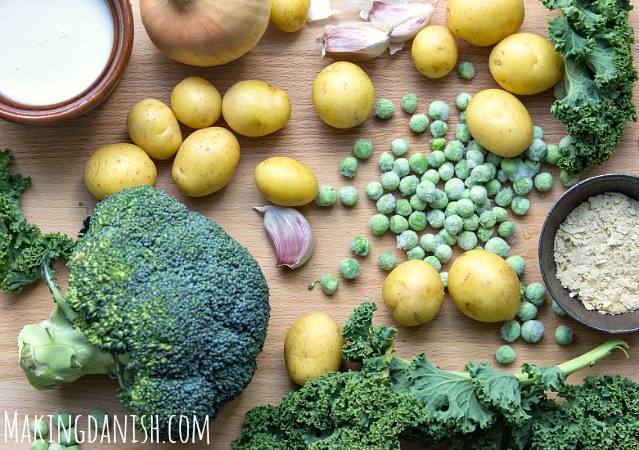 How to:
1. Chop the onions and garlic and saute them in a big pot with a little oil for few minutes. I fry them until the onions become see-through.
2. Cut the potatoes and broccoli into smaller pieces and chop the kale finely.
3. Add the vegetable broth, broccoli, potatoes, peas and kale to the pot
4. Bring it to a boil, reduce heat, and simmer for about 15 minutes, until the potatoes and vegetables are tender. 
5. Blend the soup until smooth. I usually use an immersion blender, but you could transfer the soup to a regular blender. Just be very careful when transfering the soup.
6. Add the coconut milk and nutritional yeast and heat the soup while stirring it with a spoon. 
7. Bring to a boil and take it of the heat. Serve with sprouted chia seeds on top. Bread or homemade buns are also a great side to the soup.