Easter tree decorating with a toddler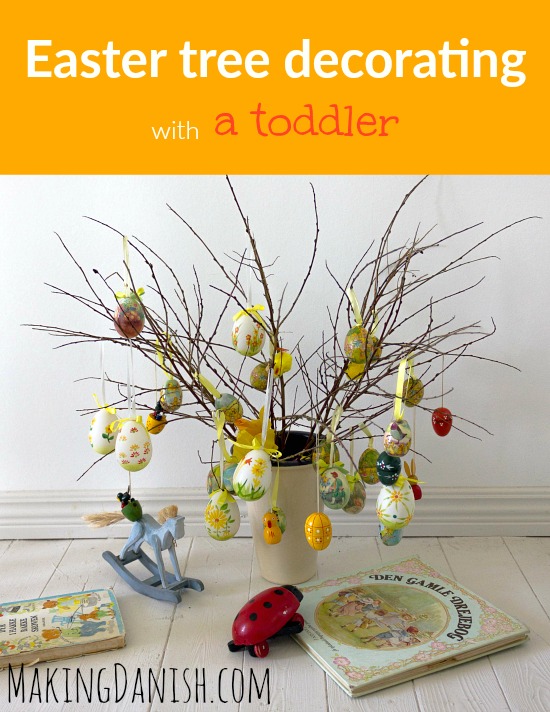 In my family we've never had many traditions for Easter, but one we did have, was my mom and I decorating a small Easter tree each year. Since I moved out of my parents house many years ago I haven't however found the joy in decorating for Easter and has therefore not filled our home with branches covered in colourful eggs or little yellow chickens. But after having Eva, decorating for the holidays suddenly makes sense again.
This year Eva, Ben and I have been in Sweden with Eva's grandparents in the days before Easter, and when Eva's grandmother suggested that Eva and her could decorate an Easter tree just like I use to do with her, I of course said yes. And Eva loved it. She loved the many different eggs and chickens that my mom had saved since my childhood and took great joy in hanging them on the branches. She was very focused and had a really great time with her grandmother. All in all I think this is a simple, but really great tradition, that we'll continue doing for as long as Eva wants.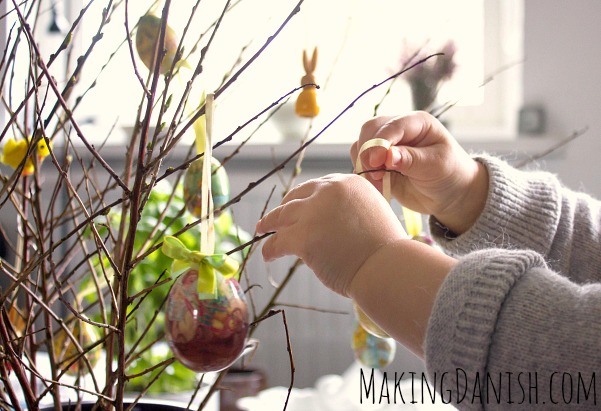 I also think we're going to add a few more traditions to the list. Despite the fact that neither Ben or I have grown up with a lot of traditions for Easter, I have a few ideas for future Easter traditions that I think Eva and her future siblings would really enjoy: baking easter cookies and making other Easter treats, going Easter egg hunting and letting Eva find the eggs the Easter bunny has dropped, rolling eggs and other games, painting eggs and making other Easter decorations, sprouting chia seeds (cress would be the norm, but I really don't like the taste) and of course continuing decorating a small Easter tree with Eva.
You'll need:
For making and decorating a small Easter tree you'll need the following.
A few branches from the garden (or you could use a small potted tree or a plant that you already have in your house)
A sturdy vase or jar for the branches
Easter decorations with strings for hanging
How to:
It's pretty self-explanatory, but for good measure, here a how to:
1. Put the branches in the vase or jar.
2. Hand your toddler all the decorations and show them how to hang one on a branch.
3. Enjoy how concentrated your toddler can be while hanging the decorations on the tree.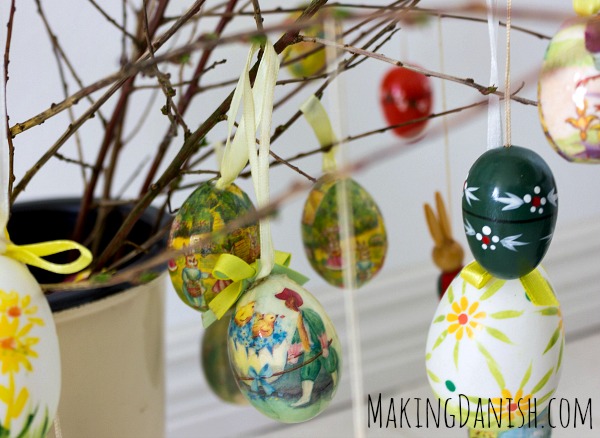 A few tips for a succesful Easter tree decoration with your toddler
Set your expectations. Before you start, decide whether you want a tree after your head or after your toddlers. We went after Eva's head and that meant not much was put on top of the tree and that some small branches got 4 or 5 decorations hung on them. Just the way Eva prefered it.
Timing is everything. Be patient and pick a time where your toddler is well-fed and well-rested. Just because everything is more fun with a well-fed and well-rested toddler
Use decorations that won't break if dropped. Things will get dropped. Especially if they can break. It's jus the law of toddlers. But there's no need to pause the decorating to pick up small pieces of glass or to constantly say "be carefull with that" to your toddler if you can avoid it, so stick to the unbreakable items.
Be creative and make your own decorations. Let your toddler make her own decorations. We didn't make our own this year. Eva's grandmother had a ton of decorations which she'd saved from when I was a child, so this year we just went with that which was a big enough blast for Eva. But next year we might make a few decorations ourselves to go on the Easter tree, just because it's fun. One little bonus tip if your toddler does make her own – don't save them all for next Easter. Pick one or maybe two that you find extra special. Otherwise you don't want to know what your attic will look like in a few years.
When done decorating, place the tree a safe place. Eva and her grandmother decorated the tree on the table in the living room, so Eva could stand on the floor and reach and her grandmother could sit on a chair. But we had to move the tree afterwards as Eva kept bumbing into it, and it almost dropped to the floor a few times before we got the message a moved it to the window sill.
Have fun. Don't make a big deal out of it or try to force the tree to look a specific way. Just relax and enjoy the moment. And if you like me primarily observed while Eva and her grandmother decorated the tree, put your legs up and have a cup of coffee and watch.
About Author
Mum