Green cashew sauce with veggies and macaroni – a toddler favourite
Both me and Ben have full-time jobs. That means that none of us wants to spend a ton of time cooking dinner when we get home from work. We just want a healthy quick fix meal that all three of us will enjoy. And this is definitely one of those recipes.
It's a very simple dish and best of all, doesn't take very long to make. You just have to remeber to soak the cashews, either the night before or in the morning before work. When you've made the recipe a few times, it can be thrown together in about 15-20 minutes. If you skip the mushrooms you could be done even faster. I just like the texture and taste of the mushrooms, so I pretty much always add them if I have time.
You'll need (for 4 portions)
This recipe is a great toddler meal, and Eva will always eat a big portion of it. When she was younger and still didn't have that many teeth I would cook the broccoli and the aspargeus a bit longer, just to make sure they were soft enough for her gums.
For the cashew sauce:
2,5 dl (a little over a cup) cashews
2 handfuls fresh basil
0,5 dl (3-4 tablespoons) nutritional yeast
juice from half a lemon
2 shallots (you could substitute this for whatever onion you have lying around. If a normal zittauer, just use half an onion)
2 gloves of garlic
2 dl (0,8 cup) of vegetable stock
1 tablespoon soy sauce (could be substituted for salt, but then use less. I actually use low sodium soy sauce)
optional: seasoning for your choice. I like paprika or thyme
The rest:
200-300 grams (about 7-10 ounce0s) of broccoli florets (I just use one broccoli and safe the stem for something else like a stir fry)
150 grams (about 5 ounces) aspargues
100 grams (about 3,5 ounces) mushrooms
oil for frying
300 grams (about 10,5 ounces)of bean or chick pea pasta (I really loved the chick pea version in macaroni size)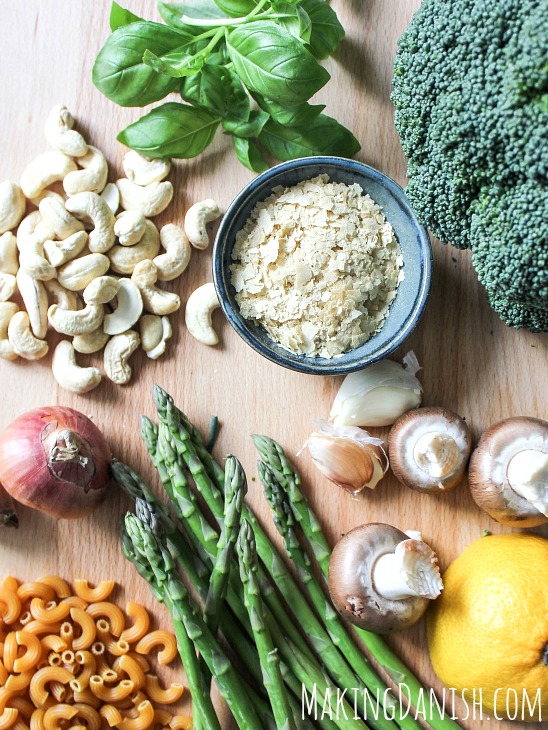 How to
1. Soak the cashews. Preferable overnight or at least 5-6 hours. If you're in a hurry or forgot, you could do a quick soak by boiling them for 30 minutes.
2. Chop the broccoli into small florets and the aspargues and mushrooms into toddler friendly sizes. 
3. Optional: Fry the mushrooms in the oil on a pan. You could leave the mushrooms out of the dish and safe some time, both in preparation and in cleaning up. I rarely do, but it's definitely an option.
3. Cook your pasta according to the direction on the bag. Use a big pot and a good amount of water as you will be adding the broccoli and the aspargues later.
4. When there's about 4 minutes left before the pasta is done, add the broccoli florets. Use a timer to let you know when it's time to add the broccoli.
5. When there's about 2 minutes left before the pasta is done, add the apargues pieces. Use a timer to let you know when it's time to add the aspergues.
While the pasta is boiling, you make the sauce.
6. Add the ingredients for the sauce to a blender. Mix until the sauce is completely smooth. If you find the sauce to be too thick, just add a bit more water and mix again. Season the sauce with salt and peber.
Tip: You could add some of the cooked broccoli to the sauce if you think the ration of vegetables to sauce and pasta is too high.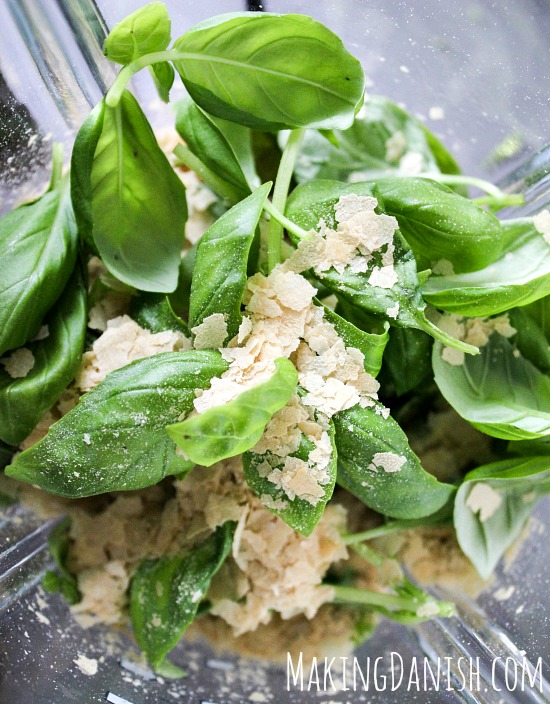 7. Drain the pasta and mix well with the cashew sauce and the mushrooms. 
8. Serve while still hot!
That's it. You're done. A very simple, but super tasty dish. The sauce can also be used with ravioloti – I especially like it with the tofu and aspargues ravioli!