Quick & easy quinoa salad with avocados, pointed cabbage & almonds
Some days making dinner seems like the biggest task ever asked of me. Last night was one of those nights and I almost opted out for the easy solution: take away. But unfortunately (or is it really fortunate?) finding a take away place that is somewhat healthy and can make something without dairy (and preferably without meat) is practically impossible without spending a fortune.  Instead I therefore decided to see what we had in the fridge and in the freezer. Luckily we had just the ingredients for a quick and easy quinoa salad (and some awesome falafels in the freezer)! The salad is very simple to make, doesn't require a lot of ingredients and taste delicious. Exactly what I was looking for.
I made the vinaigrette for the salad with honey. This meant that Eva couldn't have any as children under 12 months can't have honey because of the risk of it containing Clostrodium Botulinum spores which can lead to botulism poisoning. I therefore put some of the avocado and quinoa aside for Eva. Next time however I think I might substitute the honey with maple syrup. She didn't seem to mind, but it's just easier not having to remember to put some aside for her.
Recipe: Quinoa salad with pointed cabbage, avocado and roasted almonds
Ingredients (serves 4 people)
1,75 dl (0,7 cups or 150 grams /5,3 ounces) uncooked quinoa  (Any kind will do. I used a mix of white, yellow and red, but either just red or black would make the dish look even more amazing)
1/2 medium sized pointed cabbage
3 avocados
100 grams (3,5 ounces) roasted almonds (the ones I used this time were salted as well)
For the vinaigrette
5 tablespoons olive oil
2,5 tablespoons apple cider vinegar
1 tablespoon dijon mustard
1 tablespoon honey (if vegan or serving to a child under 1 year I would substitute the honey with maple syrup)
salt and peber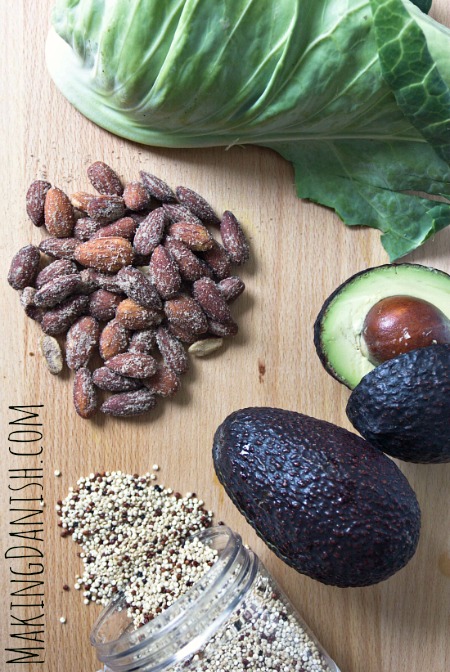 How to
1. Cook the quinoa, following the instruction on the back and let it cool down. The instructions I had said boil at a simmer for 15-20 minutes using 2 parts of water per 1 part quinoa. I therefore used 3,5 dl (1,5 cups) of water. I made a rough estimate and it turned out great.
2. Shred the pointed cabbage and cut the avocados into squares and put in a bowl. Use a bowl that's big enough for mixing all of the ingredients.
3. Mix all of the ingredients for the vinaigrette in a small bowl. I just used a fork for this, but you could also mix the ingredients by shaking them in a container with a lit.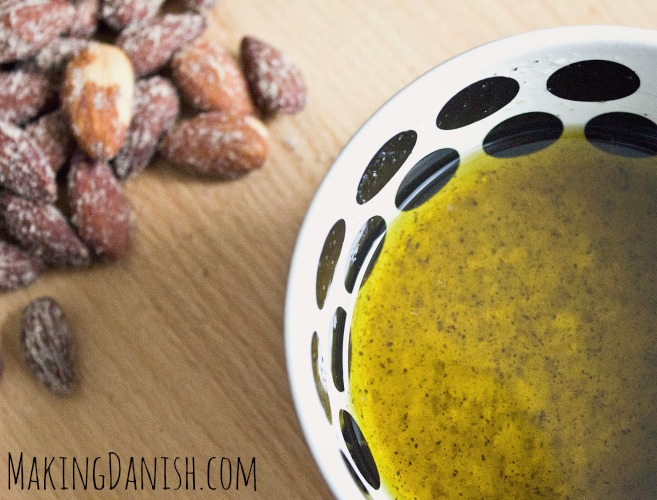 4. Pour the vinaigrette over the salad and mix gently. 
5. Add the almonds. You could either mix them in (that's how I prefer it) or you could use them as a topping.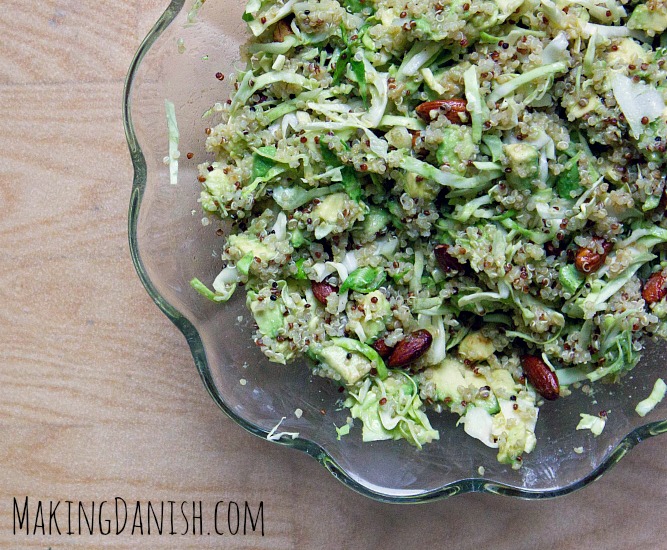 That's it. The salad is now ready to be served. I made a big portion , so we would have leftovers for next nights dinner. Despite the avocado having gone a bit brown it  still tasted great the next day.