10 easy activities with sensory baby bean bags
Sensory baby bean bags are such a simple toy, but it offers a big variety of open ended play oppertunities. If you need a bit of inspiration I've gathered the top 10 activities my baby loved using her homemade and washable baby bean bags for when she was 6 – 12 months old.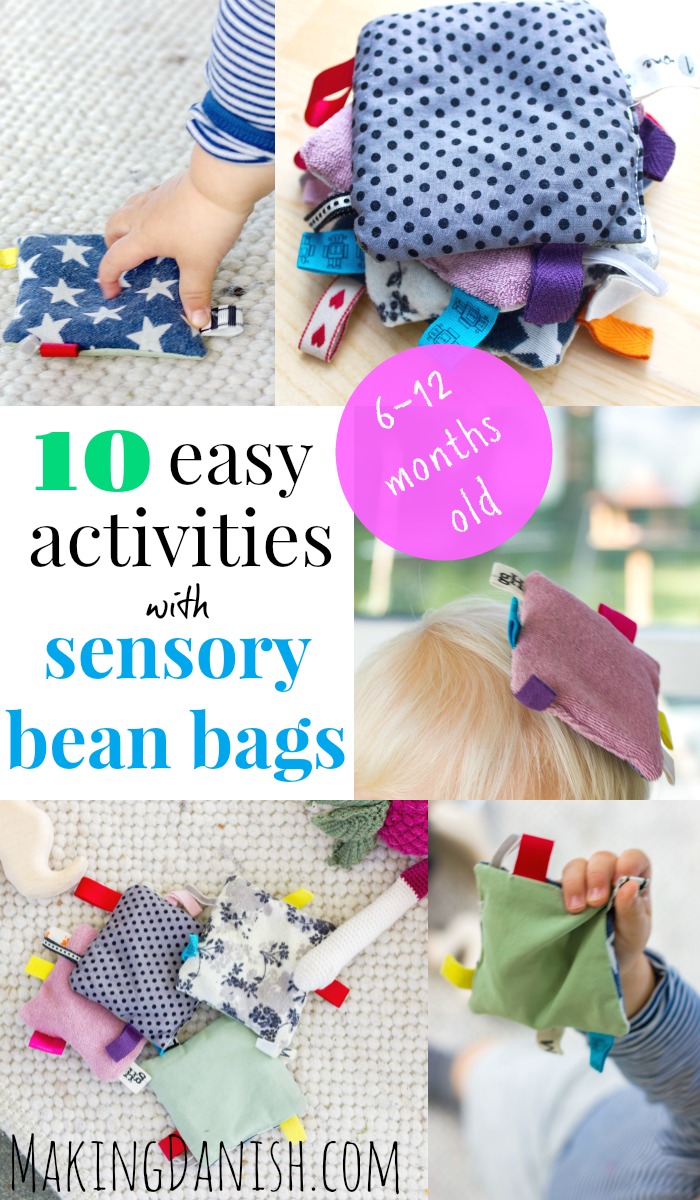 When I was a kid I loved toy bean bags (aka pea bags as we call them in Denmark). I never had my own, but we had them in kindergarten and in school. Despite the very simple design we used them for a ton of different things like different throwing and collecting games and as a props in pretend play.
Because of my love for these as a kid, I decided to make some for Eva. When I made them I knew she wasn't exactly kindergarten with her 6 months of life experience, so I also added some different types of ribbons on the side and used different textured fabric to make them more attractive to her.
Because she loves putting things in her mouth and using her little razor sharp teeth to try and rip things apart I decided it might be vice to add an extra bag on the inside to keep the peas in. I also decided that peas might not be the best idea at this age as saliva and dried peas might end up getting a bit moldy. I therefore used plastic granules which are also washable. You can of course make them with rice, beans or whatever dried grains or legumes you have in stock (and offer a different sensory dimension), but if you want to be able to wash the little bags, then I would definitely recommend getting your hands on some plastic granules. Small plastic beads like those fra Hama might also be an option, but I don't know if they are suitable for washing. Or drooling.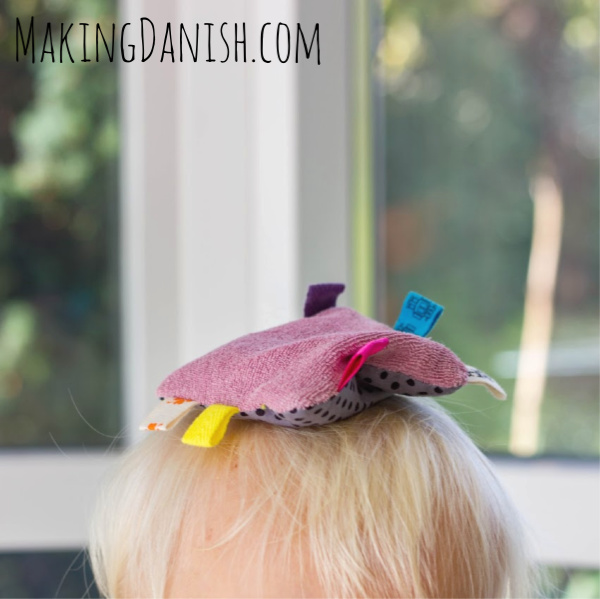 The bags are a hit with Eva. I didn't take more than a few seconds from closing the last hole on the first bag to her grabbing it and stuffing it in her mouth – and she's been playing with them on and off ever since – sometimes on her own and a times with us. I you're wondering what on earth a baby is suppose to do with bean bags I've listed the top 8 activities we've been doing from Eva was about 6 months until now when she is about 12 months old.
Why not just use regular toy bean bags with your baby?
Compared to normal beans bags these are made with plastic granules, have an extra inner bag for the little plastic pieces as added protection against tears and both the ribbons and the different textured fabric adds a sensory dimension to the bags. This design means that your baby will be able to:
grab, shake and squeeze the bags – the ribbons make it very easy for even the youngest of babies to grab a hold on them

touch, look and feel the differences in the ribbons and fabric – a great sensory experience

put them in their mouth and chew, drool or whatever your baby desires – you can just wash them afterwards

throw, stack and use them anyway you would otherwise use regular toy bean bags
Eva have both chewed in and played a lot with the bags I made her and despite this wear and tear I will have no problem with her future brother or sister having to inherit them as they still hold up perfectly.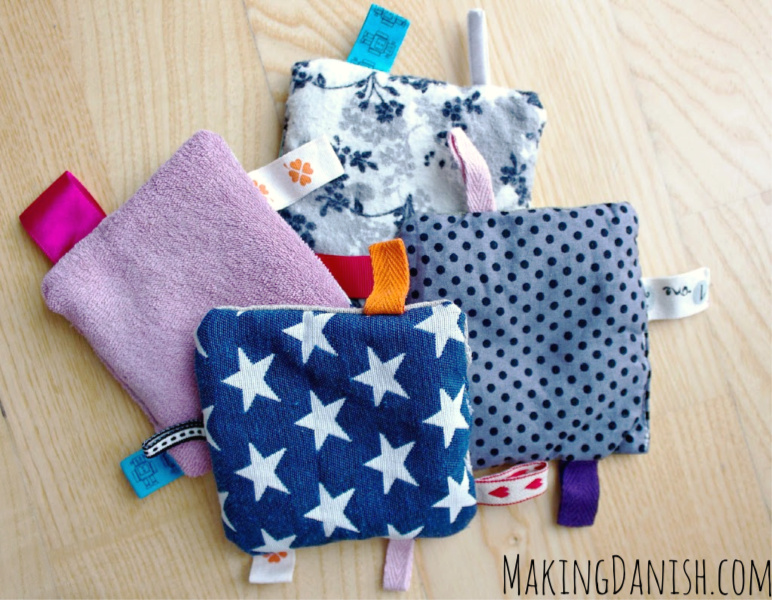 10 fun and simple activities with sensory baby bean bags 
Eva has loved playing with the beans bags for the last 6 months – both on her own, but especially with us. I find that they are great little props for interacting with your little one with. I for one can't sit just sit still with them in my hands and always end up tossing them around. Below I've listed the top 8 actitivities that my baby girl loved doing with the bags when she was 6 months to about 1 year old.
1. Throw them. Gently throw the bean bags at your little one and watch them try and grab them or pick them up. Eva would laugh so hard when we did when she just learned to sit up – especially if we tried to not give away when exactly we would throw them. As she got older she would also try and catch them and throw them herself.
2. Clown around and try to juggle them. You, not your baby. Eva loved this – especially when we tried juggling or bouncing them on our heads , but we're also pretty terrible at it.
3. Put and take. Just place the bags in a container and let your baby take them out again one by one – and the put them back in again. The older Eva got, the more she has loved doing this. 
4. Bag on back. I would sometimes put a bean bag on Eva's head (when sitting and later standing) or on her back (when lying on her stomach) trying to get her to reach it. She then had to figure out how to get them like shaking her head or rolling around .
5. Exploration. Sometimes simple is best and I would sometimes save the little sensory bags for walks in the pram or for times when it was necesarry for Eva to sit still on my lab. By having them out of sight and reach for a few days they would love to explore them by looking, tasting, touching and tasting.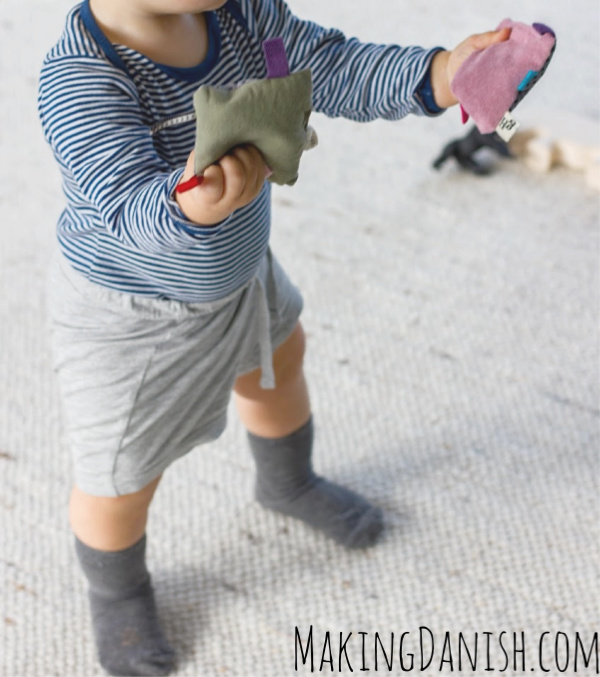 6. Stack them. So simple, so entertaining. The more you have, the bigger the tower. And best of all? They stack easy so your little one stands a chance of helping from an early age.
7. How many can you hold? Give your little one two bean bags – one in each hand – and then offer them a third and see how they react. Eva would think real hard the first time, then let go of one, but as we continued to offer her a new one faster and faster, she would end up trying only to get the new one and then giggle uncontrollable while dropping everything.
8. Hide and seek on your body. Try and hide the bean bags on your body or under your clothes – and then have your little one find them. I would ask Eva "where did the bag go?" and then look all confused as I had it on my head or sticking out of my pant leg. Also try and hide them on your baby, behind them or in different places as they grow older.
9. Give and take. These bean bags are ideal for practicing giving and reciving. Just give your baby a bean bag and say "your welcome" or "here you go" and when they give it back to you say "thank you".
10. Go fetch. Okay, so your baby is not a dog, but getting your little one to go locate and retrieve these bean bags for you is a fun little activity. I sometimes throw them, but as she got older I tried placing them on a shelf where she needed to stretch and reach for it, or below the couch so she needed to bend over.
Eva's also loved using her sensory and washable baby bean bags as an alternative teething toy.
Whenever she was teething she would find them and chew on them. I think the different textures helped the itching when she bit down on it. I was just happy I made them washable as she would sometimes spit up on them or just find one right after she had eaten.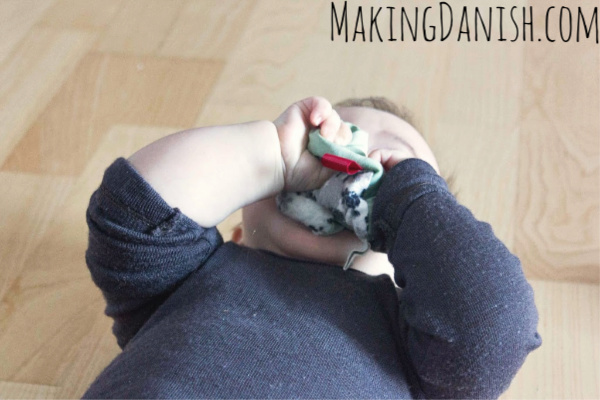 I'm sure there are many other things you can to do with them – especially as your kids get older. They are pretty versatile. If you want to make some yourself just follow this tutorial for washable baby bean bags or have a sewing buddy do it. It's super simple and even a novice seamstrist can do it (I was one myself). And if you come up with other great activities for babies with the little bags please share. I would love to know!