Delicious Danish Pancakes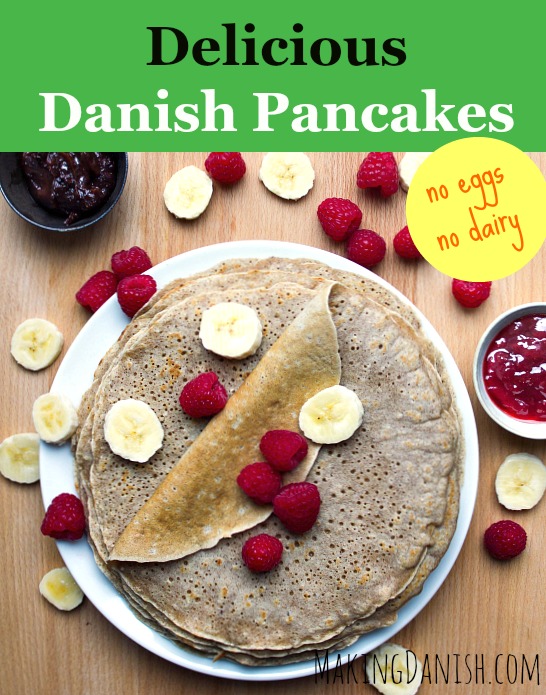 I'm sure when most people think of pancakes, American style pancakes are what comes to mind. Small and chunky, stacked on top of each other, and dripping with syrup. That is however not the pancakes I remember from growing up, and it is not the pancakes we usually make at home. And we do make pancakes at home! In a big way. It has actually become a Sunday tradition to make pancakes for breakfast or brunch. And sometimes we cheat and make them both Saturday and Sunday. I've therefore had many opportunities to experiment and fine tune the recipe. And I've even created variations on the recipe to keep things from going stale (like you could ever get tired of pancakes).
But before I start I feel like I need to differentiate between what a Dane would call a Danish pancake and what has been known in other countries as a Danish pancake. Some of you might think that a Danish pancake is what is otherwise known as "Æbleskiver" which looks nothing like pancakes. They are round instead of flat and you can't even make them on a pan (at least not a regular one). Not a single Danish person would agree with calling them pancakes. If you asked a Dane about pancakes, what they would describe would be much closer to a French crêpe. Æbleskiver is for most Danes something you only eat around christmas – usually accompanied by Glögg and powdered sugar.
The recipe I'm going to share is probably somewhere in between a crêpe and a classic American pancake. Crêpes are usually only eaten as a dessert. They are very sugary, fried in butter, and usually topped with whipped creme and/or chocolate. This would probably not be a good way to start a day, especially not for Eva since she has no problem playing at 100% percent even without a sugar high. And since we eat them as a meal we would like them to be a little more savory. That's why we like to add oats, but it definitely an optional.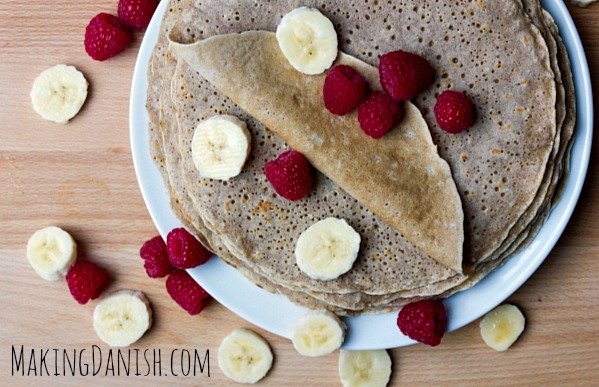 Pancakes are traditionally made with eggs and milk here in Denmark, but we are skipping it in this recipe (we never miss it, and I don't think you will either) so these are completely vegan. The basic recipe is without any of the optional spices and with all wheat flour and no oats – so they are more like a dessert pancake than the ones we usually make for breakfast.
You'll need:
water

white flour

sugar

oil

salt

optional: oats!
optional: vanilla

optional: cardemomme

optional: cinnamon
The basic recipe (makes about 10 pancakes):
700 ml water
400 grams wheat flour
50 grams sugar
2 tablespoon oil, I usually use olive, but you can use any that can handle heat.
a pinch of salt
How to:
Mix the ingrediense. All you have to do is mix all the ingredients together in a big bowl. Make sure the dough is homogenous before you start frying the pancakes by whisking it.
Fry'em up. You want to make them as flat as possible. The way I do it is put a big spoonful of batter in the middle of the pan and the tilt the pan to make the dough spread evenly. Remember they should be much thinner and much larger than American pancakes. It can be a little difficult at first to make them perfect, but practice makes perfect.
Add toppings. Top them of with fruits, nut butters, and jelly. Or whatever you think will be the most delicious. And don't forget to roll them up so you can eat them with your hands!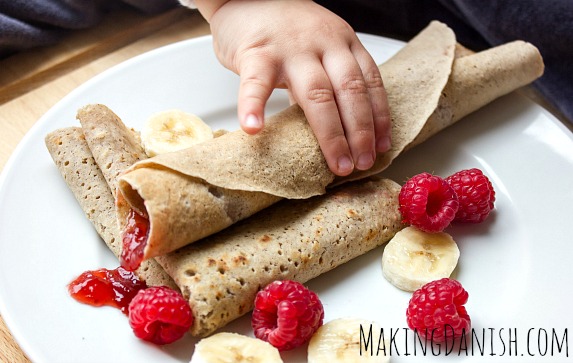 The ingredients for our current favourite version (makes about 10 pancakes):
Because we usually eat them as a whole meal by themselves, I usually replace some of the wheat flour by ground oats. It makes you feel full for longer, but it does make the pancakes a little harder to make. But as long as you make sure to grind the oats up finely (I just use a small food processor) and don't replace more than half the wheat flour, you'll do fine.
I also highly recommend that you try adding some vanilla, cinnamon, or cardemomme to the recipe. Combining cinnamon and cardemomme also makes for some extraordinarily tasty pancakes.
700 ml water
200 grams wheat flour
200 grams ground oats
50 grams cane sugar
2 tablespoons olive oil
a pinch of salt
about 1 teaspoon cardemomme
about 2 teaspoons cinnamon
It's this version of the pancakes that you see in the photos in the post. The are slightly thicker than the basic recipe, but still as delicious. Both Eva and I can recommend topping them with peanut butter and jelly!