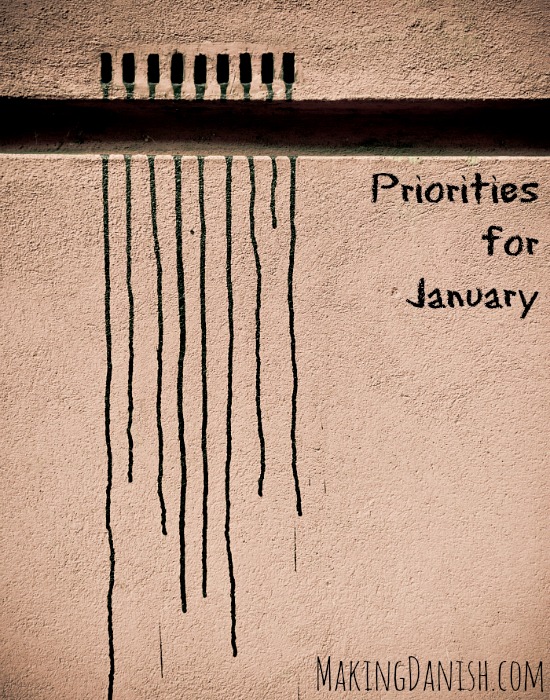 January is always a bit of a weird month. But this yearit is just a tad weirder than usual for us, as we are moving out of the city next month and into a big house closer to nature and to family. This means that January is going to be the last month we live in Copenhagen. On one hand it feels pretty strange since it's in this city we lived in together for over 10 years now, gotten our degrees and started our family in, but on the other hand, it feels so good to finally do what we've wanted to do ever since we learned we were expecting Eva. I crave more space and being able to go outside with both Eva and Anton without having to pack a diaper bag and having to try and time it perfectly in between meals and naps. It's going to be great though we have a lot of preparations to do.
This month I want to prioritize
Decluttering our home. This is a really big bullet point for me. Clutter is taking over our home and I can feel how it's physically and mentally affecting me every single day – and not in a good way. I hate clutter, but we have so much stuff and so little storage room that it's almost impossible not to have clutter. But the weird thing is, neither of us use over half of the stuff we have! Next month we are moving into a big house and instead of bringing all of this unused stuff with us we've decided to get rid of everything that we don't need or don't feel we have to keep for sentimental reasons. It's going to be a challenge, but I have already given up at least half of my clothes and what a relief it was!
Preparing for our big move out of the city and into our house closer to family and nature. There is so much to pack (and so much to get rid off), but also a ton of other pratical things to take care of. It's a bit overwhelming, but I know when everything's in place it's going to be the best thing we've ever done for this family.
Experimenting with some good lunch pack ideas. At Eva's daycare they are served food that are being prepared by a lunch lady. The meals are all organic and sugar free and contains lots of veggies, which we love. But despite the many benefits of this arrangement it has still been a bit of a challenge for us, as Eva does not tolerate dairy, and pretty much every meal prepared in the daycare contains dairy in some manner. But when we move she'll gradutate into a Kindergarten where she'll have to bring her own packed lunch and that's quite the relief. I just have to learn how to pack some interesting lunches now.