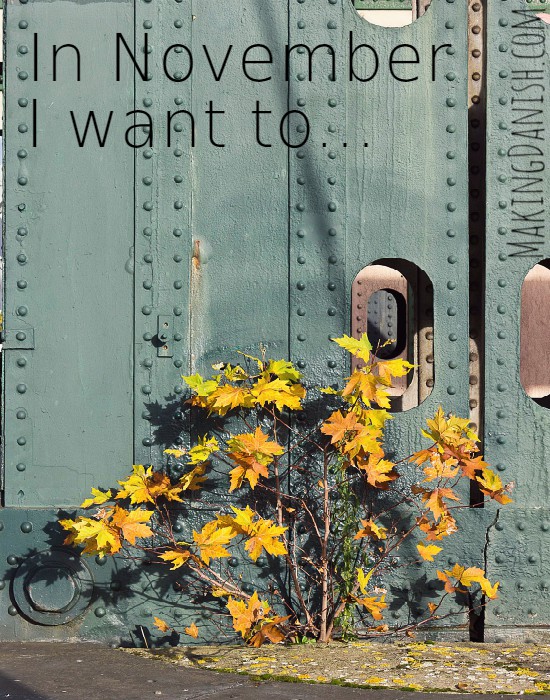 We have now been a family of four for a little while – and I have to say, I love it! It's not like it's easy – especially not on those days (weeks) where I don't get close to enough sleep – but whenever I see Eva cuddling Anton I feel very lucky. I have to admit though, that my energy levels are very low and everything I got in me, goes into taken care of Eva and Anton  (and sometimes filling the dishwasher). I'd somehow forgotten how much time you spend doing nothing when you have a newborn. Or at least it looks like nothing from the outside. Breastfeeding, bonding, diaper changing and just getting ready to go somewhere really do take a lot more time than you imagine. I can't believe I'd forgotten. But it in the end it's all worth it, though I have to keep reminding myself to prioritize sleep and sanity before clean clothes and empty floors.
In November I want to…
Remind myself that it's okay to slow down and focus on Anton and Eva. Anton is only this tiny for such a short time. And same goes for Eva. Looking at her and then at Anton is a daily reminder that time goes by so (too!) fast.
Do things half. I know it sounds stupid, but sometimes doing a half assed job, is better than doing nothing at all. Like vacumming half of the floor is better than not vacumming at all. Or doing one load of laundry is better than doing none even though the laundry basket is overflowing. Sometimes just soaking that bowl in the sink is better than not doing anything at all that day. I just have to remind myself that this is only for a short while.
Remember to nap once in a while. Just because you need sleep to function and I'm not always getting enough to do just that. And I have to take advantage of my awesome little napbuddy.
Make an advent calender for Eva. Last year I made her this advent calendar and it was a success. This year I think I'm going to add some treats, a few other kind of small toys and maybe some creative things. I haven't yet decided whether we are going with a stocking or small presents on a string, though currently the stocking is my favourite. That way the elf can be the one that brings her the gifts.