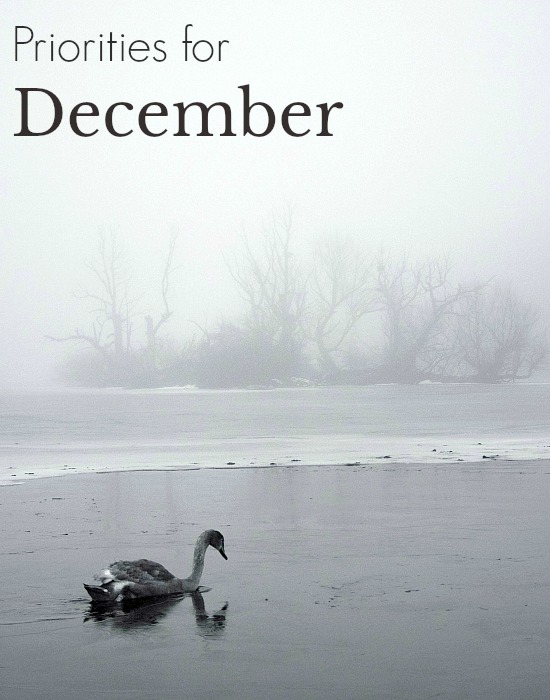 It's December in a few days which means Christmas is just around the corner. Eva has gotten an advent calendar with organic dried fruit from one set of grandparents (and asks about it everyday), an advent calendar for the weekend days with little practical things she needs from the other set of grandparents and then she'll get the advent calendar I made with crafty items for activities to do with me every day of December. I wonder if it'll be too much for her and if she is going to take it well enough when Christmas and the little daily presents are gone. Hopefully I'll manage to play it down a bit, though I have to admit I'm the most excited about Christmas this year than I've been since I was a kid, so it's going to be a challenge. I just love that Eva is getting old enough to finally grasp some of the Christmas wonder and to participate in the many christmas traditions like making cookies and decorations.
In December I want to prioritize to…
Relax and remeber to say "pyt" (which pretty much means "it's okay/never mind". I always remember to say "pyt" when Eva drops something when we are eating, or when she accidentally breaks something. Just to remind myself and her that it really doesn't matter as long as she is okay. I however sometimes (often) forget to say "pyt" when I break something or things don't go as I had planned. But this month I'll try to remind myself every day as December could easily be a very stressful month otherwise.
Share some of the activities that Eva and I do from her advent calendar. Both here on the blog and on our instagram profile. I was a bit reluctant to start an instagram profile. Not because I think it was a bad idea – I just didn't know what to expect from it as I had actually used it. But now I love it! It's such a fun way to share some things that are not blog materiale (and some things that are).
Get the Christmas shopping done early. Both in the early days of December and early in the morning when most people are at work (hurray for maternity leave). I've actuallt already bought Eva's and Anton's presents. Eva is getting the large wooden rainbow from Grimm's and Anton his own Tripp Trapp high chair like Eva has. It's the best chair ever since it grows with him and he'll be able to climb into it himself as he learns to walk!
Post contains affiliate links