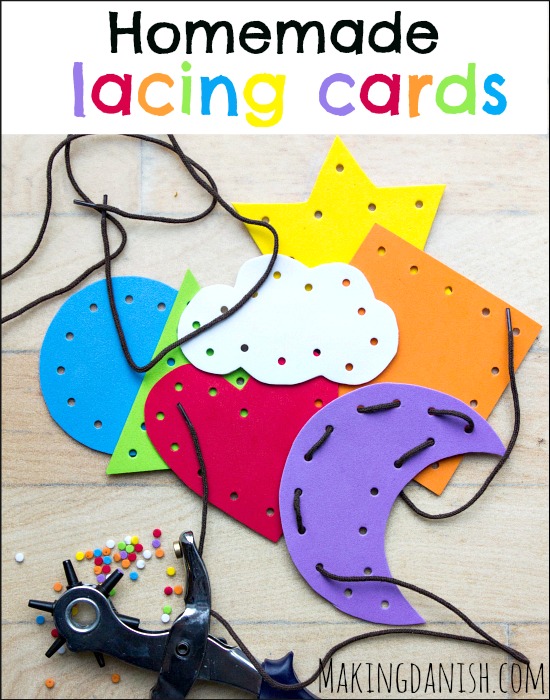 I've decided to gather a few toys and make a handful of small activitetes for Eva for when she becomes a big sis. Just a few simple things to keep her occupied while I nurse or for when she needs something new and challenging to do. I've been inspired by some of the many ideas for busy bags on Pinterest and especially liked the idea of tracing cards. You could buy them already made, but I decided to make my own as it seemed pretty straight forward. And it really is. Especially if you just happen to have the materials lying around. But even if you don't, it's still pretty easy, as some of the items can easily be substituted. Fx instead of foam sheets you could use the cardboard from a cereal box and if you don't own a handheld punch hole just use an ordinary paper punch to make the holes.
You'll need:
Foam sheets (or just use cardboard fx from a cereal box)
Handheld hole punch (or just use a paper puncher)
Shoe laces (or string with a bit of tape at the end to imitate the end of the shoe laces)
Scissors
Optional: pen
Optional: cookie cutters, ruler and/or other items to help make the shapes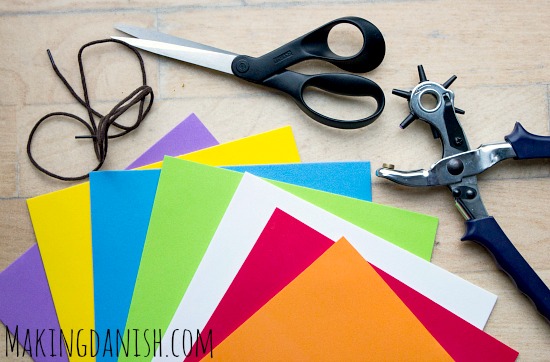 How to:
The photos of the finished project is pretty self-explanatory, but for good measure, here's a short how to:
Make as many shapes as you like – either by free hand drawing and cutting or using some tools like cookie cutters, cups or a ruler. I made a heart and a cloud by free hand, drew a square and a retangle using the ruler, a half moon and circle using two different cups and a cookie cutter to make a star.
Punch holes along the edges of the shapes. I recommend not placing the holes to close to the border as it might break more easily, otherwise the number of holes and spacing between them is entirely up to you.
Play time! Show your toddler how to get the lace through the hole and then just hand them the cards and let them have a go.
I don't know if Eva will like this activity yet as I'm waiting to introduce it to her for when the baby has come, but I feel rather confident that she'll find it entertaining, especially since she really enjoyed threading with pipe cleaners and beads and similar activities.