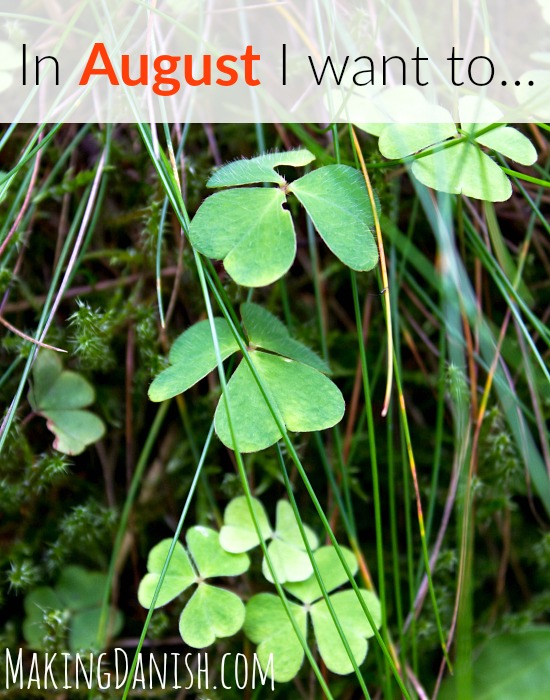 Time has flown by the last few months and I'm just starting to really realize that this little baby inside of me is going to come out very soon and our little family of three is going to be a family of four. It's amazing to think of, but also still a bit surreal. Fortunally there's still some time left before my due date, though not as much as I initially thought. This pregnancy has been very different than the one with Eva, both pshyically  (I've had more energy and less nausea, but so many more aches and pains in my body that I never experiences before) and emotionally (all the thoughts on how Eva is going to adapt and how life is going to change. Again.) and since we've had Eva to think of this time around, I've not had the time to feel the same worries or the same impatience as last time. But everyday now I'm starting to become more and more curious on what kind of little human is growing inside of me. Who is he or she? Guess I'll have to wait to find out.
In August I want to…
Slow down, go on pregnancy leave and use some leftover vacation days. In Denmark you're allowed by law to go on pregnancy leave at least 4 weeks before your due date. Some governments jobs will give up to 8 weeks (which I had when I was pregnant with Eva), but most people get 4 weeks. I'm really looking forward to it – even more than last time – as my back and pelvis are giving me a hard time. That's also why've I've decided to use a few vacation days before I give birth to prioritize slowing down.
Make my own popsicles with fruits and no additional added sugar. Some I'll make with purees, some I'll just make with frozen fruit and a wooden popsicle stick. I know Eva loves them – and so do I – but unfortunally we don't have that much freezer space, so I've had to prioritize.
Start going through Eva's old baby cloths. We don't have a big basement (it's really just a small rectangular room), but we've still somehow managed to loose Eva's old baby cloths downthere. I think we might have misslabeled the box they are in or – since we were in a bit of a hurry when we moved – it might be stuck in a box with some of my books from university. I can't remember exactly what we have, but I do know we'll have to buy a little more since Eva was born during quite a hot summer and pretty much spend her first few months in diapers and short sleeved bodies.