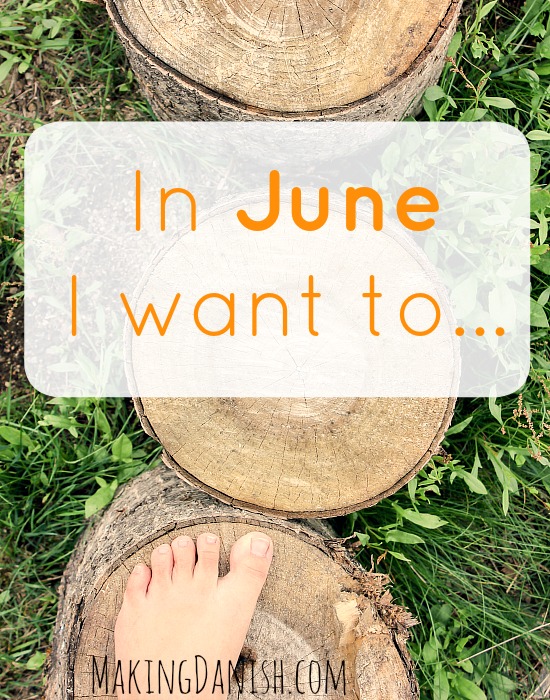 Summer time is my absolute favourite time of the year. Without a doubt. It means longer and warmer days and more time spend outside. Though Copenhagen is a great "big city" to live in all year around, summer is by far the time of year where we take the most advantage of it. Especially it's many parks! I've been looking forward to this summer for a long time and now it has finally arrived I'm going to make the most of it.
In June I want to…
Make kinetic sand for Eva. Eva's birthday is coming up. We already know she is going to get her first bike – a balance bike – from her grandparents, which she has been talking about for ages, so we're certain she'll be more than thrilled. Ben and I however also want to give her something fun to play with, so I've decided to make her some kinetic sand – or at least something like it. The storebought kind is ridiculous expensive and it seems pretty easy to make your own, so I'm thinking why not?
Go on some bike rides with Eva and Ben. I have a bike seat on the back of my bike, but have not really felt comfortable riding with Eva back there for the last month or two, since I started feeling a bit more unstable and started getting pains in my pelvis as a result of me being pregnant. But now Ben has gotten a bike seat for Eva as well, so we can go on a few more adventures around the city (which includes my absolute favourite ice cream shop that sells the best ice cream I have ever tasted – and it's plantbased!)
Figure out where to put a playpen for Eva's baby brother or sister. After much thought we've decided to get a playpen. We never did feel a need to buy one with Eva, but I've started to get why it might be a good idea to have a safe place – meaning out of reach of Eva – to lay our new family edition. Eva did spent most of her time on me or Ben when she was just a tiny baby, but we did have to put her down once in a while, and I'm thinking that won't be much different this time around. This time we'll however have a curious little toddler around, so a safe place seems quite appealing.
Go to the park as often as possible. I want to make the most out of the summer and go to the park as often as possible with Eva and Ben. We don't have a yard attached to our apartment, so the park has often substituted as a backyard and Eva just loves the many different playgrounds.