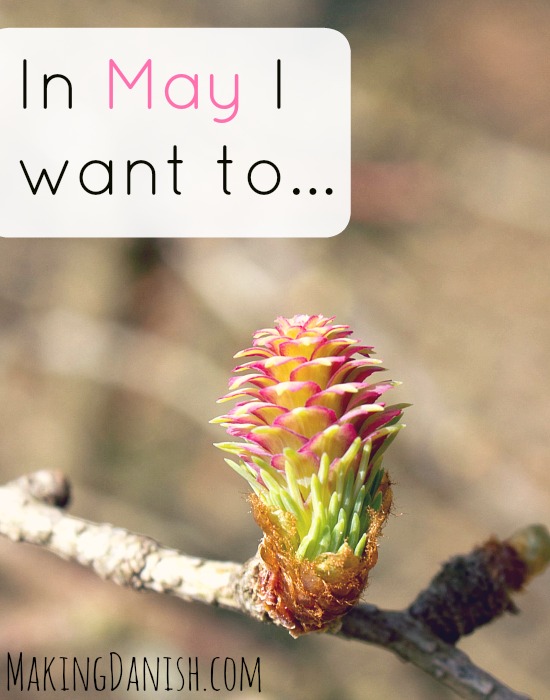 This winter has been a tough one getting through. Not because of problems at work or at home or anywhere else for that matter. Quite the opposite actually. This winter I started a new and exciting job and shortly after we found out I was pregnant. And nothing could make neither Ben or me more happy! But starting a new job in a completely takes a lot of energy – and being pregnant this time around has apparently meant a whole lot of more naseau than last time and an unbelievable urge to sleep all the time. Unfortunally I can't remember ever feeling so tired, while at the same time getting so little sleep, but I guess that's what life with a toddler is all about. So despite it having been a tough winter to get through energy-wise it's been because of the best of circumstances and I couldn't be happier or more exciteted about the future.
In May I want to…
Start to prepare for the arrival of Eva's baby brother or sister. We want the sex of the baby to be a surprise. It was such an amazing experience not knowing with Eva, which is why we've chosen it again. Other than the sex of the baby, there are still a few things we need to think about before he or she arrives. Clothes that needs to be found and washed, sleeping arrangements that needs to be adjusted, furniture that needs to be rearranged and a whole lot of other stuff, so even though there's still a few months to go, I'm starting to feel the need to get everything in order.
Ditch the shoes once in a while and go barefoot. At least if the weather allows it. It did snow a few days back. Being barefoot is so important for children and their growing feet, but also for adults. I've just written a post about the importance of letting your children run around without shoes. I've had so many problems before I started ditching my ordinary shoes and orthopedic inserts and getting into minimalist footwear and walking/running barefoot that I can't ever imagine going back. I do wear minimalist shoes in the winter and for most normal social occasions, but when spring and summer arrive I try to get out of the shoes as often as I can.
Plan our summer vacation. Before I start maternity leave or become too big to go for long walks and play outside for hours, I want to have a few weeks of with Eva and Ben. What we are going to do and when, we haven't decided yet, but I think at least part of the vacation will be spend with Eva's two sets of grandparents.
Find the best possible recipe for soap bubbles. I know this summer is going to have a lot of soap bubles in them if Eva gets a say in it. Instead of bying the premade mixture I think we have to make our own from now on. It has to be cheaper and possible with less unnecessary ingredients. EDIT: These two differentt recipes for soap bubbles work super well and are so simple to make – one for indoor and one for outdoor use!