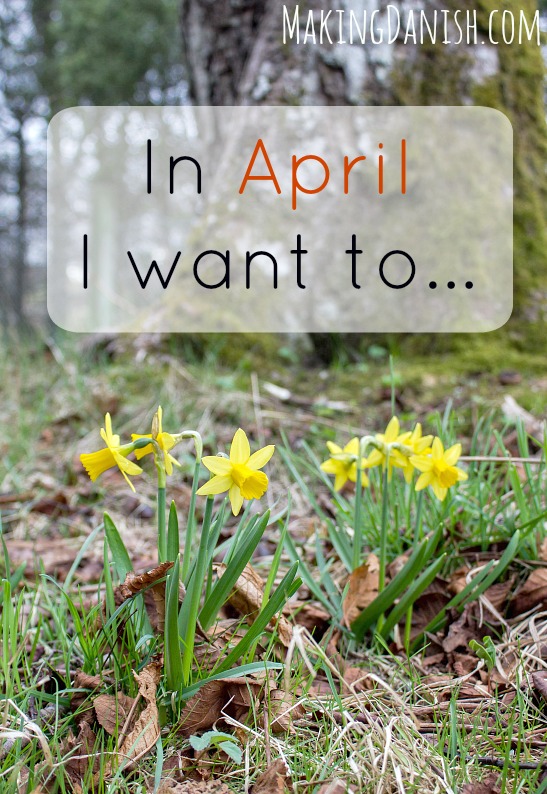 I've been looking forward to April for weeks now and finally it has arrived. Easter falls in April this year which means both Ben and I get a few extra days off from work – and on top of that, we've taken a few extra vacation days to visit Eva's granparents in their vacation house in Sweden. All in all this means over a week off from work to spend together with friends and family and to just relax and slow down a bit.
This month I want to…
Go for a walk in the forest each day we are in Sweden. When you live in the middle of the big city, nature is very tamed. We have many parks and recreational areas, but not many places where the grass is just allowed to grow and mingled with the moss or where trees and bushes are allowed to grow in whatever direction and size the desire. So when we are in Sweden we love to go for as many walks as we can and to enjoy being able to just let Eva run around without having to constantly shout "watch out".
Grow Chia sprouts with Eva. This is something I've wanted to do for some time, and despire it being super simple, has just not gotten around to. I've would love to teach Eva a thing or two about growing different things, and chia sprouts takes such a short time to sprout that I think Eva will be able to follow the process without become to impatient or completely loose interest.
Make a new batch of lotion for Ben. Just because he has been asking and I have been post-poning. I usually make this version, but I think I want to experiment with a few different oils and butters.
Decorate a small Easter tree with Eva. When I was a kid my mum would always invite me to decorate a easter tree with her. She would cut a few branches from a tree, put them in water and then find the little box of Easter decorations and we would hang the little eggs and chickens on it. This year we'll be in Sweden for a part of Easter with my parents, and decorating an Easter tree with Eva and my mum seems like the most obvious thing to do. EDIT: we did end up decorating a small tree, which was a great success!