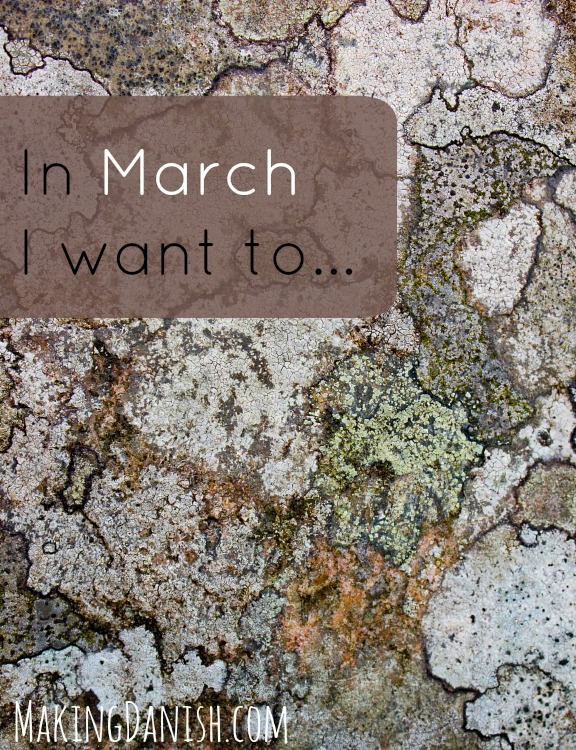 The first signs of Spring are starting to show. Little flowers are popping up here and there and the day is getting longer. It still snows some days, but other days it's well above freezing point. A pretty normal March in Denmark. I would have taken a photo or two of some of the erantis flowers that have shown their tiny faces in the park, but the space in my bag that was once reserved for my camera, is now stuffed with diapers, extra pants, socks, a toy or two and snacks. Lots of lots of snacks. You just never know when a sudden hunger strikes, so it's best to be well prepared, unless of course you like a dealing with a hungry toddler.
In March I want to…
Prioritize bringing my camera with me once in a while. And using it of course. I've always loved taking photos, especially of nature, so I think prioritizing going outside with my camera, other than when on vacation, is going to feel great.
Make up a recipe for calcium rich bisquits, crackers or cookies. It's not that I'm concerned we don't get enough calcium in our diet. I actually think we get quite a bit with the amount of leafy greens, nuts and seeds and legumes we eat, but on the days we eat out, haven't had the most nutrituous meals or just had one to many cups of coffee, I like to have something easy to grap to make sure I get enough calcium. And well, I'm going to make sure they taste delicious, so there's also that.
Get that spring cleaning started. Admittedly not so much a want, as a need to, but apparently the extra daylight have made the little dust bunnies go crazy.
Post a new recipe for buns which a toddler can help make. Eva loves being in the kitchen with us. Especially when she gets to help. Sometimes her help means things take longer, but most often it's worth the extra time (not so much when she decides to pour pancake batter all over the floor). Making buns with her is something I've just recently started doing. Usually I will make these slow risen wholemeal buns with oatmeal, and though Eva can help mix the ingredients, she can't really help shape the dough into buns, since well, theres no shaping. That's why I've instead started to make another recipe for wholemeal buns with oatmeal, where she can shape the buns all she wants. And she loves it! So much that I sometimes have to stop her to give the buns a change to rise. EDIT: Recipe for easy homemade oat buns that your toddler can help make.