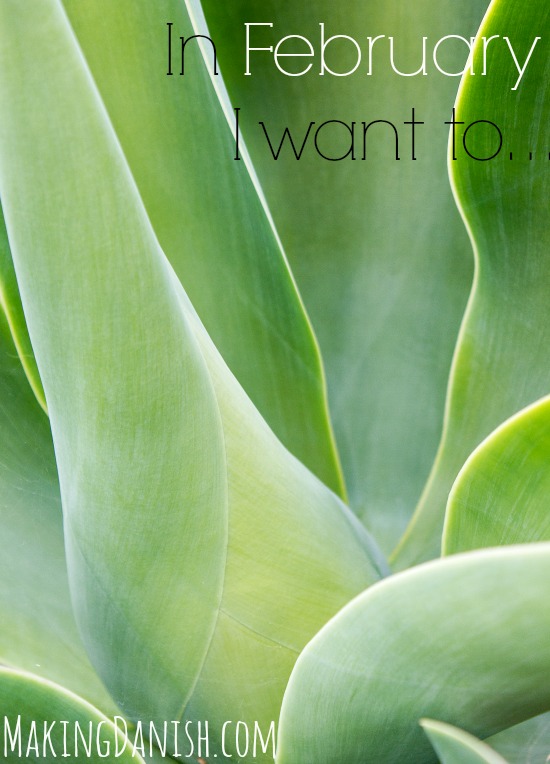 February is usually the coldest month of the year in Denmark, though we've had some very mild Februars the last few years. This year however we've been promised a fair amount of snow and it seems that the promise is going to be kept with snow falling as I'm writting. Ben and I have never really been winter people. Not even remotely to be honest. For me, the best thing about winter is Christmas time and that always ends before winter really kicks in. I have a feeling however that I'm going to start enjoying winter a bit more now Eva is getting older. Her love for her snowsuit, winter boots and her balaclava is already contagious and when she gets old enough to really grasp the concept of sleding and drinking hot cocoa, I think winter is going to become quite alright.
In February I want to...
Go on our first ever family vacation together. Here in the middle of snowy Feruary we're going to one of the warm weathered Canary Islands, Lanzarote. And I'm almost incapable of waiting. We're going to be away for one whole week and it's going to be nothing less than awesome!
Try to prioritize getting a nap once in a while. Winter always feels so long for me. And the combination of really short days and cold weather always makes me tired. By February I'm almost always exausted, and with Eva still waking up a lot of times during the night, I'm starting to feel somewhat sleep deprived. That's why I've decided that I'm going to have to try to sneak in a nap once a while during this month.
Read a fiction book I've been wanting to read forever. I've been very fortunate to recieve a e-book reader as a present some time ago. Unfortunally I haven't really had the time to read (meaning I've prioritezed catching up on some neglected tv-shows instead), but I think I will bring the e-book reader on our vacation and a e-book I've been wanting to read for quite some time. There really isn't anything like reading a great novel.
Play with Eva in the snow. So far her reaction to snow has been "uh cold" when I invited her to try and touch it. She was not impressed. I do however think if I can borrow a sled, that she might start to see snow's potential, and since she loves to throw stuff, I think snowball will fall into her taste.