In November and December I want to…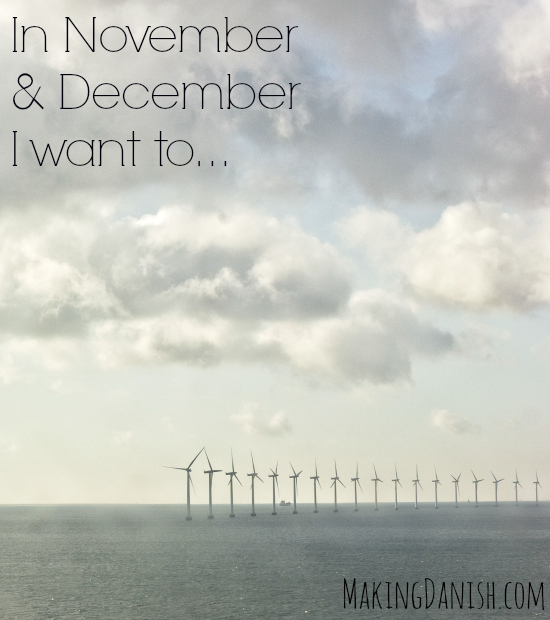 So, time seemed to have passed me by. I've written down two lists – one for what I wanted to do in November and one for December, but I've somehow never gotten around to publishing it. Well, I've merged the two lists and made a combined list for November and December, despite it almost being January. For me these lists are mostly about inspiration and less about what I actually get done, though I'm thrilled to say, I've done pretty much everything on the list so far (and I still have a few days left).
Anyway, here's the merged list:
In November and December I want to…
Try and make my own mulled wine (aka Glögg). I want to make an alcohol free version. I'm thinking about making a version with apples instead of red wine, but I haven't really decided yet.
Make an advendt calendar for Eva. My mom have made me an advent calendar every year since I was born (and yes, she still does). I love getting the calendar and opening the presents so much, that I want to continue the tradition with Eva. I already know what to put in each of the presents, but have not yet decided whether to have all the presents out at once or whether we'll give her one each day (If you want to see the result I've made a separate post about this year's advent calendar).
Start my new job. I've found a new job that's closer to home, so I'm looking forward to getting a few extra hours of free time each week. I'll miss all the wonderful people at my old job, but I have a good feeling about the new place.
Take my time to appreciate everyday life. Way too often I find myself looking forward to the weekend or waiting for a day off to do something extra fun with Eva, instead of just enjoying everyday life. It might sound banal, but waking up and eating breakfast together or walking home from Kindergarden is such a big part of our eveyday life, that I sometimes forget to appreciate the time with Eva. Sometimes I rush it, or think too much about other things like dinner, instead of just being in the moment. In December I want to practice being in the moment a bit more and enjoy the many routines that make our day.
Try to make a vegan version of Danish aebleskriver. Æbleskriver are kind of round pancakes and are a Danish Christmas tradition. I want to try to make a completely plant-based version of them instead of the more traditional which contains egg whites and butter milk. I have no idea on how to do it, but I'll give it a good go.