How taking a break from things can help get them done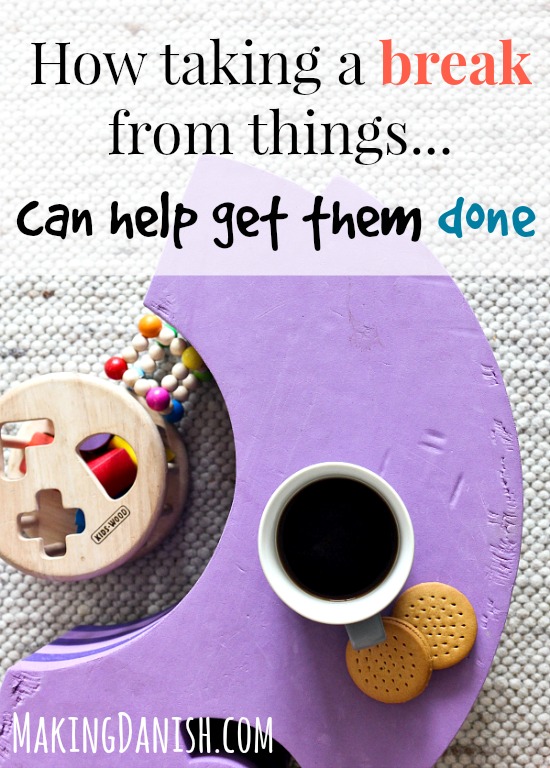 Today was one of those amazing summer days (despite it being late spring) that I dream of every winter. You know, the ones with just the perfect temperature, the right ratio of sun to clouds and a constant, but mild, breeze that cools you down. Ahh. Just a day to lie around relaxing in a garden, at the beach or in a park without any worries in the world. Despite the fact that I knew I wouldn't be able to just lie down in the shade with my eyes closed, I still decided that Eva and I needed to go to the park today to unwind a bit. Eva's been experiencing a lot of separation anxiety the last few weeks, so going to the park seemed like a good way for us both to do something fun without her having to leave my embrace (which is how she prefers it right now) and without me having to walk around with her in a wrap for hours while she got some much needed sleep and with my mind drifting back home to the mess that is pilling up in every room. It's quite the challenge to empty the dishwasher or vacuum the floor with a curious or sleeping baby in your arms.
Eva loves to just watch everything around her. She just takes it all in when we are out and about. I therefore packed her a small lunch and decided that we would go to the park to enjoy it there instead of at home. This way we could look at all the dogs and birds, the children playing, and all the people riding their bikes, jogging or just walking by, instead of staying at home with me getting increasingly frustrated with Eva for not wanting to sit by herself and throwing food on the ground as soon as she was allowed to sit on my lap. I also made a conscious effort to not think about the mess at home, but to just enjoy the warm summer day and my amazing daughter. And what a great idea it was, if I have to say so myself. Eva loved it! She got to sit in my lap and eat her food slowly (I tried putting her down on a small blanket, but she was not having any of that), touch the grass and the trees with her feet and hands (again from a secure position in my arms) and even got to pet a small (and patient) dog for the first time ever. She was super excited!
How taking a break from the daily chores can actually help get them done
Spending those few hours in the park also helped me relax. It was just what I needed to get my thoughts away from all the chores that's been pilling up and bugging me ever since Eva realized that I can leave without necessarily bringing her with me (going to the toilet is no longer a lonesome and solitary job). When at home, I was constantly reminded about the things that needed doing, and when walking around with her sleeping in the carrier, I couldn't help but wonder how much I could have gotten done if she had only wanted to sleep in her pram or bed. But in the park we just had fun. And as it turned out, a day in the park was also what was needed to get some of the chores done. When we got back Eva started playing by herself while I cooked, and I actually ended up getting to do a few of those things that's been bugging me for ages (exciting, right?). Eva even decided to help out by unfolding the laundry as I folded it.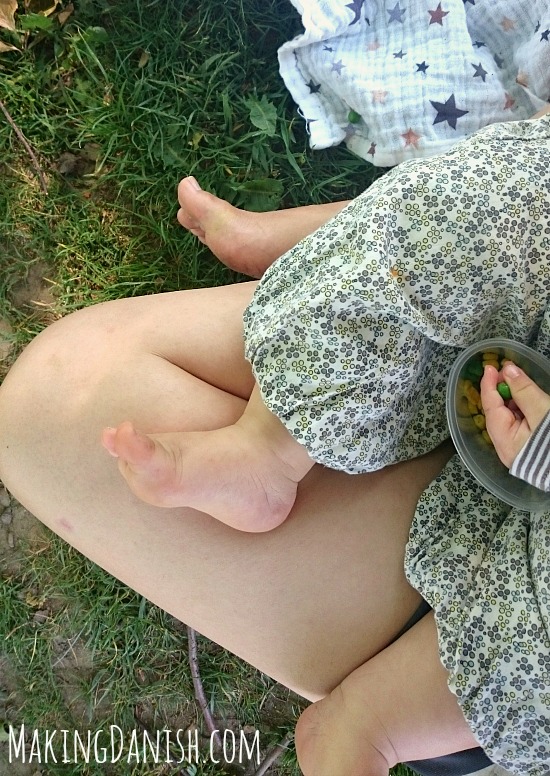 This day reminded me that sometimes the best way to get things done, is to take a break from them. At work or when studying, taking a break can be anything from sitting down with a book, chat with a friend or colleague, watching a show or simply just drinking a cup of coffee while taking a short stroll around the block. It helps you get more focus, to see things from different perspectives and in the end improve productivity and your happiness about the job at hand. But when it comes to my new job as a mom, taking a break from the household duties can also mean just being present in the moment with Eva and starting to focus on the right now. Eva can feel when I'm not really "there" and the result is usually frustration and an even bigger need for my full attention. Usually she is quite the independent and adventurous little girl, but like all babies and children she goes through developmental phases where she needs her primary people more than ever. And this is where we are at right now. At a time where extra cuddles and closeness is needed. And when given, she'll usually feel so safe and secure enough to trust that I won't leave her, that she'll later in the day play by herself and let me clean up and – hold your breath… sit down with a cup of coffee with my legs up without her little fingers trying to find their way into the cup.
It's funny how easy it is to forget the importance of taking breaks and being present in the moment. But when I do remember to do it, it almost always pays off. And how awesome is it, that taking a break from your daily duties and giving your baby your full attention can actually help you get those chores done faster and more easy?